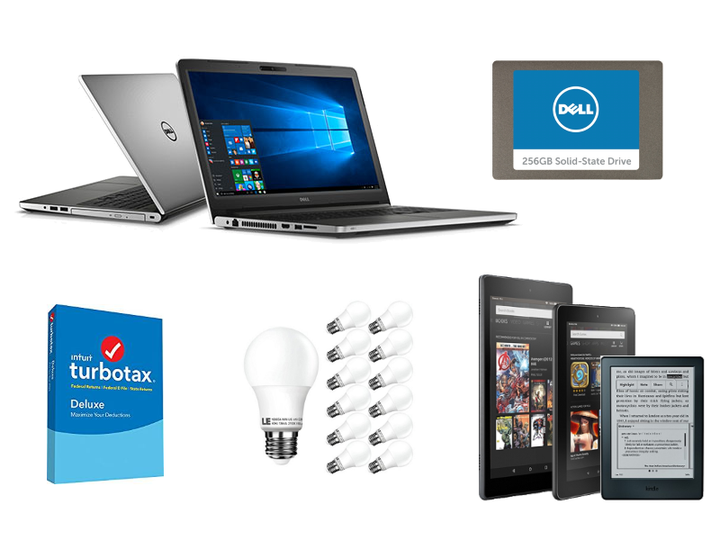 Welcome to TechBargains Best Weekend Deals where we feature the best computer, smartphone, electronics deals and more. Although Valentine's Day is just around the corner, retailers are starting to roll out their President's Day Sales now. Act fast as items below are available to purchase and pricing is accurate as the time of posting.
Use code: SAVE330MORE. This 17" laptop offers the perfect combination of power, specs and price. Rarely will you get a 1080p laptop with a powerful i7 processor with the Windows Pro operating system included for under $600. To top it off it even includes a AMD discrete video card for better graphic performance: playing 1080p or more videos and light gaming.
Upgrading to a solid state drive can make any laptop or computer feel a lightning quick. Start up in a fraction of the time, launch programs in an instant, load saved documents or search for items in an instant. With the $50 Dell gift card you are basically getting 50% off the price.
This is one of the best deals for a 40" LED TV we've seen. With the included Dell gift card you are pretty much only paying $150. That gift card can be used on speakers, on games or PS4/Xbox One consoles, computers and more. This cheap enough you don't have to think hard about buying one to put wherever you feel like.
Instant Pot is one of the most popular brands of pressure cookers and this 8-quart is one of the larger capacities you can buy. Take it from us, as owners of a 6-quart, when you make soup you will really want the bigger capacity. This is a newer model with a safer top handle, low & high pressure settings and the ability to make yogurt. Save money and eat healthier with the Instant Pot.
The Fire Tablet is one of the best selling tablets because it is inexpensive, does everything a tablet ought to do, and is great for watching videos. Don't spend your smartphone data or battery on watching video. If you have Prime the Fire Tablet will let you download content that you can watch anywhere. At $40 you won't find anything better. These make great presents.
If you are an avid reader then the Kindle is the tech device that you have to get. You can take your entire library everywhere you go. You can easily check out books for free eBooks at your local library or even download free ones every week from Amazon. For the serious readers we highly recommend the higher end Voyager or Paperwhite. They have a higher resolution display and more features that someone who spend a lot of time reading will appreciate.
Keep an eye on your home with this inexpensive HD Camera. You could easily spend well over $100 for a name brand Dropcam or Nest. With the same amount you can create a camera network to monitor your home while you are away.
Use code: lelight2. Save money by upgrading all your bulbs to LED bulbs. At about $1.41 per bulb it is one of the lowest prices we've seen. These give off a warm white color similar to an incandescent and use only 10watts of power compared and replace a 60W incandescent bulb.
Tax software only gets more expensive as we get closer to tax day. TurboTax is one of the most popular and easy to use tax software which we highly recommend. We've been using it for over 10 years and found not reason to switch. For most users who own homes or have charitable donations the Deluxe version will handle all your needs. Those with stocks, bonds, real estate or other investment income should get the Premier. Lastly for those who are self-employed or own businesses the Home & Business should handle all the W-2's you need to produce.
This highly reviewed fuel cleaner is 50% off. It promises to keep your keep your engine clean for more powerful, better fuel economy and reduced emissions. It is currently out of stock but you can still order it now to get the discounted price. Amazon will ship it when they get more stock.
The Huffington Post may receive revenue via links on this page.