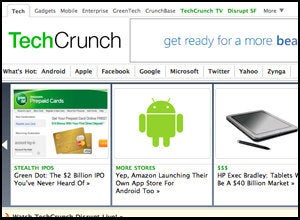 SAN FRANCISCO, CALIF. - SEPT 28, 2010 Photo by Max Whittaker
San Fransisco, CA -- On Tuesday, at TechCrunch Disrupt, my colleague Amanda and I sat through a painful panel titled "Women in Tech."
In less then 30 minutes, I wanted to trade my lady parts in and disappear into the audience a dude. Disrupt's "Women in Tech" could have easily been renamed, "You shut up. No, you shut up." I was embarrassed for the panel, but worse, I was embarrassed by the panel.
A little background, I started my career as a high school English teacher, but my worldview was deeply changed working on a project in grad school collecting stories and artifacts generated around the 9/11 attacks. The project was among the first of its kind, online, social, and satisfying a human need to connect in a way unlike anything I'd ever seen, codewise to contentwise (e.g. multiple photo uploads and automatic resizing blew my mind). Inspired by the projects founders, I was hooked, and within a year convinced my employer to pay for my coursework in code anywhere I could get access to it.
Back to Techcrunch Disrupt, both during and after "Women in Tech," there was a lot of personality-centered trolling, which I want to avoid, it's not constructive and frankly boring. Instead, I'd like to share some observations about:
women at tech/engineering conferences
being a woman at a tech/engineering conference
being a woman and an engineer at a tech/engineering conference
1.) Women once broke into office and company culture based on how fast and well they could type.
Women are everywhere in the tech/software industry, revolutionizing startups and established companies based on how fast they can code well, design, and deliver.
2.) Women who become coders or core contributors to software development will necessarily become (through their work) part of a consciousness-raising group.
Online projects, apps, and SaaS communities are composed of talented innovators, activists, and advocates who are disruptive in life-altering, freedom-driving ways.
3.) Women are among many minorities at tech and engineering conferences, but it's not part of a conspiracy or a secret controlling caucus.
Conferences and events are big business and there are always new ones forming. Pay attention to the conference/event culture and proposal submission deadlines, and submit.
4.) Women executing work in the field of tech and engineering, an audience at or around a tech conference is a "nice to have," but not necessary.
Audience can be an asset, but it can also be a distraction. Some of the most talented women out there are too busy to cultivate a personal audience.
5.) Women who present at conferences will NOT be the core cause that leads to more girls entering the fields of technology and engineering.
Conferences and events are part of the social, political, and cultural business ecosystem, but not the tipping point.
6.) Women who show up at tech and engineering conferences are exposed to valuable information, awareness, and camaraderie.
Stop focusing on the gender ratio. Surface the stories of other conference-goers.
7.) Women face unique challenges related to biology. At conferences, men will NEVER outnumber women in asking, "How can I combine a career and a family?"
Use your difference to your advantage when it comes to innovation and development around products that can cause true disruption.
8.) Women share slides too.
When J'aime Ohm finished pitching her winning hack Wise Dame, she concluded with the smartest slide of the entire conference:
Contact me: I'm looking to work and collaborate with other developers. I'm looking for a mentor.
9.) Women do not universally want to be technologists.
Many women who aren't developers might also comprise your largest customer-base. Don't discount other women just because you are a female technologist.
We may live in an era of real-time, but making history takes time. There can be no doubt that women are already playing an exciting role in the future of tech and software development. Yesterday's panel was painful and is already in the past. I'm planning to avoid anything labeled "Women" at future conferences, unless it's women-sized t-shirts.
Panel Included:
Calling all HuffPost superfans!
Sign up for membership to become a founding member and help shape HuffPost's next chapter