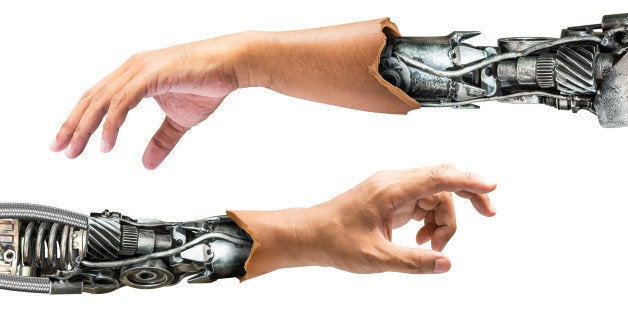 For the past few years technology has been at the top of every wedding trends list. But what those lists mean by "technology" has gotten a little old: hashtags, charging stations, that cool thing Disney does with the movie on the cake ... Hardly the stuff of fairytales for most couples interested in technology. So what's really new and techie and coming your way at weddings this year and beyond?
Photo Apps
From wedding planning and wedding registries to music selection, apps are everywhere on the wedding landscape.
Of course, our favorite is our own, Snapshots, giving you the ability to effortlessly view your friends' photos and your professional photos in one gallery. SPOILER ALERT: Snapshots has an exciting announcement coming soon, we can't say much, but it does involve the words Apple TV.
A Different Kind of Portrait
Sure, wedding pictures are important, but what about a full portrait of how you felt that day? What if after the wedding you could show your bride just how excited you were when you saw her walk down the aisle? Fitbit and other health-related apps are doing just that.
Drones
Drones for wedding photos, drones as ring bearers, drones are all over the tech landscape right now and that means they're about to be all over the wedding landscape as well.
On Demand Bar Service
Let's be honest, what good is technology if it doesn't bring you more of what you want?
On demand bar services like Drizly (think Uber for alcohol) promise to make overspending on your wedding bar a thing of the past as you (or your planner) order up more alcohol during the wedding itself.
3D
Although the technology isn't quite there yet, Brandon Baker, Co-Owner of Loveletter Cakeshop in New York, sees a future where laser printers will work with fondant to truly custom make cakes (until then though, he's making all his cakes by hand).
Artec 3D is already using body scanners to create customized wedding cake toppers and wedding planner Brett Galley sees a future where wedding favor booths will replace photo booths and guests will create their own wedding favors on site.
The Wedding Scrum
In the old days, going online to search for wedding vendors or creating a wedding website was considered "techie." Today you can go full tech and use the same tools developers do to keep track of projects. Trello, Google Docs, and Microsoft all have specialty tools for planning your wedding, and involving others in the planning. Programmers talk about "scrums" and one new site, Scrum Your Wedding, is determined to bring the process to wedding planning.
There has always been a thin line between enhancing the wedding experience and over-taking it. Remember when dancing down the aisle was a thing? But because technology has the potential to overtake so much of our lives, the line seems a little thinner when it comes to weddings and technology.
From interactive centerpieces featuring pictures instead of flowers to live interactive social media displays, a lot of companies are predicting tech that seems more likely to distract from the wedding experience than add to it.
As you evaluate technology or any wedding trend for your own wedding, make sure to ask yourself if it's something that will help you and your guests enjoy the day, or just a shiny distraction.
Related