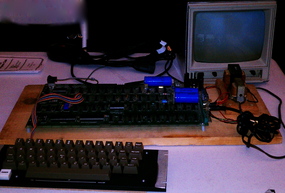 The Homebrew Computer Club started unceremoniously in early 1975, meeting in a non-descript Menlo Park, CA garage. The first members were a loosely associated small group of computer hobbyists and tech nerds, engineers who wished to share information, exchange ideas, and keep tabs on how big business and the government managed information.
Their mission was informal: to learn and share ideas about evolving microcomputer technologies because, well, it was also a lot of fun. Little did they know back then that when the club eventually celebrated its 38th anniversary that more than four hundred attendees would buy tickets.
Appropriately, the 38th reunion was held at the Computer History Museum in Mt. View, California on 11/11/13 in the heart of Silicon Valley, where one of the earliest members, Len Shustek, is now the museum's chairman. Although half of the attendees were never part of the Homebrew Club, all came to meet and hear the now grey-haired originators speak, while hoping to catch a glimpse of original member Steve Wozniak, who's spontaneous recapturing of an era delighted listeners that night.
I was thrilled to attend and felt like I was walking through living history. When you consider that the entire time-line of computer technology spans less than a life-time and that much of the genius behind hardware, software and the world-wide-web was present at that event, it was awe inspiring!
Silicon Valley has a long history of getting technology stuff started. Consider that more than two decades before the Homebrew Computer Club got started, Hewlett and Packard, then a couple of Stanford engineering students, designed their first electronic components which later grew into what became the HP we know today. That took place only blocks away in another small garage.

Cross Generation Mingling
Hilda Sendyk, an early Homebrew member, who came up with the idea to have this reunion as more inclusive than earlier meetings and events, wanted to reach out to techies of all ages. According to Sendyk, "a poll taken during the presentation portion of the event revealed that roughly 50% of the attendees had not even been born before 1975!"
The reunion planners certainly didn't expect such a staggering number of attendees plus members of the US and international press. Amazingly, the tickets sold out on Kickstarter in a matter of hours. This event became a meeting of the old guard and the new exuberant generation of 'hackers'. Talking to younger techies it was clear that they were in awe of the Homebrewers and felt that their current endeavors were following in their non-conformist footsteps.
During its first eleven years, Homebrew held regular meetings and the rich exchange of ideas led to the formation of more than twenty companies. The one surviving company is Apple Computer. Although Steve Jobs, along with Steve Wozniak were Apple's co-founders, Jobs wasn't a regular Homebrew member though he attended meetings periodically.
Among the many delightful memorabilia displayed at the reunion, an original Apple 1 (see my photo at top of the page) sat in all its glory in a room set up to display numerous vintage computers. It was a treat to visit the past and see its curious assemblage of parts, looking so cumbersome compared to current sleek and minimal models.
So why am I writing about this long-ago club of computer hobbyists and early hackers? If you read HuffPost50 then this is history you can relate to. The Homebrew members were, and it turns out most still are, inquisitive and always searching for new and better ways to design computers, software, communications and related technology. Knowingly or not, they activate novelty, complexity, and problem solving, the triad of qualities that stimulate brain activity including neuronal production and connections.
Homebrewers and others pursuing computing technology either as a hobby or as a profession, gain incredible benefits while having a good time. And if you are over 60 like the original members, the gains from participating in such an endeavor continue to accrue while your brain is stimulated. But if computer technology is just not your thing, remember that the triad mentioned above, also works well in other pursuits, especially in the fine arts like painting, music, and writing.
What Are The Homebrewers Doing These Days?
While early Homebrew members were pioneers in the 70s they continue to make contributions to technology and society. Where are some of them now?
•Lee Felsenstein, one of the original Homebrew members and host of the current reunion, continues to do engineering design and mentors younger "hacker-type" developers.
•Bob Marsh, co-founder of Processor Technology, now pays it forward by heading up non-profit Inveneo that brings technological aid to areas of Asia and Africa lacking in computers and other technology products.
•Roger Melen is Senior Advisor for Toyota ITC on vehicle computers systems and networks for infotainment and data sensor networks.
•Harry Garland is currently Chairman of Garland Actuarial LLC.
•Hilda Sendyk, a Manufacturing Manager for early personal computer manufacturers is now is a Learning & Development and Workforce Consultant.
•Diane Ascher, a Customer Service professional for Processor Technology retired and now coaches youth athletic teams.
Popular in the Community