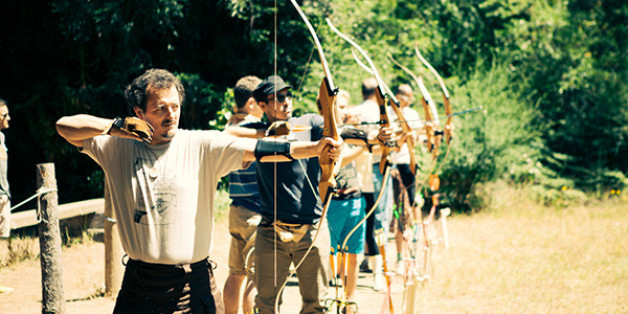 It took a case of internal bleeding to convince Levi Felix it was time for a break.
He went to the hospital one day in 2009 with what he thought was the typical fatigue, nausea and head pain that came with constantly using his iPhone, BlackBerry and computer to stay connected to his tech startup job. Instead, he found himself at the age of 24 in the ICU with an esophageal tear that his doctors said was caused by stress. Felix quit his job and took a break -- a trip around the world.
Now, Felix is trying to save others from becoming his former self. His company, Digital Detox, runs a camp where people pay to be separated from their devices, stay in the woods for a few days, and meditate and talk through their relationships with technology. The experiences cost between $400 and $1,000.
"People need it, people need to unplug, people need to find balance, people are burning out," Felix said. "It's real."
That need has spawned a business opportunity, much to Felix's own surprise. In addition to his well-known Camp Grounded, which typically sells out quickly, there's a small economy of hotels, apps and retreats popping up that charge customers to take their devices away.
"Just like you get a trainer, or you pay someone to do things that might be hard for you, they're looking for ways to bring balance" said Tiffany Shlain, who made a 2011 film about technology and its effects on personal relationships called "Connected: An Autoblogography about Love, Death & Technology."
Felix said he finds it a bit bizarre that his idea about unplugging has turned into a business opportunity. He expressed concern that some businesses that tout opportunities to detox for a few days aren't really preparing their customers for the experience of disconnecting during retreats -- an experience that can cause a great deal of anxiety, he noted.
"It's interesting when something becomes a trend or a marketing word," he said.
Concerns about the retreats' effectiveness are well-founded, according to Alan Langleib, a Baltimore psychiatrist and the editor of the textbook "Mental Health and Productivity in the Workplace." That's because going cold turkey for a few days isn't enough for most to really change their lifestyle, he said. Instead, people need to commit to strategies for eliminating distractions -- like compartmentalizing their time into blocks for email, phone calls and leisure -- if they really want to achieve a balanced life, he said.
"It requires work, and most people -- like anything else -- they'll try it, and then they'll fall back into the old pattern," Langleib said.
Making that commitment can feel impossible for workers constantly bombarded with emails, phone calls, meeting requests and other distractions, Langleib said.
"Changing any behavior -- whether it's multitasking and going offline for periods or exercise and weight loss -- is difficult," Langleib said. "A brief two- or three-day seminar, while it's informative and instructive, the proof would be how able and interested the individual is to change behavior."
Some are too nervous to even make a change for a couple of days. At Lake Placid Lodge in upstate New York, the "Check Out" package hasn't had any takers so far, according to Greta Hovland, the events coordinator there. For $1,340, relaxation-seekers can enjoy two nights without their cell phones and instead participate in activities like cooking classes and canoe rides.
"We're hoping for that first person to bite the bullet and actually take us up on the offer," she said. "People love the idea of it, but it scares them to death at the same time."
Still, the idea of offering some help to guests looking to unplug has become increasingly popular in the hospitality community, Hovland said. "I've definitely seen this idea springing up at a lot of other resorts," she said. "I can see the need for packages like this. It's very hard for people not to update their Facebook status."

Andy Thesen, who owns the Hermitage Bay resort in Antigua, said when his guests arrive at his picturesque hotel for a romantic weekend, it can often take them days to forget about the distractions they face at home. That's why he's offering them the chance to pay $999 dollars per night for two to stash their devices at the front desk. But like Hovland, Thesen said no one has signed up yet.
That may be because for many, the price tag and the time away from devices is too much. But there are options for those looking for a quicker break from tech, thanks to upstart entrepreneurs. David Krevitt and his friend Noah Levy came up with the idea for an app that would help people turn off their cell phones without actually turning them off. The idea popped into their heads after enjoying a meal with friends in which they noticed everyone was looking at phones instead of talking to each other.
Their app, BRB, essentially sets up an away message on your cell phone when you don't want to respond to people's calls, texts and emails. The service has become so popular that the duo is working with companies that want to buy a version of the app to keep workers off cell phones while driving, Krevitt said.
"With the continuous penetration of smartphones and the expectation of being always on, we've reached a tipping point with it where people are saying enough," Krevitt said.
REAL LIFE. REAL NEWS. REAL VOICES.
Help us tell more of the stories that matter from voices that too often remain unheard.