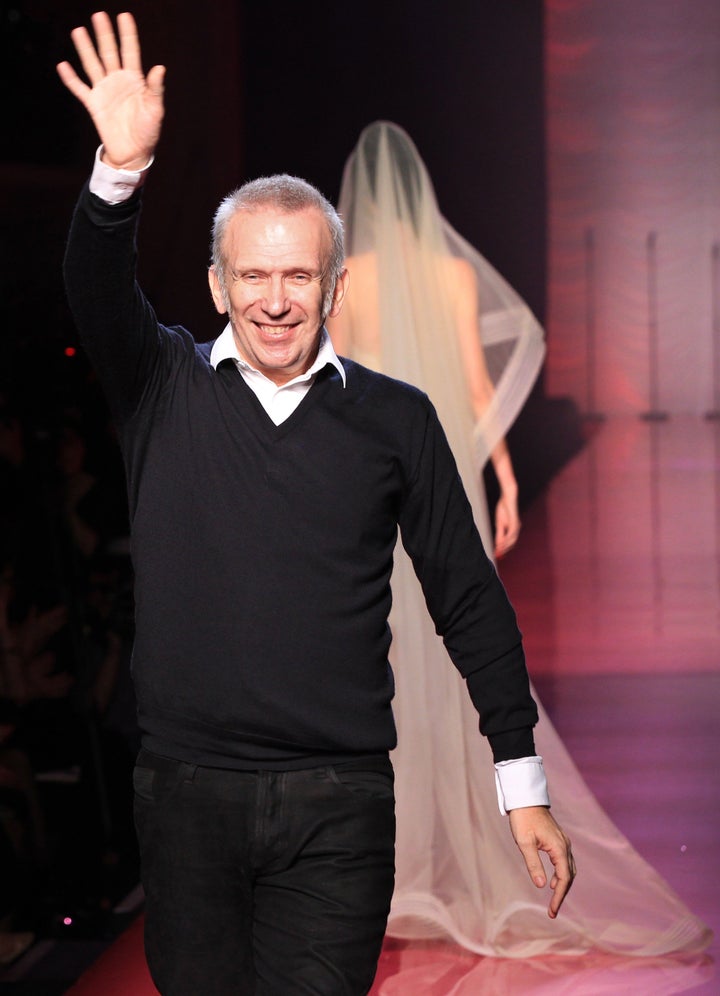 Two weeks ago, I had the privilege of attending (as press) the Bastille Day party at San Francisco's DeYoung Museum and seeing their amazing exhibit of the work of French Designer Jean Paul Gaultier. The exhibit is titled The Fashion World of Jean Paul Gaultier: From the Sidewalk to the Catwalk and will be on display at the museum until August 19th. The exhibit is a must see for anyone interested in fashion, even if you are not familiar with Gaultier, or a fan of his work. The exhibit showcases 140 haute couture and prêt-à-porter designs created by the non-conformist designer between the mid-1970s and 2010. This unique exhibit combines fashion with multimedia displays, as the mannequins (like the designer himself, pictured above), speak and narrate parts of the exhibit.
Included in the exhibit are the sketches and costumes that Gaultier did for singer Madonna. A highlight of the exhibit, that MTV fans will recognize, is the infamous cone bra he designed for the singer's Blond Ambition tour. Madonna wore a Gaultier designed corset with cone bra in her "Express Yourself" music video. It was his corset and cone bra designs for Madonna that bought Gaultier to the attention of fashionistas planet wide. Also featured in the exhibit is a haute couture version of his work for Madonna: a dress with cone bust and lovely ruching that was featured in his Paris runway show. Although the designer's costumes for Madonna bought him to the attention of the world, it is his contribution to fashion that the exhibit highlights to great effect.
Many of the garments in the exhibit have storyboards alongside them describing how many hours of labor it took seamstresses and craftsmen to create them, and what materials were used in their construction. After reading those storyboards, and the hours it took to create many of the garments, I came away with a new appreciation for Jean Paul Gaultier. He is a designer who is very much a non-conformist, but he is also a great artist who has created innovative, although not always commercial, designs. If you live in San Francisco, or you're a tourist visiting the city with an interest in fashion, put this exhibit on your list. There are only a few more weeks to see this unique display. Tickets are priced at $20.00 for adults, with discounts available for seniors, students and children.
After San Francisco, the exhibit will move on to Spain. The exhibit will be shown at Madrid's FUNDACIÓN MAPFRE from October 6, 2012 to Januarty 6, 2013. New additions for Spain will include a specially-conceived grouping located within the Urban Jungle section that illustrates how some of Spain's most cherished cultural icons, from toreros to flamenco dancers, have influenced the couturier's work. A special highlight of the Madrid exhibit will be Gaultier's eye-catching costumes for films by Pedro Almodovar (from sketches to final versions), which will be installed in a dedicated gallery also exclusive to the Madrid venue.