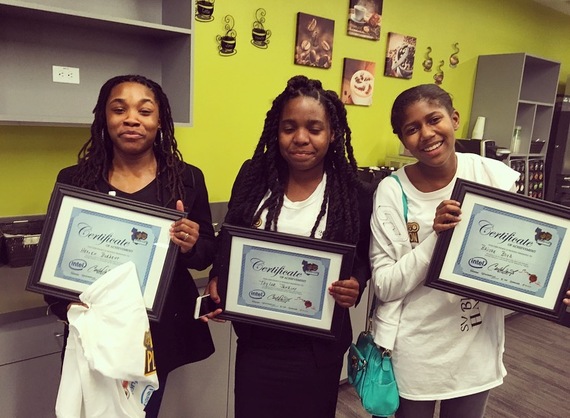 Team Sistahs Who Code, source: StreetCode Academy
(If you missed part 1 or part 2, please read those first.)
The more I thought about it, the more learning to code made sense. No one knows the product better than me, why not learn how to go from wireframes to the App store?
Why didn't I think of this sooner?
I did, but everyone tried to convince me to find a technical co-founder, or to outsource the coding, that I never circled back on learning to build the product myself. I spent so much time and energy trying to convince other people to help me, only to be left disappointed, drained, and alone.
I wasn't afraid to learn, I just never bothered loading up the computer and starting my first lesson.
When I walked into StreetCode Academy in East Palo Alto, CA on January 19, 2016 and heard a rousing speech by program Director, Olatunde Sobohemin, I saw the matrix. My dormant superpowers had finally found a home.
I've been learning programming for a few weeks and guess what?
BUILDING THINGS IS SUPER FUN.
Learning to code is just like learning anything new in life: you initially suck - you get frustrated, confused, and drive yourself crazy with doubt.
Do you know what happens if you stick with something and make it through all those brick walls?
I have nothing to lose trying to learn programming. But I'll lose everything waiting on someone else.
Deontay's final point about dedicating yourself to your craft highlighted his deep belief in impeccable work ethic. He attributes his success to willingness. He was willing to go through mud to get what he wanted in life. He was willing to do what other people wouldn't do to ensure success for him and his family. If that meant riding a bike to work while his friends laughed at him, fine. If it meant working two jobs and sleeping in your car, okay. If it meant skipping meals so your daughter can eat, so be it.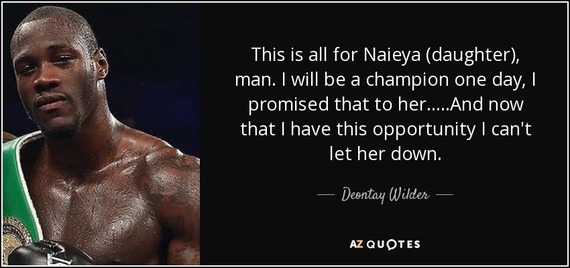 Deontay's mental strength is as impressive as his 36-0 boxing record. I love his line, "It's not about who has it right now, but who has it in the end." It perfectly encapsulates his long held self-belief, determination, and patience.
Instead of our youth just being users of technology, what if we could instill them with confidence and skills to create their own apps? What if we encouraged them to pursue technology that other people will want to use tomorrow?
Every kid, teenager, and adult is glued to their smartphone. What if more underrepresented minorities can learn how that technology works? What if they leveraged those acquired skills to better their communities? How many people could they impact with just one idea?
Every entrepreneur thinks about giving up. True entrepreneurs have the patience, guts and stubbornness to hang on a little bit longer. They don't wait for the world to catch up, they work while most people are sleeping. They sacrifice time, energy and relationships so other people can have better lives. They move fast and break things.
What if the kids at the Silicon Valley Black Youth Hackathon are now on a path to becoming future world-class programmers? What if the next Airbnb, Uber, or Facebook founder was in that room?
We have a higher probability of finding quality founders on one of the winning hackathon teams than in people partying and trying to "Netflix and chill."
The Healthy Hackers, Dab Run, Jamii, or the all-girl team, Sistah's Who Code, are something special.
In just one week, they were able to prototype ideas and sell them to a panel of high-level executives from Microsoft, Intel, and Rocket Fuel - they got those judges excited about their potential. Those kids are a perfect example of the untapped human capital that exists in all communities, especially those from underrepresented minority groups.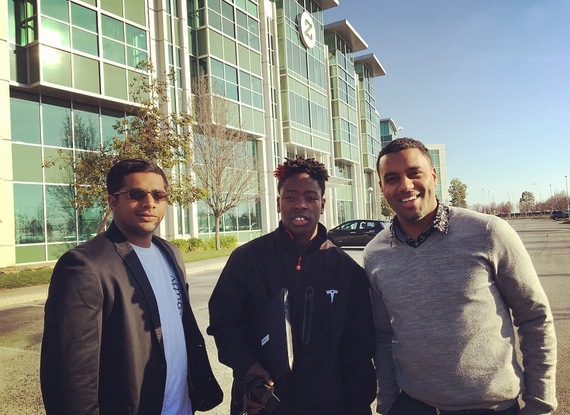 Team Healthy Hackers with StreetCode Academy Director Olatunde Sobomehin, source: StreetCode Academy
Why is it people of color, and especially African Americans, are underrepresented in everything great, but overrepresented in everything dreadful? These groups of people can do more than shoot hoops, catch footballs, and run fast. If we're going to continue being the world's greatest problem solvers and be the breeding ground of innovation, we need to eliminate that limited way of thinking.
Projections suggest that 120 million high-skilled job applicants are needed by 2020. Additionally, the entrepreneurs of the future will need to possess skills in Science, Technology, Engineering and Math (STEM) disciplines. It's critical we prepare future generations to thrive in the new global economy technology is creating. It's our duty to empower underrepresented minorities to be a significant part of that future.
Technology has the power to be the great equalizer.
Like it or not, we're all already in the race. We can't afford to waste all this untapped human capital. We can either get involved in the solution now, or wait and fall behind. The Silicon Valley Black Youth Hackathon was a crucial step in the right direction.
You only had to look at all the proud faces at Rocket Fuel Inc. to know the event was wildly successful. Whether those kids won prize money or not, they saw what results are possible when preparation and hard work meets opportunity.
I keeping reading that more companies are looking to import tech talent from overseas. That's a fantastic opportunity for immigrants, but let's not forget to develop talent that's in the backyard of Silicon Valley - East Palo Alto is only two miles from Facebook's headquarters.
Who knows what hidden gems are waiting to be discovered in underrepresented minority groups?
We're all winners when more kids become passionate about technology. Only time will tell what planting those seed inside the minds and hearts of the kids involved in the first ever Silicon Valley Black Youth Hackathon will yield for the future.
My hope is more people will proactively take part in helping more kids learn and appreciate the value of technology.
Visual version of the 3 part story:
Calling all HuffPost superfans!
Sign up for membership to become a founding member and help shape HuffPost's next chapter