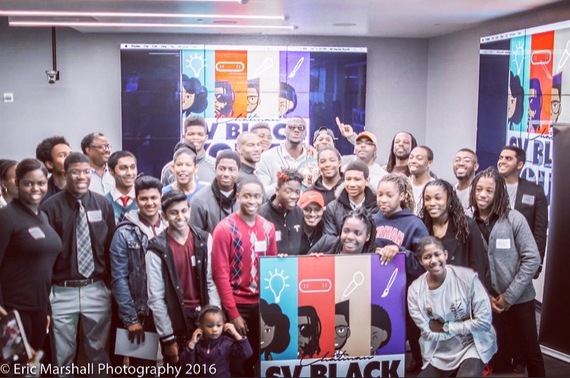 Source: Eric Marshall Photography
To my delight and frustration, coding, design, UI/UX and all aspects of tech, have become my magnificent obsession over the last couple of years. When I'm having lunch with a friend, it's on my mind. When I'm running on the treadmill, it's on my mind. When I'm watching the latest blockbuster movie, it's on my mind. I literally think about tech and it's place in the world every, waking, moment.
My magnificent obsession has been building for some time. I remember when soared to new heights. It was during September 2014 when President Obama asked communities around the United States to accept the challenge to "implement a coherent cradle-to-college-and-career strategy for improving the life outcomes of all young people." To me, with how technology is being integrated in all aspects of life, it was the equivalent to President Kennedy's famous remark, "My fellow Americans, ask not what your country can do for you, ask what you can do for your country."
Do you ever think about how technology is consuming the world?
While in Los Angeles visiting my mother for her birthday February 14th, I couldn't help thinking of the hackathon I had the privilege of being in the front row seat for. It had empathetic, high-powered corporate executives interested in diversity, vibrant minds of the future, and a world boxing champion as the "halftime show." AND it happened on Super Bowl Saturday the week prior.
Frankly, I remember that day more vividly than any moment from the Super Bowl. Do you know why I couldn't get that day out of my mind?
It was a monumental event: the first ever Silicon Valley Black Youth Hackathon.
Silicon Valley has been leading the way in technology for how many decades now? And yet it took until January 30, 2016 for the first ever Silicon Valley Black Youth Hackathon to happen -- all thanks to the efforts of President and Executive Director of The Silicon Valley Black Chamber of Commerce, Carl Davis Jr., his committee, and all the local sponsors and supporters who worked for several months to bring this vision to fruition. God bless them for the efforts in introducing the value and importance of technology to kids from underrepresented minority groups.
This hackathon was unlike any other I've ever been to. It had training workshops, software development competitions, mentoring, networking, presentations, awards and cash prizes. What other hackathons do you know that has all that?
The Silicon Valley Black Youth Hackathon was uniquely structured over two weekends. On the first weekend, over 150 high school, college, and young professional adults ages 16-24 from all over the San Francisco Bay Area came together to form teams. Using STEM (Science, Technology, Engineering, Mathematics) and business principles, they had to choose between two predetermined app challenges:
Help the San Francisco Bay Area African American community use technology to enhance opportunities for employment, entrepreneurship, and education.
Help increase awareness of fitness activities, events, and exercise in African American communities.
Thanks to the graciousness and hospitality of GSV Labs in Redwood City, CA, the kids got a chance to work overnight on their chosen idea over a 36 hour period on January 30 and 31st. If that doesn't scream startup life, I don't know what does.
Have you ever tried working on software? I am. Let me tell you, it's insanely frustrating. Tack on little-to-no-sleep and a tight deadline, and you have a recipe for burnout and quitting. Or as the winning groups proved, that same recipe can yield perseverance and tangible products.
A hackathon provides an opportunity for intense collaboration and hyperfocused creation. It's the opportunity to build something from nothing. What I love about the idea of hackathons is that it's problem solving at it's purest: shut up and show me something.
While politicians, academics and keyboard warriors can debate endlessly on problems, coding is about creating imperfect solutions that can be implemented today. What if that something-from-nothing can change the world?
After the prejudging stage, 30 kids were left standing from the original 150 that entered the competition. In their groups, they would have one week to work on their software ideas. They would hold presentations for high-level executives the following weekend on February 6, 2015 at Rocket Fuel Inc. in Redwood City, CA.
I can't get this day of presentations out of my head. There were so many standout moments, I don't even know where to begin.
One of the day's treats was getting the chance to have Intel Vice President Michael Greene and Microsoft Corporate Vice President of Education Marketing, Tony Prophet speak. Sure Michael Greene and Tony Prophet aren't as world renowned as Mark Zuckerburg or Larry Page, but they're very damn well a Sheryl Sandberg in my book. In fact, literally after finishing his talk and taking a few fan photos (yes, tech folks have fans too), Tony had to make his way to the airport to catch a flight for his next business meeting!
These two gentlemen were highly charismatic and elegant speakers. They spoke about their origins in tech and line of work with such passion and gusto. I couldn't get enough. I was enthralled with their talks, imagining myself one day standing in front of a room of kids, telling them "how I made it." I wonder if any of those kids were envisioning themselves as future tech leaders?
When I looked around to see what the room full of kids were doing, to my pleasant surprise, they weren't on their phone or goofing around; they were actually paying attention to Michael and Tony.
Do you know how hard it is the even get the attention of people for more than 140 characters? If it doesn't involve semi-naked "models" posing, celebrity gossip, or cute animals acting like humans, it's incredibly hard to hold people's attention today. And yet these kids were hanging onto Michael and Tony's every word like they were President of the United States.
Visual story on why today's event was so important:
REAL LIFE. REAL NEWS. REAL VOICES.
Help us tell more of the stories that matter from voices that too often remain unheard.