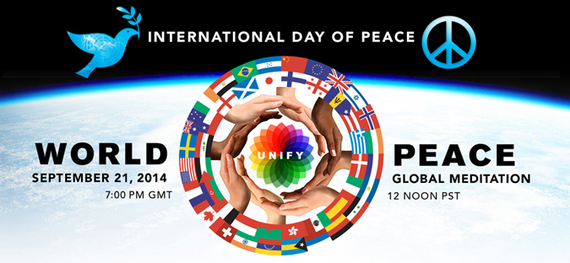 Fire is technology. We can use it to warm our food and our home or it can burn down our neighborhood. It's all a matter of how we choose to use technological resources, or abuse them. If you are reading this now then you are engaging with some of the most complex technology in the history of the planet, the internet. You are literally reading light as it is interpreted through complex networks and computer chips to relay ideas and feelings around the world. That is why it is so exciting to see a digital technology recently launched with the purpose of connecting people around the world for the sake of creating peace. It is the Global Peace Map powered by Unify in collaboration with many organizations and individuals around the planet who are collaborating for September 21 International Day of Peace and beyond.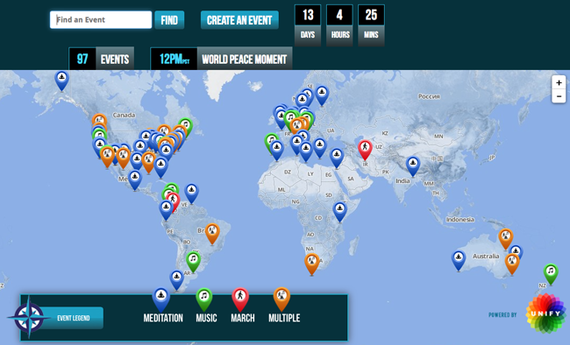 This platform serves as a central place for people to connect into the global web of peacemakers and is embeddable simply by copying and pasting the Iframe Code below into any blog or website page.
This emergent dream has been created through contributions of intelligence and funds from many peace organizations and individuals (a complete list of supporting organizations is available at Culture Collective). Together, everyone, everywhere is empowered to populate the map by creating a local event. Never before has there been such a globally crowd-sourced, unified, interactive tool for peace.
The United Nations has declared the theme of this year's International Day of Peace, also the 30th anniversary of the General Assembly's declaration of the day's intention, as the "Right of Peoples to Peace." The UN has recognized that peace is a prerequisite of realizing human rights around the world, and it is within our potential as human beings to build positive peace.
The Global Map is one way technology is helping us harness this potential. Social media is, as well. Participants are also encouraged to take pictures of their local events and share them to social media networks with the hashtag #PeaceDay. There is also a Facebook Event Page for the globally synchronized meditation with over 20,000 participants. In addition to The International Day of Peace events planned for Sept 21, there is The Peoples Climate March.
The link between environmental stewardship, social justice, community celebration, and peace must be strengthened if our dreams of healing a planet in crisis are to be realized.
The Global Peace Map translates to your timezone, wherever you are and allows you to zoom in, and scroll across the planet to see that people are waking up and calling for peace everywhere. International Day of Peace is a United nations Resolution and the overwhelming support of civil society for this particular event has helped to focus world leaders attention on it as well.
All of the technology in the world of humans was born from within us and is a reflection of our potential. We use finite resources from our planet that come at a cost. Will we use our resources to create technology for the betterment of all or for the destruction of everything that we cherish? I suppose that it is a choice in the way we want to use or abuse them. On this small planet, anything we do to others or to nature we are ultimately doing to ourselves. Choose peace!