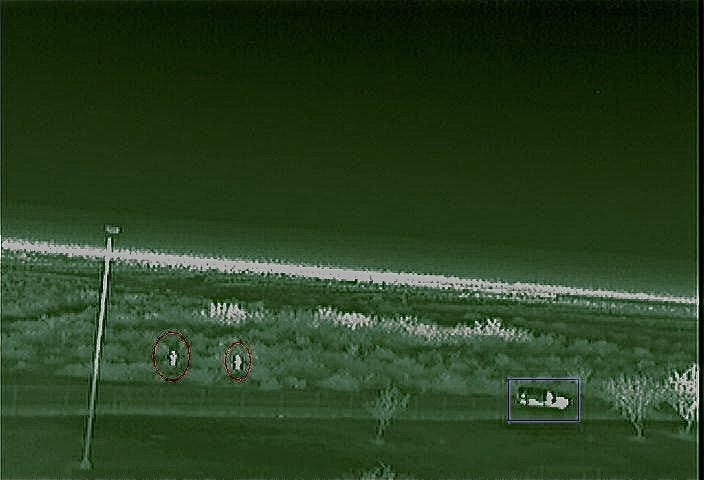 The battle between border crosser and border patrol just got a little nerdier.
While Homeland Security estimates that nearly four million Mexican migrants were apprehended on the U.S.–Mexico border between 2005 and 2009, the Pew Hispanic Center estimates about 1.5 million Mexican citizens successfully migrated to the U.S. in the same period. In the past few years, however, two opposing "crowd-sourcing" technologies have brought the clash between border crosser and border patrol into the digital age.
Border patrol agents in Texas, overwhelmed by the number of migrants attempting to cross their expansive border, established a program in 2008 called BlueServo.net to "crowd-source" their challenge. The website describes itself as "an innovative real-time surveillance program designed to empower the public to proactively participate in fighting border crime." Essentially, volunteers around the world sit at their computers watching surveillance cameras set up across the Texas-Mexico border. When the "Virtual Texas Deputies" detect movement on one of these cameras, they report the encounter; when enough reports coincide, border patrol agents are deployed to the location. On their Facebook page, users leave comments such as "on camera 4 ... four to five people ran from left to right" or "swimmers on cam 13 now" to alert the sheriffs to border crossers.
CNN reported in 2009 that user Rob Abernethy, a 42-year-old factory worker from Lincolnton, North Carolina, watches BlueServo cameras for an average of half an hour every day because "he feels like he's part of an altruistic group of volunteers." CNN also reported that Abernethy saw it as "no worse than any other form of quick entertainment."
"It's no different than watching 'Everybody Loves Raymond' reruns ... It's just something to do," Abernethy said in the interview.
Although Governor Rick Perry provided $2 million in Criminal Justice grant funds to support the initiative, the El Paso Times reported that the project largely failed to meet its projected goal of 1,200 BlueServo-related arrests in the first year. In the first six months, only three arrests were made, according to the paper.

On the other side of the equation, a new tool to assist undocumented migrant workers safely over the border into the United States is being developed by Ricardo Dominguez, activist/hacker from the University of California in San Diego. The free GPS application is called the "Transborder Immigrant Tool" and was wrapping up its testing in 2009. In an interview with Vice Magazine in November of 2009, Dominguez described how his application works.
"We looked at the Motorola i455 cell phone, which is under $30, available even cheaper on eBay, and includes a free GPS applet. We were able to crack it and create a simple compass-like navigation system. We were also able to add other information, like where to find water left by the Border Angels, where to find Quaker help centers that will wrap your feet, how far you are from the highway -- things to make the application really benefit individuals who are crossing the border," he said.
To date, there have been no reports of border crossers using the program successfully. But, then again, maybe that's the point.
Popular in the Community