This is a guest post by Worldreader staff: Kristina Lee, Manager, Programs and Partnership and Selena Garrahan, Assistant Community Manager.
100 books
As they gather around wide-eyed, their curious minds marvel at this small device packed with big promise. In Migori County, Kenya, at a school supported by Lwala Community Alliance, it's a school day not quite like any other for these primary students. Each one of them has just received 100 new books. That's a lot of books, especially when you consider that many schools in Africa have far fewer books than this to share among all the students, let alone each student.
This clearly needs to change. Fortunately, it is changing.
Reading today matters more than ever-- think of the role that Google, e-mail, and Wikipedia play in your own life. If you're educated, the world will be a safer, more innovative, more prosperous place. And it all starts with kids. Kids need to read. If we raise our kids as readers, they will continue to learn throughout their lifetime.
So how can we rapidly empower readers on a larger scale? Finally we have a real opportunity to do so.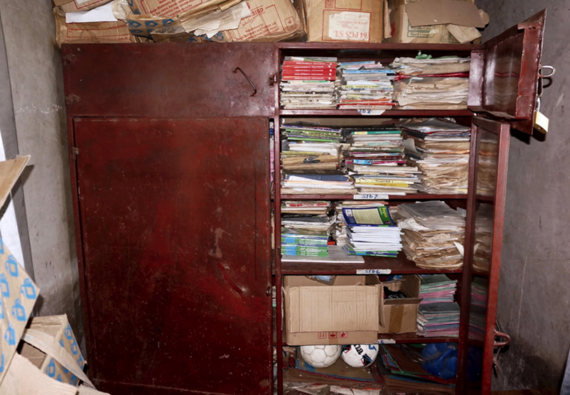 Where there used to be old, tattered books at Sumba Primary school, there are now digital books. And lots of them! Photo credit: Worldreader
E-readers & Mobile Phones
Traditionally, it has been inefficient and costly to deliver books to the developing world. Even when the books do arrive, they are heavy and often irrelevant. Digital books on e-readers change all of that. E-readers are remarkably well-adapted to the developing world, in part because they don't need much power and they are portable. It's almost like having an entire library at your fingertips. What's more, the price of e-readers continues to fall, making digital books delivered on e-readers an increasingly cost-effective way of getting the right books to those who need them most.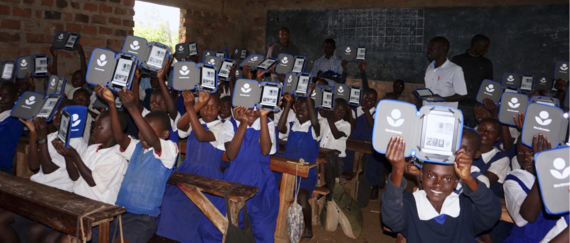 Students at Sumba Primary School excitedly showing off their new "libraries of books" thanks to Lwala Community Alliance! Photo credit: Worldreader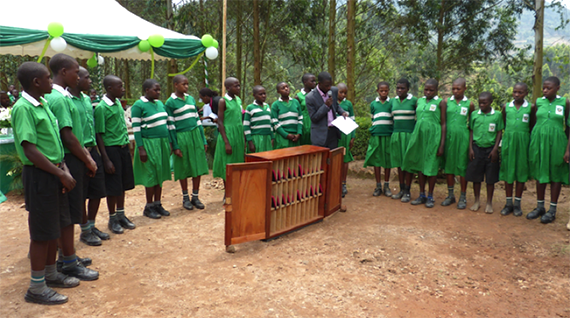 Nyaka AIDS Orphans Project displays a locking cabinet for the e-readers during a launch ceremony for the program. Photo credit: Worldreader
Working with organizations like Segal Family Foundation means tapping into a network of small-but-mighty NGOs that strive to improve livelihoods and empower through education and opportunity. Segal Family Foundation's model brings people together to collaborate in the most effective way. Their partners vary in missions, from HIV healthcare to education and beyond. And they've rightfully realized that at the core, improving literacy and providing access to books makes sense across the board. Improving literacy rates reduces maternal mortality, lessens the gender divide, reduces cycles of poverty, and so much more. That brings us to content.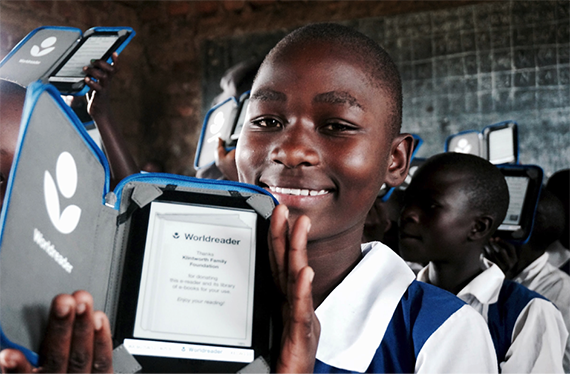 On each device is a page thanking the generous organization for their gift. Photo credit: Worldreader
Content Is King.
It's one thing to get books into the hands of these kids. But without the appropriate content to stimulate the mind, it's incredibly difficult for anyone to find their passion. The real magic comes down to getting the right books. For Lwala Community Alliance's students, that means digital versions of textbooks they use every day in the classroom; for Nyaka's program, it's low-level storybooks teaching students about the world around them. The truth is, kids want to read stories they can relate to or learn from curriculum they recognize. They need to be inspired. And that's part of the essence of our work. Curating local and relevant content so that reading becomes truly purposeful.
Related
Popular in the Community