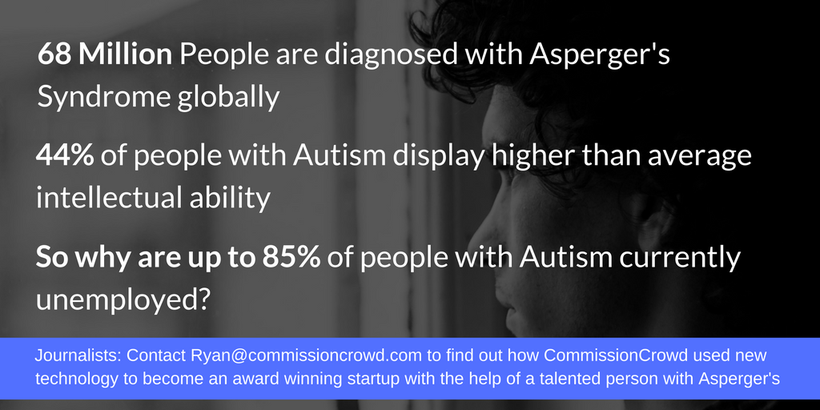 "It's a sad fact that only 16% of adults with Asperger's hold full-time jobs. There are around 68 million of us globally. It's a major problem, a drain on the economy, and a huge waste of talent and resources," says Matt Skillings, now Chief Development Officer of CommissionCrowd.
Matt Skillings was a talented but struggling web developer, who was diagnosed with Asperger's syndrome (now classed as Autism Spectrum Disorder) at a late age and found success in his career due to being able to find and use new and innovative communication technologies.
Matt's inclusion in the CommissionCrowd team proved to be such a boon to the company that he has now been given an equity stake in the business and promoted to CDO.
"We've now been working with Matt for close to two years. He's one of our biggest assets and his work helped our company win a major award at the 2016 Sales Innovation Expo. We're growing at a rate that would not have been possible without his incredible work ethic, dedication, and unique skillset. He's [our] CDO and we've still never met in person or spoken over the phone. It's harrowing to think there are millions of people with stories similar to Matt's who have never been given the chance to utilise their skills," Laura McGregor, CEO of CommissionCrowd.
Now, CommissionCrowd is on a mission to raise awareness for Asperger's in the workplace. They plan to launch an Asperger's foundation to reach out to people who are struggling to enter the workplace like he once was.
Matt wasn't diagnosed with autism until he was 33 years old. Up until that point, he never understood why he was so different. Social interactions came as a challenge, and he often found it difficult to relate to people his own age. Receiving an official diagnosis was a revelation, and he was really able to understand why he struggled with some situations that other people seemed to find easy.
According to the National Autistic Society only 16% of adults with autism are employed in full-time positions. When Matt tried to enter the professional world, he was met with grim prospects, and knew of employers' tendencies to see the "disabled" label on a resume and assume a person was unfit for a position. He was left with very few options for jobs that allowed for less social interaction and working independently.
A recent study by the Center for Disease Control found that 44% of children with autism display higher than average intellectual ability. So why is it that so few adults are able to find full time employment? For Matt, one-on-one interviews and the prospect of working in an office full of people were just two of the reasons traditional jobs were not an option. His solution was to start his own company and work as a freelancer. He knew he was a good developer, but his social skills made it hard to sell himself in an interview or make company sales. That's where CommissionCrowd came in.
CommissionCrowd is an online networking and collaboration service driving innovation in the independent sales industry. Their platform connects experienced freelance sales agents who work on a commission-only basis with companies looking to increase their sales.
Matt initially approached the company in the hope of finding sales agents who could sell his freelance services. Instead, what he found was the opportunity to become the lead web developer for them!
"[Having] Matt on board was a huge opportunity for us, but also presented a unique challenge. Our organisation was hedging a great deal of success on someone with a condition we knew little about, and whom we couldn't speak to in person or over the phone. But it didn't take long to recognise Matt's talent, and we knew we could find a way for us to work together that was comfortable and effective for both parties." states Ryan Mattock, Co-Founder of CommissionCrowd.
When Matt joined the team in March 2015, CommissionCrowd was still a startup, and was trying to create a website and app with only one developer. They knew that Matt could do great work, and needed to find ways to work together through Matt's communication challenges.
"[Our] vision and scope of work would normally call for daily meetings and constant communication with multiple departments, which I'm not comfortable with. [The] use of innovative communication technologies like Slack and DaPulse have eliminated the need for constant face-to-face communication. It's super intuitive and has allowed me to work from home in a way that's comfortable for me while feeling as though I'm right there in the office with them," Matt tells us.
CommissionCrowd uses Slack as their primary communication tool for collaboration with their remote working team. Slack is a simple yet intuitive app that focuses on team communication chat. It enables teams to communicate via realtime in-app messaging, eliminating the need to constantly speak on the phone or sit in a meeting.
They also use an application called DaPulse, which allows the company to easily manage and track complex projects and assign specific tasks to individual people. These two technologies combined have completely eliminated the need for daily in-house meetings and lets employees work more freely in an environment that suits different capabilities and meets changing employee needs.
The team at CommissionCrowd truly believes that communication technologies like Slack and DaPulse are giving technology companies and startups the opportunity to tap into a large community of highly intelligent and talented individuals, such as those on the autism spectrum, like never before.
REAL LIFE. REAL NEWS. REAL VOICES.
Help us tell more of the stories that matter from voices that too often remain unheard.
This post was published on the now-closed HuffPost Contributor platform. Contributors control their own work and posted freely to our site. If you need to flag this entry as abusive,
send us an email
.