The global wedding market is now a $300 billion industry. $55 billion of that is the US wedding market, according to an IBISWorld report, and includes over 500,000 businesses, putting 750,000 people to work. And behind all those silk covered buttons and wedding cupcakes, lies a goldmine of killer apps, wearables and platforms.
The reality is the wedding industry has been rooted in tradition for centuries, the only touchpoint of communication between business verticals used to be the bride or the event planner. So when technology comes kicking and screaming to be introduced to old school weddings, innovation can be hard to implement. Ask Marley Majcher, who gave a 'tough love' chat at a recent Honeybook event about all the ways wedding professionals are losing money, and offered tech and common sense hacks on how to stop the blood flow.
The Digitally Engaged Couple
Today's digitally engaged couple live on their mobile devices, and frolic on social media. They care about what's trending, what their friends think, and they want an app to handle the brutality of planning, vetting, and choosing anything and everything around a wedding. They'd hire a robot if they could. Pretty soon, they'll be able to.
Today, everyone wants in on the billion-dollar action of serving this next generation of weddings. Non-traditional wedding brands like Best Buy seek ways to convert brick and mortar shoppers into users of their bridal registry hot spot. There's been a great deal of aggregation on platforms to unify the wedding and technology space in the past few years with WeddingWire, TheKnot, Honeybook, and Wix.
Even the ultimate champion of early wed-stars, Dave McClure of 500 Startups became one of the Valley's first incubators to begin developing platforms for weddings as a unique business model. All these early forecasters know there's money in this space -- they just hadn't cracked the 'wed-code' yet.
But organized industry movement is changing that.
I am an advisor to San Francisco's WedTech Summit, the baby of two highly profitable parents: 'Wedding' and 'Technology.' Co-Founder Carolyn Gerin sees the platform and conference as the first-to-market, deal-making environment for building the connections to reach digitally engaged wedding consumers and companies. "As the top online lifestyle network, SheKnows Media has an interest at being anywhere that sits at the intersection of technology, the Internet, and women's lives, making WedTech an excellent and relevant event partner for us," explains Elisa Camahort Page, Sr. VP of Community Content and Events.
May 18th, 2015 - San Francisco - http://wedtechsummit.com the baby of two highly profitable parents: 'Wedding' and 'Technology.'

Posted by WedTech Summit on Friday, May 1, 2015
WedTech Summit puts them all in a room for the first time and helps brands, businesses and wed-tech platforms join time-honored marketplace regulars like lacy bridal gowns, exotic and canapé tasting, and rainbow-hued floral arrangements. "We're excited to see one of the oldest industries bear fruit to some of the most influential and forward thinking players," believes Preeti Moberg of The Big Fat Indian Wedding, a partner and speaker.
Tech Opportunities in the Wedding Space
For big brands, startups, and entrepreneurs alike, making an entry into the lucrative wedding space means revealing new entry points for technology, creating efficiencies, movement, matchmaking and monetization. To give an idea of the marriageability between the wedding business and emerging and growing tech sectors, consider these two examples:
One is the continued growth potential for wedding sites. Cloud-based do-it-yourself website development platforms are a growth industry worth $24 billion in the US, and growing 4.9 percent annually.
DIY web development leader Wix.com is at the 64 million user mark and growing. According to Eric Mason, Director of Strategic Marketing Communications, at Wix, "Much of this wedding marketplace is comprised of small businesses that need services, tools, innovations and efficiencies." Wix.com has the wedtech space in the cross hairs --referencing the wedding market in a TV and Internet campaign.
The wedding industry is bracing for a surge on the wearable technology side, as well. The industry predicted to be worth $20B this year, and expected to grow to nearly $70B by 2025, encompasses apparel from head to foot, and body adornment devices. "Soon these wearables will be measuring the bride and groom's heart rate at key moments," says Tito Chowdhury, founder and executive director of the influential FashionNXT, a Portland, Oregon-based fashion show which focuses on how wearable technology intersects with fashion.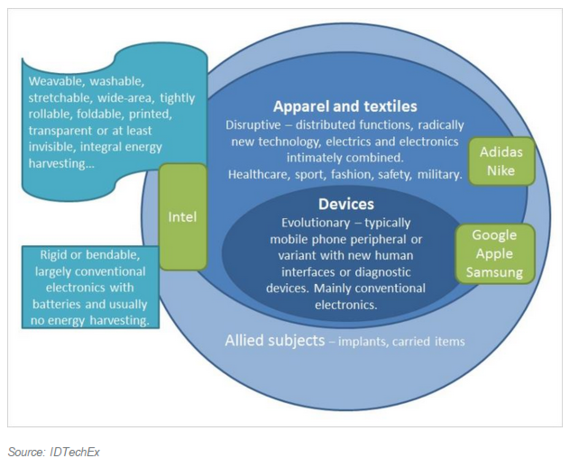 For certain, breaking new ground and re-defining a wedding industry where many of the verticals are siloed and don't really communicate with each other (the cupcake baker, the florist, the dressmaker) with an undercurrent of IoT (Internet of Things) sensibility is where things are headed.
Related
Popular in the Community