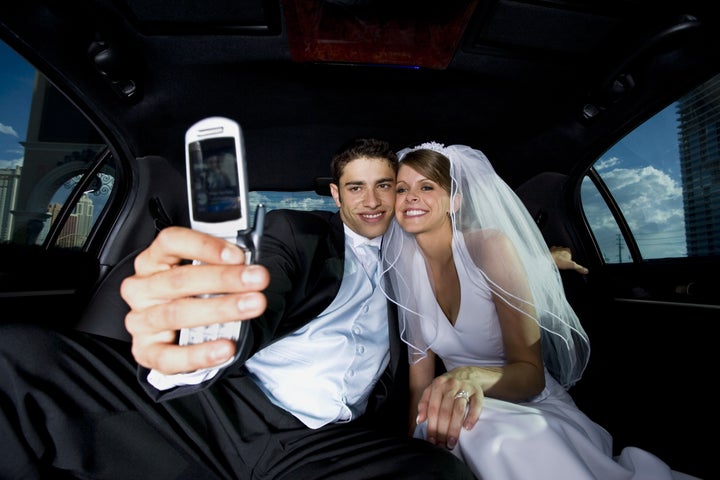 No matter the size, guest count, budget or location, every bride has her checklist of things she needs to do when planning her wedding: Decide on the design inspiration and color palette, put together a guest list and share the info with all those guests; find the dress; hire wedding professionals (florist, photographer, caterer) and find a way to put a unique spin on the traditions so the day fully reflects her.
Over the years, the way a bride accomplishes all of these tasks has evolved, and today she has unlimited access to ideas and resources thanks to new technology platforms that are making weddings easier to plan, more inclusive for guests, and creating more ways to remember the big day with family and friends after it's all said and done. Here are some of the most popular ways brides are incorporating tech savvy into their wedding.
Preparing For the Big Day:
Even before the question is officially popped, most brides-to-be are already contemplating what their colors will be, where they want to get married, what kinds of flowers they will have and what their dress is going to look like. With endless blogs dedicated to wedding inspiration, brides will soon be able to turn to a central resource to meet their needs: Lover.ly. When Lover.ly launches to the public (it's currently in Beta), this curated search engine dedicated to weddings will allow brides to search, save and share inspiration with their bridal party, planner, parents and guests.
Some of the most popular wedding blogs provide the content for Loverly, so brides will be able to find exactly what they're looking for. Additionally, each image is tagged with not only a description of the item (for example, the name of those gorgeous flowers she loves), but also lists the wedding business behind everything in the image -- photographer, venue, planner, dress designer, and so on. If she loves a peony bouquet, she can directly contact the person who created it to inquire about her own. Essentially, it's all a bride needs to create the vision of her wedding and find the people who are going to bring the vision to life.
A wedding "save the date" has been around for years and has taken many forms -- magnets, postcards, film strips and sweet treats. But the digital-savvy bride has found a more cost effective way to tell guests to save the date: Vimeo. Couples create a video save-the-date that they email to their friends and family. Vimeo allows videos to be password-protected, so only the people meant to see the video can view it. They're becoming increasingly popular as couples search for ways to cut the budget and get creative with the announcement. This couple not only created a save-the-date video, they shot and edited the entire film using the iMovie app on their iPhones!
During Your Wedding Weekend:
Technology is also part of the wedding day, allowing guests to be more interactive in the celebrations! More and more, weddings are becoming "check in" locations" for guests on Four Square. After they check in, guests can read customized tips about events leading up to the wedding, local hot spots to visit while they're in town, and details about the festivities (for example, the specialty cocktails on offer at the reception). Guests can also post pictures of the wedding along with their tips to share with their Four Square friends, and earn badges in the process (badges are awards given when certain check ins are unlocked, and on Four Square, having more badges lets you know which of your friends are the most social). Another "check in" option is available through Facebook: users can check in at the wedding location and post their well-wishes for the couple. This creates an online conversation the couple can read once their wedding is over.
Sending guests home with a treat is a "favored" tradition. Guests have enjoyed homemade jars of jam, baked goods, custom CDs and other gifts, but a keepsake everyone is sure to remember is a music video documenting the wedding. There's a lot of prep work that has to go into it -- the couple and bridal party has to learn all the words to the chosen song, shot lists have to be created, and filming has to be factored into the timeline of the day, but the end result is a fun, 3-minute YouTube video that guests get to enjoy and then share with others. Additionally, friends and family who weren't able to attend the wedding will be able to view the unforgettable memento. In just two days, this wedding music video received over 5,000 views!
From the planning to the actual day and beyond, technology is changing the wedding experience for brides, grooms and guests alike. Sharing information is what it all comes down to, and as we all know, technology has made that process virtually seamless.