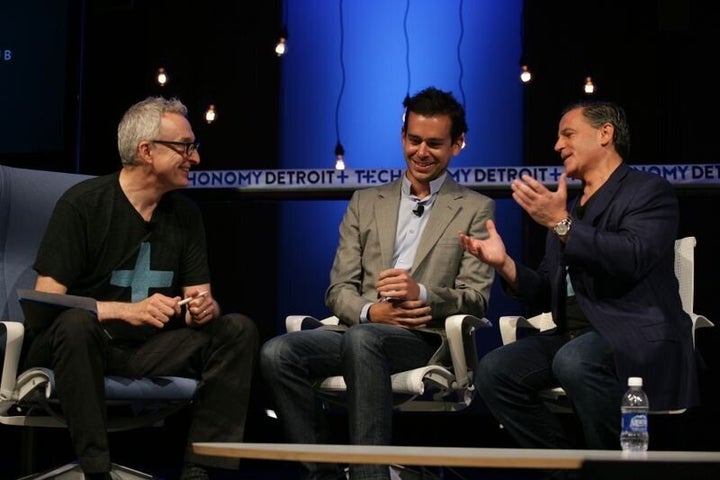 DETROIT -- When David Kirkpatrick brought Techonomy to Detroit on Wednesday, he wasn't just presenting a conference about business in the 21st century. With so many successful innovators speaking, the program offered a chance for Detroit to rebrand itself as a burgeoning tech hub and for the city's entrepreneurs to learn from industry leaders.
They also praised local companies embracing technology, although it was clear to Techonomy's founder that Detroit still has a lot to learn.
Kirkpatrick, author of "The Facebook Effect: The Inside Story of the Company That Is Connecting the World," hosted his first Techonomy event in 2010 in Arizona. Since then, the conferences have been held around the world, including a two-day gathering in Arizona this year.
"I have really enjoyed getting to know Detroit in the last nine months," Kirkpatrick told The Huffington Post. "But I do think, as I've said before, there is a little tendency of patting yourself on the back here."
Yes, Detroit has startup success stories, he acknowledged. "Wait until you have 500."
Some speakers at the conference argued that national perception is a large part of the Motor City's problem. "Detroit needs a marketing campaign," said IndieGoGo co-founder Danae Ringelman, who suggested Nike as a possible inspiration. "You can do it." Kirkpatrick focused on deeper issues. "Frankly, there's no money, there's no money to keep teachers and firefighters. New analytic tools are not being deployed properly," he said. Detroit must take advantage of technology to make its residents' lives better, he said. "There's no choice ... degradation is the alternative."
And he had harsh words for the city's political leaders. "Government seems totally powerless to achieve much of anything here. I'm really, really disappointed with everything I hear about Detroit's government."
But other aspects of the city, Kirkpatrick said, make him optimistic, especially the low cost of living and the community of artists fashioning a "contemporary culture of creativity." He mentioned Detroit Metropolitan Airport, which he calls "unbelievable -- Detroit could become the de facto connector to Asia." He was also intrigued by New York Mayor Michael Bloomberg's idea to welcome immigrants to the United States as long as they agree to settle in Detroit, an outside-the-box population plan that Kirkpatrick said would also address "the city's serious problem with racial politics."
"Maybe this whole thing could be addressed if there was more ethnic diversity, every single kind of person living within the city. It just becomes more healthy," he said.
Speakers at Techonomy disagreed over whether the Motor City could ever regain its muscle in the manufacturing world.
Tim Draper, founder of both the venture capital firm Draper Fisher Jurvetson and a new school cultivating young entrepreneurs, was very blunt about Detroit's prospects. "You've lived off this automotive tit enough," he said. "It's time to do something else."
On a panel titled "Manufacturing's Future, and the Impact on Jobs," Stephen Hoover, CEO of the research-and-development company PARC, and other participants felt that Detroit could capitalize on its production legacy to create more jobs. But they also warned that the Motor City came to prominence at a time when less than half of the world was industrialized.
"The work will go to where the people can do the job," Hoover said. "It's hyper-competitive now ... it's a question of talent. Globally, there's a shortage of high-quality talent in manufacturing."
There is also a surplus in Detroit and around the world, he said, of workers who have been trained for the manufacturing jobs of yesterday, not tomorrow.
"The region that can solve that puzzle, it will be a big differentiator," Hoover said.
Dorsey, the Twitter founder, closed out the Techonomy conference with a conversation about cities as inspiration and about Square, his new mobile credit card reader for entrepreneurs. In an interview, Dorsey said he realized when Twitter chose Detroit for a regional office that "the city has a lot of pride and a lot to be proud of. It is picking itself back up. Attracting this conference is a sure sign of that and a signal of that."
The next challenge, said Dorsey, is convincing local entrepreneurs and politicians to move forward with these ideas.
"How do we keep this momentum going?" he asked. "How do we make this actionable?"
Popular in the Community