This special spring collection celebrates Women's History Month, with a mosaic of contemporary femmes - each one swaying the narrative with her passion, technological imagination and genius.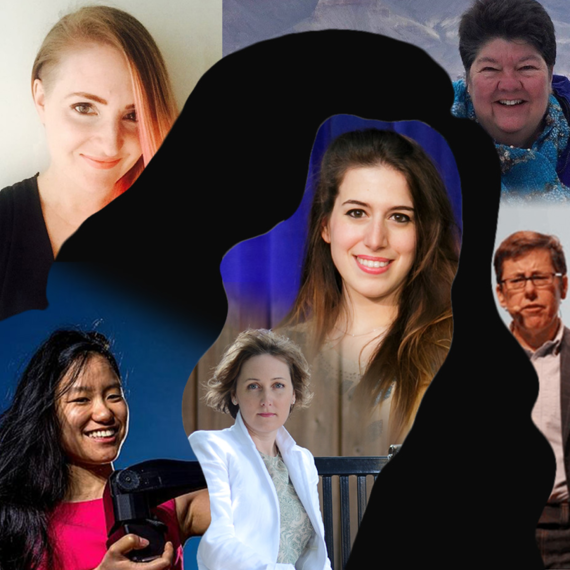 Mosaic from bottom left moving clockwise and up to the centre: Marita Cheng, Joanna Alpe, Debbie Brubaker, Marnie Webb, Ann Johnson & Maria Dimakopoulou.
1. Marnie's World - it's a better life, if we believe it
"The interesting part of the story is communities. When people say yes, amazing things happen", says
Marnie Webb
, the CEO of
a nonprofit that uses a theory of technology intervention to allow communities to respond to the issues they care about most. She gives all the credit to community and reveals some non-tech aspects about herself, bringing her very distant background "in short fiction and stand up comedy, full circle". I'd first met Marnie in 2013, at an ideas generator in San Francisco through online community building guru, Susan Tenby, and knew I had to chronicle her nonprofit genius. She'd already had a 25-year history as co-CEO of
that distributes more than $600 million in donated technology to NGOs world-wide and counseled Fortune 500 technology companies, such as Cisco and Microsoft, on philanthropic initiatives that align with their business objectives. They recognize the creativity and innovation that nonprofits have to offer. Named one of the Top 10 Silicon Valley Influencers by San Jose Mercury News, in 2008, she won NTEN "Person of the Year" award and was included into the Nonprofit Times' list of the 50 most influential leaders in the U.S. nonprofit sector and is the initiator of the NPTech tagging experiment. We met again more recently for lunch, she'd just returned from a trip to Brazil, where the local community came up with 10 ideas based on opportunities for tech intervention thanks to a Gates Foundation grant to help libraries. I wasn't expecting Marnie's response to my question about what she likes about tech, given her tech geek world saying, "I don't know that I like any. It does a great job at illuminating and pointing out deviances. If my kid can't eat in Berkley where I reside, we have resources we can use without technology. How would someone in Hawaii be able to help someone in Red Bluff California pay for a hotel room to survive a night of domestic violence? That's what tech does well. We have a lot of technical imagination - we're just shepherds who surface the doable." Now that everyone has smartphones, "the mobile is a powerful device we carry in our pockets," so an app like 'Safenight' made it possible for 200 people get to sleep the night before. "To be in a position to connect resources to people who need them, you're just additive."
"The velocity of learning", is evident in lessons learned creating the 'Safenight' app. In her TedXBerkley talk, we hear more about what's doable. Marnie wanted to recreate how we look at social issues saying, "when we start thinking about abundance, we often don't think we have enough, but if you start thinking about abundance differently, from a possibility place, things start to shift." Examples of paradigm shifts that have made a dramatic impact include D.C. Central Kitchen, whose mission is to reduce hunger with recycled food and Youth Uprising helps youth kids in a rough part of an East San Francisco Bay Area, play safely at what used to be an abandoned Safeway supermarket. "I'm no expert on Brazil. My skill is to organise and morph, not different to telling a short story or telling a joke." She draws parallels saying, "building apps for communities is the same. You have to look at what happened. I'm an outsider, I see a society with strong parallels. People pulling out smartphones is not different. The scale and density of poverty I can't comprehend as an outsider." Back in Berkley, "we forget that we look at tech for good. It's nonsense in the U.S. People aren't hungry. We haven't figured out how to distribute food. I returned from a 2-week trip, ate in restaurants, had nice Chilean wine, filled my cupboards. Immense privilege." She is impassioned by so much. The lack of diversity in the U.S, wanting to give enough to get the sector built, the plight of nonprofits that survive on meagre resources and how much they do with so little. "In the U.S social services get solved by NGOs, it's the community will that steps up to challenges". By the end of our lunch, I walked away thinking about the exploitation of labour, what it would take for modern slavery not to exist, and re-imagining a different well-tuned world that can thrive. A better world I can believe in, thanks to people like Marnie and all in the nonprofit communities, each one doing something to abet.
Marnie's Wish list:
#1 Personal wish: I've got an 11-year-old. I just hope the world, you know, is a place she can navigate, come together with people different from her, and have choices. I worry, sometimes, that that isn't the direction we are heading.
#2 Work wish: We've got tremendous opportunities ahead of ourselves at Caravan Studios. As a group, I want us to be able to take advantage of them, to change because of them, to create change because of them.
#3 Tech wish: Access is a tricky thing. Equitable access. And it's something we all have to rest our minds against. I hope we get better at it, better at creating opportunity for a wide variety of people and projects. Much better.
2.The Godmother (of SF indie film)
Debbie Brubaker
could be the protagonist of Italian classic, "Cinema Paradiso." Her grandfather was a projectionist and she would literally take "pieces that accidentally broke and give a show on the projector." Her family moved to San Francisco from Ohio when she was fourteen. She'd already made her first 16mm film, and had prophetically been sending her movies to get processed to one of four film labs before making it her home. She remembers walking into Palmer Labs and introducing herself, "like I knew everyone." She was right at home, evolving from working in the camera department into production and an indie film icon with a filmography that boasts
(2015),
(2013), and
(2009). Debbie has a knack of getting great films made and supporting the indie film industry. She's known as the 'godmother of San Francisco's indie film industry.' When she called mega group "Metallica" to see if they could perform at
, nearly a decade ago, much to everyone's surprise, the answer was yes.
It was my great fortune to be immersed in her Cinema class at City College in San Francisco in 2015 - she's the sole reason I took that class, after some film-maker friends shared their adulation. Why would such a major personality in film choose to teach a pre-production class every Monday and Wednesday evening? A lot of what inspires Debbie to teach "has to do with student diversity; culture, age, career change," which in turn "brings more to the classroom." All these "different experiences round out." She adds, "teaching is very therapeutic - I'm still in a process of learning as the business changes. It helps me synthesize teaching what's contemporary, what I learn outside the classroom, I have to understand." One of Debbie's abundant gifts, is she's a remarkable storyteller and loves to share her treasure chest of over 30-years' film making knowledge. I had the opportunity not only to be in her class, but also to spend time over coffee, dinner and on a field trip. It makes no difference who Debbie's with, she's sincere, generous with her time and knowledge and is passionate about supporting talent.
She has seen the industry go through tremendous changes. It wasn't that long ago when Academy Award legend filmmakers like Francis Ford Coppola "would have to go back", because they were working with negatives. Now we "don't have negatives, it goes to digital right away", so you can't make such expensive mistakes. The past 50-60 years of cinema and what's next reveals that the top of the line "hierarchy of creation; writer, director, producers, actors," seems unchanged and "movie stars are still royalty." And not in the too distant future, "because of technology and the cloud is not limited to having servers - unlimited space for faster and bigger work means this is going to create work - it has such amazing possibilities." Debbie expands, "well, the tech world has definitely pushed movie making further into a 'middle class' kind of industry. Movies and Television always really were crafted by the people in the unions - who do all the heavy lifting. But the tech industry represents multiples of billions where movies are pretty much relegated to millions. It's interesting. The fallout is that many of these rich tech companies want to support story telling. With Amazon, Google, and Apple all working to create visual story content to put onto devices - it will in turn create work for all those who want to participate in the production of this media. Whether projected, streamed or broadcast - I think the future is still bright for the creators and those on the front lines, holding the boom mics, putting up the lights, or yelling, "Cut!".
Debbie's Wish List
#1 Personal Wish: Some day be in a position to philanthropically help bring projects along and scale up what I'm doing now.
#2 Film Industry Wish: To be kinder, gentler, it's become mean spirited in the past ten years. I think it's out of insecurity - it needs to be inclusionary of everyone.
#3 Tech Wish: To see more women in tech positions and for them to be taken as seriously as their male counterparts.
3.Bringing the Pixels to the Party
Joanna Alpe
, is based in the cool art district, Shoreditch in London's East End, when she's not in Austin Texas (where she recently lit up SXSW 2106), L.A, San Francisco, NYC or her home in Auckland - a native New Zealander.
, the company that she is CEO and cofounder of, turns people into pixels and is hacking what is possible in live shows making for participation, the closest thing to connecting performers and audiences in real time. I first heard of Joanna at an art tech event in San Francisco, in 2014. She was the only person in the room worth meeting according to a high-end-tech executive who'd invited me. The idea of lighting up mobile devices that can synch performers to audiences is insanely cool. We keep meeting across cities, countries and continents, it's been incredible to experience her brilliant mind, passion for work and play, insatiable curiosity, how she faces both ups and downs like a true hero - somehow staying grounded and ready to move on.
Her illustrious chair, Ted Cohen, first heard about Makelight from one of the most amazing people he knows, "Irving Azoff preeminent music manager", when Ted asked him, "What have you seen lately that you really like?", Christina Aguilera's music manager responded saying, "Makelight," and described it briefly - that was in September, 2013. One month later, Ted met Joanna, "at an Indian restaurant, for lunch in Shoreditch" and became her renowned chair shortly after. That speaks volumes coming from the man who's been in the music industry since the early '70s. He remembers going around asking, "can you play the new Bob Dylan record?" or promoting what he calls "baby bands," and why he thought a new artist like "Prince, Van Halen, Fleetwood Mac and the Sex Pistols were important." Ted's larger than life persona fits his L.A lifestyle perfectly. We met a few times with Joanna at the DEW (Digital Entertainment World) conference and spoke more over the phone about what inspires him nowadays, reflecting on his extensive savoir faire, "How do I make something happen? I get personal and professional pleasure making things happen." He nurtures startups and has companies he believes in personally. He mentioned five people (including Sam Yogan and Sean Parker), who are all billionaires that he mentored. What a phenomenal stroke of luck to be amidst such a tech guru and legend. A big moment Ted recalls when going to CES in Boston (1977) and seeing two scruffy guys (Jobs and Wozniak), carrying a zipper case (with the Apple 1). Connecting the dots from home computers Ted became interested in why computers would be more than a business very early on, as early as pre-Apple computers. His first email account functioned more like a private industry network, by the early 1980's he's seen a "continuing evolution of tech that allows artists to get close to fans. Webcasts, chats, Facebook, Twitter - get virtually closer. Lourde was discovered via YouTube from her bedroom in New Zealand. All the social tools allow people to create and artists to connect". Makelight is the closest thing that connects performers and audiences in an authentic way.
Joanna's artist ambassador, Arabian Prince, is the perfect spokesperson, himself an artist, DJ, technologist, futurist, straight out of Compton and a founding member of rap group NWA, which was recently inducted into the Rock and Roll Hall of Fame. His great admiration is evident saying, "She is amazing!", which speaks volumes. He first heard about her from wearable world IOT cofounder, Kyle Ellicot. We met in Palo Alto, which Arabian frequently visits from L.A, and talked more about Makelight over lunch. As the artist ambassador, Arabian's enthused because he knows what it means first hand saying, "I knew it could change how people enjoy music and the whole experience. When I met Joanna, she's such an innovative person, she has such a vision. Makelight turns everything into an interactive experience. A new thing for years to come. There aren't many things out there where you can be part of a show. I think it's going to be great, the way they create music. It will change the way they think about how they create. How that happens is up to creators". I was curious to hear what Ted and Arabian thought about working with a female CEO. Ted says "I'm having a wonderful time - we have an equal relationship. She's very assertive, we can have an honest dialogue. She's a woman, she's feminine, and she's a business person." Arabian doesn't distinguish between genders sharing his viewpoint, "Joanna's an amazing person, doing amazing things, an amazing CEO".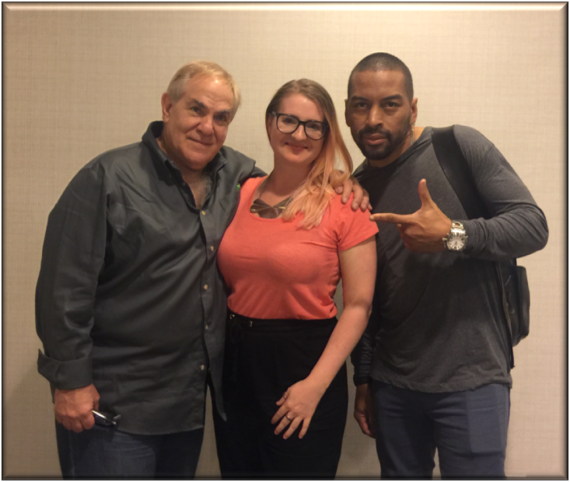 Makelight CEO and co-founder, Joanna Alpe with chair Ted Cohen (left) and artist ambassador, Arabian Prince (right) at DEW 2016 in L.A.
Joanna's recently-formed developer team share similar values, she's super privileged to work with them and feels an affinity (her) growing up in New Zealand and (developers) in Slovenia. "Everyone else is doing it larger, brighter, better, thinking outside the box you have to get inventive. Being quite intellectual, contemplating the value of hard work, home, family is super refreshing," she explained via Skype while roasting cauliflower in her London abode. I asked her to explain what the mystique of tech is, as someone whose viewpoint is creative. "The secret about tech is it's about people, it's not about the tech. Tech is an enabler. The challenge with tech people is it's quite binary, 1's and 0's, black and white. When you zoom out of it and see the rainbow, that's where the beauty is. The poetry, the poetry of codes. That's the humanity, it's very conceptual. An emotional touch point that surprises the audience, you have a huge 30,000-foot view."
Questioning what's going on in the world Joanna pinpoints, "the refugee crisis is close to home in Europe. The more people hear the more front of mind it is. There is a $41 billion human trafficking industry that needs to be destroyed." She thought it would be cool to carve out a weekend to focus that way of thinking to see if they (crediting her developer dream team), could address doing just that. In the face of refugees, these hot spots, make for growth parameters that are perfect for human trafficking. As people who work in tech the notion of creating a panic button if you're caught up in a human trafficking situation as a use case of a woman approaching a feminine dispenser when she's in trouble and at the push of a button, can alert police. I can picture Joanna disrupting the TechCrunch London Hackathon stage with her pitch for winning app, Free Me, "I just rocketed through it like I was holding up an iPhone," not the sanitary pad with a beacon inside that's easy to track (she was actually holding). "It's jus like a wearable, we built in 20-hours. We're not subject experts, we need to find strategic partners who deal with human trafficking." This gave Makelight that is a creative company, great validation. It's been the most unique and unexpected win. Joanna hopes to continue delighting and bringing the pixels to the party.
Joanna's wish list:
#1 Personal wish: I'd love to work out which country to live in, as much as a love being a global citizen.
#2 Makelight wish: To get to light up huge amounts of people in 2016. To see 80,000 people use Makelight.
#3 Tech wish: As controversial as my wish may be, we all find time to put our energy and focus even if it's for a weekend a year for good, bring some freedom into other areas that really need it. It's an interesting time to be a woman in technology - the dialogue seems to be healthy. Acknowledging all people and be more diverse.

4. The mystique of big data
The way
Ann Johnson
talks about "making sense of continuous time data sets," despite having arrived fresh off a long-haul flight from Dublin, where she was a panelist on 'Mining the Data Goldmine' at the web summit, to San Francisco airport, is unbelievable. Yet, there across from me, sharing supper she talked keenly, "most companies have giant data. It's mysterious to them. Our CTO and cofounder Bobby who came out of FB, spectacularly has been able to make it like being in a dark room with flashlights, only, we turn on the lights." I first met Ann, founder and CEO of
, at the annual shark tank media event organized by communications firm10fold. Her pitch was favoured by fellow panelists from FT, WSJ, Business Insider, Bay area TV anchors and reporters. You could attribute her win because she made Data sound sexy, mentioning
Tinder
and how it's gone from being something like grindr U.S. gay hookup type app to a social discovery as well as dating app after InterAna switched on the light to its user behavior, helping them understand and explore how its tens of millions of users interact with the app. "Demystifying has been the theme of my whole life", hence the attraction of helping people understand their data better. She talks about companies like Oracle that have "built up mystique and make a lot of money. We package it with the dream of having it accessible to everyone solving the problem that it's giant scary."
Six revelations in our Q&A about how we can learn more by knowing:
1. So how are we better off if we can make sense of big data?
The value of big data is in understanding people, trends, behavior. Scientists don't always care. I'm trying to put big data in the hands of people who care about people and connect to the users with the tech and the juicy bits you get out.
2. How do you think it's impacting people's lives. And, why do you think Tinder's been popular?
Tinder before us had a hypothesis, making connections made on pictures and where you are right now (based on location) would be a great way to connect people. They tried it out and could tell it was being used, but didn't have insights, with its explosive growth an overnight success. It's uncomfortable when you don't understand what people are doing with it. They measure match quality - the goal to make matches that are real. Some men were gaming the system saying yes to all women. Match quality was not what they wanted it to be. Once they could tell, they added new features, 'super like and limited number of swipes'.
The initial hypothesis was thrown out the window and the product team had easy access and was able to understand their "own stuff" and make changes.
3. What inspires you?
We are both learners, we'll do something just because we don't know it. Knowing as much as you can - it seems obvious it alleviates the pain of not knowing the Black Box of Big Data. I could create data for whatever you want., it's fascinating.
4. How do people react when you reveal their data?
There's awesome excitement when people get answers to questions. It would take 10 years to figure out, once we got their data it took a day.
5. What obstacles, challenges have you had to overcome?
People believing no one has done it before, so flashlight seems like the best option - the experts used to be the only people of big data. We had our spirit broken. It happens everywhere we go. Then the aha moment.
6. How is big data changing people?
The ability to look up and access data from Google, Wikipedia is addictive. We're just the same, imagine you had that about everything. Relationships, Personal Health, answers at a touch of the button, it's that instant access to proprietary data. Tinder Marketing can now sit down with the data tool and read it themselves - it has removed dependence. My sexiness comes from enabling companies like Sonos to move people more easily, Reddit people to express themselves.
Deep down inside people are good and will do something good. I'm not there yet - still chipping away at helping one company at a time.
Growing up in rural Minnesota, Anna didn't know what was going on in the real world saying, "I didn't know anything really. I read books like Tolkein and there were no heroic women." Values have shifted. She started as an engineer and thinks the work place, "is more like a fellowship. Men build companies as machines. Women build them as communities. What I see is people don't expect it. Honoring our customers, our employees, our contributions. It's already happening, companies are talking about community culture."
Talking about her husband, who she calls her other half, it's clear that Anna is fiercely driven to win - to the point when on her honeymoon in Aruba she had to win a competition and learned everything you could know about Aruba only to find out it was the wrong day. She took the news very well indeed under the circumstances. One final question about what she's looking forward to, she mentioned an upcoming date night to celebrate his 40th.
Anna's Wish List:
Personal wish: (calls it a selfish personal wish). I can give full time attention to company and 24-hours to kids - to be able to do both
Interana wish: we can continue to empower people and continue to be successful enough to continue it. There are so many ways to increase the human data interaction we have yet to explore.
Tech wish: to have more women CEOs. Women are community builders, there is no one better to run a company as a community. This is not a wish it's already happening - companies are talking about community culture.

5. Singularity femmes, deep learning & robogals
Both
Maria Dimakopoulou
and
Marita Cheng
are
alumni from GSP 2014 and 2015 respectively. If you ever want to convene with future leaders, entrepreneurs, and technologists for 10 weeks to work on team-based technology solutions to widespread global challenges, this is the place. Co-founders Peter Diamandis (who also founded all-star X-Prize Foundation the space flight mission) and Ray Kurzweil (author, inventor and futurist described by Bill Gates as the only man who's technological predictions he trusts), are redefining what is humanly possible from what you can do in space, with advanced AI in a deeper way and more. It's an impossible choice to single out any one individual or project that has emerged from SU, but these two capture the essence.
Maria Dimakopoulou dares to make everything intimate. She wants to excel in everything she's involved in and doesn't like to waste her time or energy. Her professional passion is Computer Science. This academic superstar graduated with a perfect ten out of ten GPA, the highest ever achieved in the 200-year History of the National University of Athens, Greece, fulfilling one of her dreams. If it were possible to get an eleven out of ten, she probably would. We first met at Singularity University's 2014 summer graduate programme at NASA Ames Research Center in Silicon Valley, and I fast became magnetised by her incredible warmth and contagious energy field. I had to find out why she was following Computer Science and Deep Learning. Two years after, she recollects her SU experience over lunch at a French Bistro in Palo Alto, "Deep Learning in healthcare has become very trendy because of the tremendous room for improvement" and "Google has increased its focus on projects that leverage its Deep Learning state-of-the-art technology and its huge data-sets to improve people's health and well-being". She enjoyed the experience of teamwork at SU. She co-developed a personalized healthcare system proposal based on Machine Learning and Optimization principles for biomarker correlation and early health imbalance detection. "SU is encouraging teams to work on global solutions." Brad Templeton, (link), Chair of Networks and Computing Systems at SU, talked to me about her at last year's closing ceremony. He was clearly keen to hear her news, fondly enquiring about her - a very difficult man to impress. She is currently a PhD student at Stanford, specializing in Operations Research and Optimization. She's the recipient of "Arvanitidis" Stanford Graduate Fellowship, awarded to outstanding Stanford PhD candidates. She says "I'm honoured to be Nick Arvanitidis fellow; he's a remarkable figure in Silicon Valley, an amazing person and a great role-model." She continues, "I'm looking for inspiration and broad horizons, this is why I chose to come to Stanford." Her advisor, Professor Nicholas Bambos, is "one of the most visionary people" she has met and he is the one she has chosen to steer her intellect and passion. "When we frame a research problem with Nick, we always develop the model and the algorithm thinking of how the world will be in 5 or 10 years' from now." Together, they're looking into Cloud Computing and the Internet of Things capabilities for the future of telecommunications, energy and healthcare. Prior to that, she had been "googled by Google" (link) and spent a lot of time working there since 2012. "My time at Google shaped my professional interests and it was probably the most creative of my life." She solved a 3-year unsolved problem of Intel processors in the Linux kernel that brought her acclaim inside and outside Google and a talk at CERN, she developed auction theory related algorithms that helped increase the revenue of Google's Ad Exchange. She has achieved a number of international awards for her work in the field of Computer Science, including the Intel Innovation Award and the Google Anita Borg Memorial Award, and her success inside Google was recognized with awards from her managers and her peers.
Maria is a romantic soul. When I asked her whether she follows her heart or her logic, she replied "my logic and my heart are one". In every aspect of her life, she wants to connect deeply with people, which she does instantly. "I can't be intellectually invested if I'm not emotionally invested and I can't be emotionally intrigued if I'm not intellectually intrigued!" Her interest in connecting is broad - she's now working on connecting everything applying Operations Research and Optimization algorithms to the Internet of Things. She says, "Everything that can be connected, will be connected. This is when algorithms come into play. For example, when everything in your house is smart and connected, scheduling optimally the electricity needs of a connected neighbourhood leads to efficient power control." What Maria loves is taking a present or future real-life problem, creating a conceptual mathematical model around it and designing the algorithm to solve it. "It's a form of art!" We met again this time at the Presidio Social Club in San Francisco, with her mom, Rodanthi, visiting from Athens, and talked more about what it was like growing up in Greece. Rodanthi was impassioned to talk about her only child, who she had early in life. Herself and her husband, Nikos, both medical doctors didn't expect Maria to choose a Computer Science track. She remembers her daughter "always wanting to be a perfectionist doing things in her unique way". It was clear she was a genius, she'd always do extra work and would overcome obstacles. She says that her daughter's teachers weren't always supportive at the time, even though they're extremely proud of her today, and would sometimes try to curb her drive. What Maria's mom has always told her daughter was that "one peak brings the next one" and "when at a crossroad, always choose the most difficult path". Her progress boils down not only to her genius, but more importantly, to her optimism and her character to always persevere, according to her mum, what in Greek is called "kefi" and "tsagano".
Maria's Wish list:
Personal wish: To live a full and healthy life having around the people I love and leave my mark in the world with my work. Inspired by my Ancient Greek origins, I want to live a life with achievements worthwhile to become a story.
Work wish: To contribute to the growth of Deep Learning and work on its hallmark, i.e., Google Brain, and with its renowned experts, such as Jeff Dean. In the future, I want to lead a team of brilliant engineers who will be the spark for a big change in the world using Deep Learning.
Tech wish: What we're lacking most is time. I wish that computers and Deep Learning will be capable of taking away most of the burdens of our lives, so that we can devote our time to more intellectual quests, to search ourselves, to be with our loved ones, to create strong human relationships, and actually care about each other, to be healthy and happy. I wish Technology creates quality time for us.
Marita Cheng is passionate about robotics. She is the founder of Robogals an international nonprofit student-run organisation that aims to increase female participation in Engineering, Science and Technology through fun and educational initiatives aimed at girls in primary and secondary school. She was named the 2012 Young Australian of the Year. She is the founder and current CEO of 2Mar Robotics, a start-up robotics company which was recently voted as the Judges' Choice Winner of the Australian Women's Weekly Women of the Future Awards, last September. The judging panel consisted of stellar Australians including the Honourable Dame Quentin Bryce, from her Queensland home, who is the patron of The Australian Women's Weekly Qantas Women of the Future Awards, Chloe Shorten, the wife of Labor leader Bill Shorten and Foreign Minister Julie Bishop amongst other notables. Before that, 2Mar exhibited at CES 2014, the largest consumer electronics show in the world, where VentureBeat named Marita the coolest girl at CES 2014. At SU GSP15, she co-founded, Aipoly for visually impaired, and is featured on Kurzweil's AI Blog (quite the endorsement). It's a navigation device that's the closest thing to seeing in real time, an interactive 'guide' that puts you in the scene, an extraordinary enabler for visually impaired. Aipoly made it to the final top 5 and watching the presentation at SU GSP2015's closing ceremony, where I first met Marita, it was clear the great magnitude of what she's working on. This Aipoly video showcases some incredibly touching user responses to the app of what it's like to be able to see using a smart phone.
We skyped from Melbourne where she lives, talking further about tailoring and personalizing her computer vision matching to machine learning. "There are still opportunities to work on someone blind find Point A to Point B, who doesn't know what he's facing. Generic pictures, for instance a dog and Frisbee. Algorithms have been able to work out what I can see. Someone blind can use to orient themselves". She explains her path to S.U saying, "Google catalysed the Global impact challenge in Australia (2013), I'd talked to Susan Graham (2010) over the year. Google support is valuable, the bar was so high, SU helped us a lot, NASA helped open doors it was inspiring, with amazing people, it sounded fun and cool".
Marita's Aipoly story in 3 Stages in her own words:
Stage 1: Begins with prototype S.U found blind organisations - fixed the app and made it better with feedback to improve. We pitched what we had with Italian co-founder Alberto Rizzoli, great response has blown us away.
Stage 2: Refining offering with Andrea Bocceli (international star in both classical and pop music, helps blind people worldwide through his foundation), who used the app and gave us feedback.
New level, entering early education market and learn what things are.
Stage 3: Following on from grand vision to help people navigate the world. How it can apply to robots as well, with vision sensory that can apply to robots navigating.
Marita's Wish list:
Personal wish: To bring telepresence robots with robotic arms to the world, to help people with disabilities and the elderly.
Aipoly wish: To have blind people all over the world benefit from Aipoly in being able to recognise objects in the real world in real time.
Tech wish: To have people around the world work on Tech that benefits others.

It's been an honor, privilege and great pleasure to be immersed in the world of these six super femmes over the past two-and-a-half years. My inspiration and passion comes from telling each and every one of these stories - the collective impact of which, I can only imagine.
"Because we are your Mothers and Your Sisters and your Daughters and your Heart. We are your Beginning, your End, and your Truth from the Start." - Lyrics from spoken song, Glory Bound, by Sky Muncaster
Related
Popular in the Community