With the recent news that Microsoft acquired Yammer for $1.2 billion, I guess I'll be delaying my column on David Sacks and Yammer for a while until it all blows over.
I'm going to make a prediction, right here; right now: This crowdsourcing phenomenon is just getting started and Yammer is just the beginning of what is sure to be a clown-car chase for the best companies in this sector.
The crowdsourcing of ideas, to me a new kind of mass-production assembly line for worker productivity, will make corporations more productive--large organizations can now do something that no management consultants or new mission statement ever could: get ideas that are good for the company out of employees' minds and into the profit center mode. To be able to regularly solicit, capture and execute upon the strong ideas of those on the front lines who really know what the customers want will be the panacea for the 21st century business world.
And there are other players in the active sector from which Yammer emanates, to be sure. One such company is Spigit with its "Idea Management Software."
The Pleasanton, California based company of 150 employees is growing fast due to their own industriousness and the complete and total cluelessness of big tech companies like Microsoft who are left with wasted billions in annual R&D investments and nothing to show for it. Theoretically, the big tech companies should be able to put the little ones out of business just by spending and reaping the R&D innovation harvest. So much for the theoretical.
Smaller like Spigit is truly more nimble and innovative--when will we learn this with any finality?
Paul Pluschkell is the CEO and founder of Spigit, a self-described "Social Enterprise company" but no matter what words you use to describe what the Spigit software does, it is an absolutely hot and crucial segment to enterprise software right now.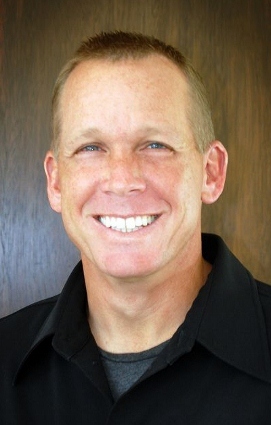 As the Microsofts, Googles, Salesforces, Oracles, SAPs and others grope around in the dark to buy companies whose hard-fought software technologies they should've been developing internally, an interesting shift is occurring--one that is long over due. Smaller, more dexterous, more creative businesses like Spigit are filling the void with much-needed Social Collaboration software to snap-on to the big enterprise suites such as MS's SharePoint and Yammer (now Microsoft ... well, sort of). Soon we will see other acquirers like SAP and Oracle getting into the fray and as a result there will be a headlong rush into buying these smaller player companies, creating bidding wars and leaving bodies in their wake.
Founded by Pluschkell in 2007, Spigit was funded along the way in a $3.5 million Series A investment by Pico Holdings; a $10 million Series B by Warburg Pincus; and a March, 2011 follow-on $10 million from Warburg Pincus again.
Spigit has more than 220 enterprise clients such as Overstock.com, AAA, Farmer's Insurance, Estee Lauder, Capgemini, Walmart, Allstate and Citi (bank), using Spigit's flagship software product, "SpigitEngage." This platform provides a solid way for these clients to convert their bigger, clunky enterprise software environments into little idea-generating groups.
Recently, Spigit launched a new, 'freemium' product called "Icon" which makes it easy to send out company-wide "challenges" that gets staff thinking about their responses, and using their points built up during previous challenges in one of the advanced gaming dynamics of Spigit's crowdsourcing product. Icon already has more than 500 new clients using Icon including a number of Fortune 500 companies; all in less than eight weeks.
It's been said that amongst its competitors, Spigit is the only one to provide an SMB-centric solution. My experience is that companies that try to develop products for Small Business usually do better if they can nail it. Witness Intuit's QuickBooks. So Spigit's Icon has the potential to be one such product attractive for the tiniest of organizations.
And if Spigit can get an idea-capturing software for small business right, the enterprise sector will be a slam-dunk ... in my humble opinion.
Describing the process of issuing "challenges" to a potentially far-flung and massive workforce to beget ideas and innovation, Pluschkell observed, "First you need to get the employees participation and that turns into engagement then into collaboration and finally innovation."
Spigit and Pluschkell have been beta-testing inside the company for a long time; it gives them the opportunity to fine-tune their product, get the collective staff' imagination percolating and come up with some valuable ideas in the process. A neat example of this is an internal "challenge" issued to Spigit employees recently. "Who would you like to keynote the next 'Spigit Innovation Summit?'" The top answers?
1) Chris Anderson of TED Conferences
2) Richard Branson
3) Steve Jobs
4) Sheryl Sandberg of Facebook
5) Jack Dorsey of Twitter/Square
6) Erik Spoelstra, Miami Heat coach
This is just one of the fun results--but there are many more serous, thoughtful results--which comes from this type of collaborative/innovation software platform. This software unleashed in a 3M, SAP or Boeing could result in a billion-dollar idea coming from nowhere.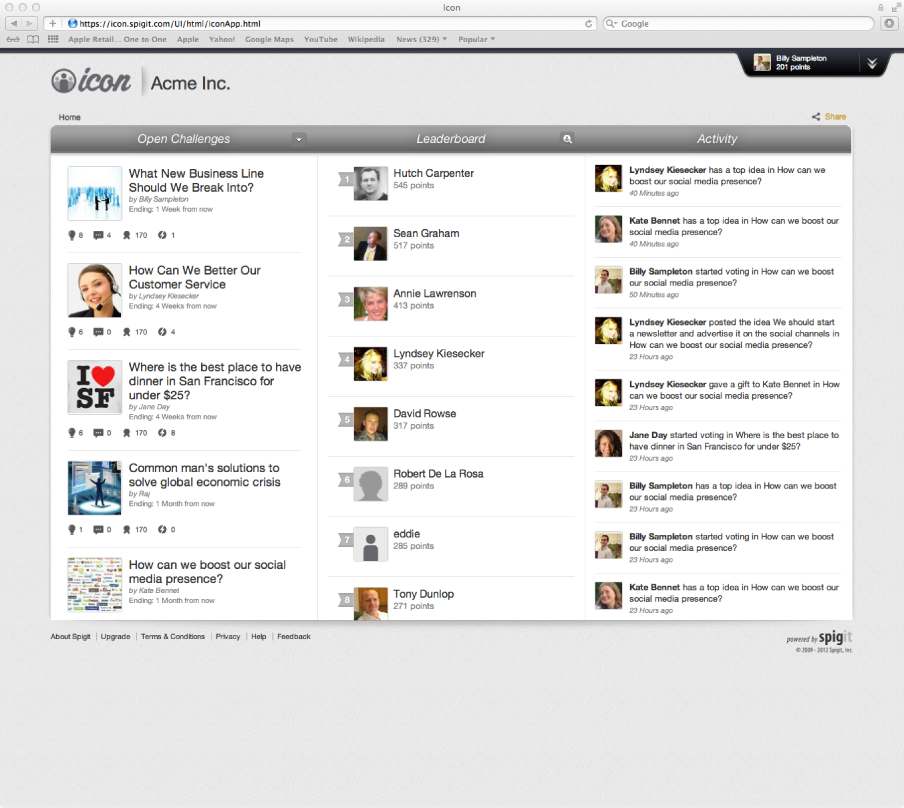 According to Susan Andrews, the Managing Director, Head of Innovation, Citi Ventures, the SpigitEngage product has made possible a gathering of the idea tribes which wasn't possible before. Andrews is a former Apple executive who appears driven to install innovation into one of America's oldest banks.
"When we were looking at Spigit, there were two things that got our attention," Andrews recalled, "the first was the ability of their software to integrate into our technology and the second was Spigit's ability to scale up for a global organization. We wanted to create a system of capabilities for Citi' employees to come up with new ideas. So 'Citi Ideas' is the platform which allows our teams to collaborate at scale to create new solutions and better services for our customers."
"We see collaboration as core to creating a culture of innovation. Our 'Citi Ideas' program is helping to transform the culture here through collaboration at scale and giving our employees a tool that allows them to easily share their ideas and collaborate and build on those ideas with their colleagues in real-time. In October, we launched our first global 'Ideas Challenge' for employees, focusing on the future of banking. From October through March, we had more than 46,500 people from 97 countries participating in the Challenge, and over 2,300 ideas were generated. The Challenge gave us an easy way to form virtual teams of employees -- across business and regional lines -- driving significant engagement globally."
Hmmmm ... perhaps some other older corporate behemoths in other industries might benefit from an ideas program of their own?
The strength, it seems to me, of Spigit's technology platform lies in the diversity of activities it touches; it promotes. Gaming (Alert! New tech buzzword: "gamification"), analytics, behavioral science and decision models; Spigit has a comprehensive software which engages corporate users to benefit the organization.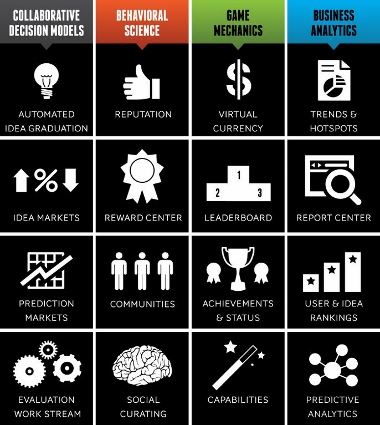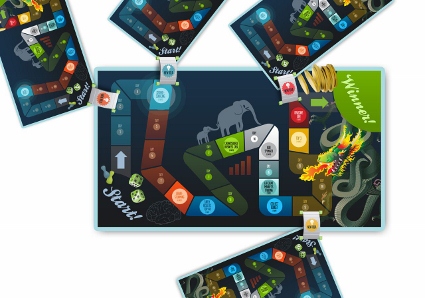 For smaller tech companies, Intellectual Property (IP) is vitally important. So much so that there are companies that are nothing but corporate shells which hold IP assets only and make money off the royalties. Tech companies that don't hold their own IP rights are at a significant disadvantage. Fortunately, Spigit is keeping the collaborative innovation juices running internally: they recently filed for two more patents.
What are Pluschkell's chances of success with Spigit? I'd say pretty good.
Evidence of this is that Pluschkell managed his Pleasanton, California baseball team of 14 and 15-year old boys to win the Babe Ruth World Series in 2010. I firmly believe that the sports/athlete success in business analogy is one that is true and works. I would say that the leadership, sportsmanship and management skills which Pluschkell used to guide his boys to a national championship, should give him more than enough acumen to guide Spigit through the rough, murky waters of the Internet/Social ocean.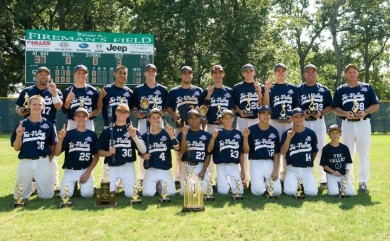 REAL LIFE. REAL NEWS. REAL VOICES.
Help us tell more of the stories that matter from voices that too often remain unheard.