The United States is filled with companies right now all crucially striving to provide the panacea to the online advertising market represented by Google, the big ad agencies (WPP, Interpublic, Omnicom), media companies (Starcom MediaVest, DoubleClick, 24/7) and the advertisers themselves who are all trying to figure out this massive, exploding market. How they approach it; how they attack the Internet advertising market will dictate the rapidity and heights of this nascent sector's success.
I've found that there are essentially two, defined types of start-ups in the crowded, jostling, play-for-keeps, online marketing/ad-tech world: start-ups which take a consultative or technological approach to helping their customers figure out Social Media such as advertising on Facebook, Twitter and the like or start-ups which take a deeper technology approach and invent software that makes it easier for their clients to advertise across the Web. I vastly prefer the chances of the latter and ultimately, think the former is unwisely putting all their eggs in the Facebook basket. Some of the shine is already coming off Zuck and Facebook.
Most of these companies, predominantly well-funded start-ups, are in the USA. But a few are striving to make a difference overseas.
One of these is Smart AdServer, headquartered in Paris. The 75 employee ad-tech firm started out in 2006 and is a premium ad-serving solution provider (think SaaS software) that offers a single user-friendly interface that allows the user to program rich media campaigns for web, mobile & tablet devices.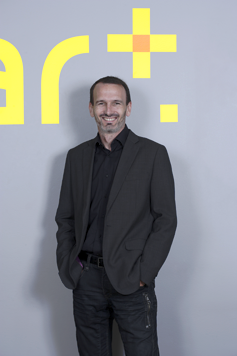 After starting and building StepInfo into a leading French Java/J2EE consultancy with over 100 employees, Geffray then turned his attention to building a global advertising company. "Smart AdServer was started by very technical people," Geffray said, "we first created a mobile company but then came the Internet crisis--everybody was looking for cheap solutions--so we quickly switched to an ASP/SaaS model."
This ability to (currently overused **Word Alert**) 'pivot' wisely at a moment's notice can be the difference between life and death; wealth and bankruptcy in a hurtling tech sector.
The ownership structure of Smart AdServer is unusual. 100% of it is owned by auFeminin, a company owned 82% by Axel Springer, the gigantic German publishing corporation. As a 2010 NY Times' article about auFeminin put it, "for 12 million French women there is a single place to turn (for info on work, parenting, sex or shopping): aufeminin.com." So the rationale for a publishing giant acquiring 82% of a web site that influential with such a big market is obvious. But what is not so obvious is the unexpected bonus of also gaining ownership in an ad tech company serving all demographics across the global board.
Geffray says his competitors are DoubleClick (a subsidiary of Google), 24/7 Real Media and Adtech, a German ad server company. When I pointed out that these were juggernauts of competition for a smaller company such as his, Geffray was quick to point out that smaller-scale competitors in the US include AdJuggler and Zedo.
Smart AdServer has wisely positioned itself as a bit of a source for key, forward-looking data on the ad-tech industry.

Among the interesting tidbits in the above graphic is that:
50 % of mobile traffic is done after 5pm
And these other key CTR (click-through rate) info which are absolutely crucial for online advertisers:
Average CTR on standard mobile banner is 0.4%
Average mobile CTR can be increased 23 times in average just by using mobile rich media ad units
Average mobile rich media CTR is 8,9%, other formats can even have 10% CTR
When it comes to average Web CTR, the same creative would deliver 68 times more clics in a mobile rich media ad unit
Indeed, Android OS market share of ad impressions is rising, as they put it in lots of online resources
Geffray said, "Smart AdServer is the first ad service certified for the IAB (Internet Advertising Bureau) for mobile." Smart AdServer Mobile, launched in 2009, allows ad delivery on all available mobile platforms, including mobile Web and applications. Their solution offers state-of-the-art mobile targeting features as well as a cross-platform mobile rich media library for interactive and video ads.
Smart AdServer's iPhone app enables users to follow up with mobile campaigns in real time and preview customized creatives in real situations. More and more, the mobile compatibility of these kinds of software is absolutely essential. No mobile extension; no survival.
Like Mobile, one should never underestimate the importance of Rich Media functions. Smart AdServer has created a real do-it-yourself technology for the advertiser, publisher or media firm (a one-minute video of which can be seen here).
Smart AdServer is also certified by Facebook, Google, MSN, YahooSmart AdServer is also certified by Facebook, Google, MSN and Yahoo.
Last month Geffray and Smart AdServer announced a partnership with Rubicon Project, a Los Angeles-based ad tech firm to provide a Real Time Bidding (RTB) platform to customers who are bidding for ads or impressions online. This is yet another example of the strong integration potential and possible results from European and American tech firms collaborating.
With nine offices (Montreal, Madrid, Paris, Milan, Berlin, Krakow, Bogota, Sao Paulo, Mexico) and one data center in Miami, Smart AdServer has an amazingly big footprint. Customers such as Fox International Channels, ZenithOptimedia, Bild, Starcom MediaVest, YOC, Media Networks, Hi-media, Publicis and Axel Springer, make Smart AdServer one of the leading ad tech firms in Europe and up and coming in the USA.
So what does the future hold for Smart AdServer and Cyrille Geffray? An acquisition by partial owner Axel Springer? A sale to another advertising giant or IPO?
Geffray isn't sure but open to all the possibilities, "With such long-term shareholders (Axel Springer), we want to create long-term value," he told me. Sounds like independent growth is the path for Smart AdServer and that is always a good path for true entrepreneurs like Geffray to take.
Calling all HuffPost superfans!
Sign up for membership to become a founding member and help shape HuffPost's next chapter