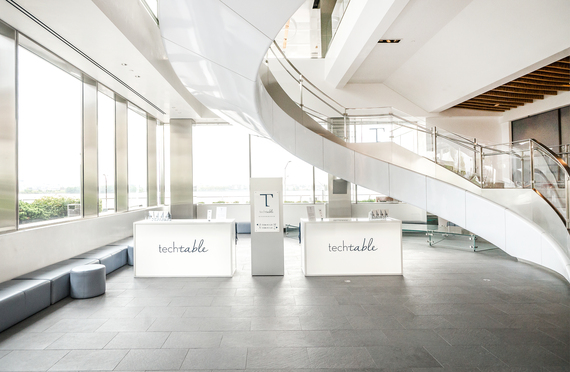 Leaders from the tech, hospitality, and venture capital spheres met for the one-day TechTable summit held in New York September 10. The conference, sponsored by American Express, Union Square Hospitality Group, Alexandria Real Estate Equities, Inc., and Open Table, featured summit speakers included Steve Case (Revolution, LLC), Danny Meyer (Union Square Hospitality Group), Dana Cowin (Food & Wine), and Joanne Wilson (Gotham Girl Ventures.) TechTable founders Camilla Marcus, Maureen Cushing, Lauren Hobbs, and Jaci Badzin gathered tech and hospitality leaders to address the changing landscape.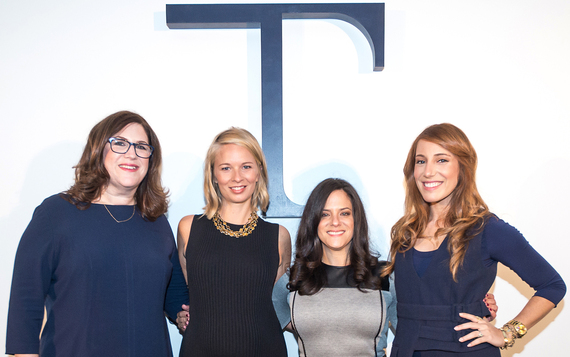 I sat down with TechTable's Jaci Badzin to discuss some findings from the summit.
What was the driving force to create TechTable?
When I was a co-lead at Chefs at Google talks, I noticed there was this intersection, starting with the rise of consumer-facing apps and platforms that raised questions. I connected with Camilla, Maureen, and Lauren who were having the same conversations at their end. TechTable was a great opportunity to create a program and vehicle to foster the conversation. It's fascinating how technology is impacting an industry so high touch - with the human, qualitative experience -- and how technology can actually benefit and enhance the industry.
How is technology impacting hospitality?
Many of the innovations are happening in back of house. Participant Steve Case noted that hospitality is so high touch that it requires more collaboration between the two industries to develop solutions and platforms to run operations and to create solutions that connect the industry and the consumer. The opportunity to access and share data behind the scenes can enhance the guest experience, particularly from an industry perspective.
What are some key innovations that will make the experience more convenient for diners and for the industry?
For diners, what we're seeing are innovations in the reservations arena. We also see lots of movement in the delivery space with everything from fast and casual to some fine dining. In the back of the house, we're starting to see some connectivity, cloud data rather than hardware and terminals. Some unique things are happening in the way industry operates in terms of how people are scheduled, the access they have for changing or switching shifts. Alice Cheng's Culinary Agents, Inc. is like the LinkedIn for hospitality.

Accessibility is key, whether it's about openings for people to work in the field to reservation systems like Open Table and the Resy app are starting to pop up. Some hospitality companies or restaurants are building their own systems.

In a much broader way for the consumer, Google Maps is integrating search engine functions, as well. A specific page will pop up with information and sometimes even available reservations. That takes the idea of how quickly you can go from local to global, with touches for locals and travelers. Local restaurants have a louder voice because of tech.
How will TechTable continue to promote the synergy and opportunity between tech and hospitality?
The goal of TechTable is to bring these sectors in the same room, hospitality, VC, tech, and developers, to talk, listen, and build solutions. We were lucky to have great tables at lunch with startup people, app developers, leaders of restaurants. That's what we had envisioned and hoped for!

We hope to innovate more from the inside than from the tech and VC world by working together in partnerships to create solutions. Steve Case touched on that - the partnership and serving better solutions as the lens continues to grow.
What do you think the future dining experience will look like for consumers?
If we look at fine dining, the hope of the team is that the experience won't look different but will feel better to the consumer because of the innovations in the back end. The reservation process will be more seamless. Once in the restaurant, more time will be spent on the diner's experience, focused on people in the restaurant and not navigating back end logistics.

The model of hospitality is not broken. It's a great industry. The values and processes are strong but we need to be supportive to allow the industry to evolve from within, to introduce key elements through tech innovations to help with the back end with focus on reservations and mobile pay.
What does the future look like regarding payments?
Security and convenience are both important. It's more about secure and encrypted networks. We're curious to see relationships serving consumers served with the restaurant as second tier consideration, as well as restaurants served directly. The devil is in the delivery.
What's next for TechTable?
We are planning to do another summit next year and this year, to host smaller events to build community and awareness. We're genuinely curious about what will happen in terms of back of house innovations within the next couple years.

People from different countries have expressed an interest overseas. This isn't a local issue but a global one so there's opportunity. I'm a huge advocate for the offline/online connection. What fascinates me with hospitality and tech is the conversion of offline and online and how they bridge together. There's such an experiential base for consumers in the space through social media.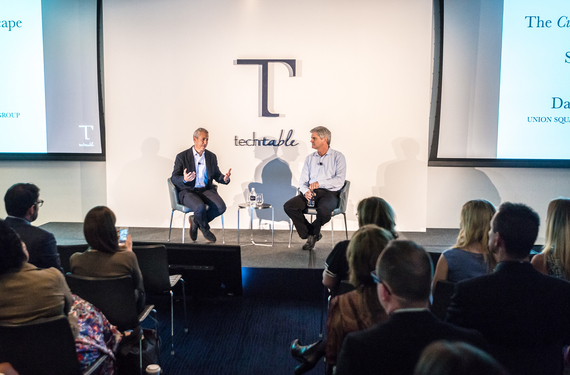 Left, Danny Meyer (CEO, Union Square Hospitality Group); right, Steve Case (Co-Founder of AOL and noted tech investor)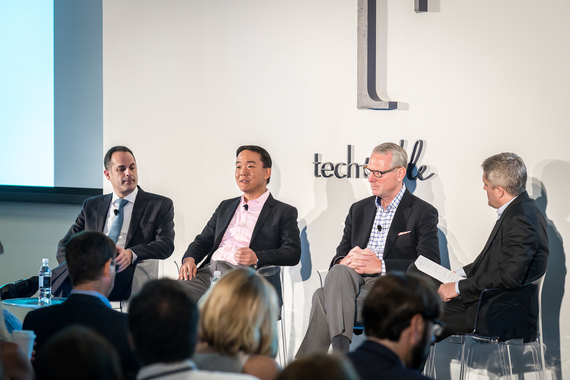 (From Left to Right): Steve Weitman (Senior Vice President, Wynn Las Vegas), Albert Lee (OTG Management), Guy Rigby (VP Food & Beverage, Four Seasons Hotels and Resorts), Michael Grillo (VP Restaurants and Emerging Industries, AMEX)
REAL LIFE. REAL NEWS. REAL VOICES.
Help us tell more of the stories that matter from voices that too often remain unheard.