There were three talks that raise a haunting concern coming out of TED's first day in Vancouver. Three talks from the Fellow's program, and one talk on the Main Stage each -- in their own way -- ask the question: Do we trust the U.S. government?
Individually, they're reasonable questions being asked by smart intellectuals and activists. Taken together, the form a narrative that is more than that. They suggest a pattern -- and one that the TED community is sure to pay attention to. For a group of leading scientists, technologists and world class entrepreneurs, the data tells the story.
First came Matt Kenyon, a TED Fellow.
Kenyon is an artist and an activist based in Detroid. Kenyon is disturbed by the fact that the US Government refuses to acknowledge the civilian body count of Iraqi civilian casualties resulting from the US-led invasion in 2003. He wanted to find a way for the Government to record the data. His art projects titled "Notepad" looks like a yellow legal pad. But the vertical and horizontal lines of each page of the notepad are embedding with micro-printed text. The text is that it contains the names and details of Iraqi civilian casualties. He told the TED audience he wants the to act as a Trojan Horse -- he's smuggled them into the hands of those in the United States Congress in various ways.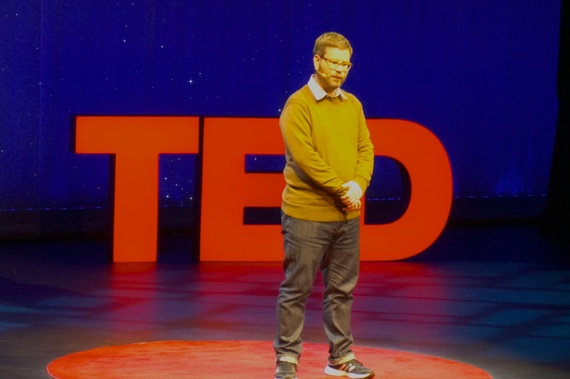 Then he asked the audience to look under their seats, where the yellow paper sheets were in a manila envelope. Kenyon asked the audience to write their representatives with the idea that correspondences from constitutes will end up stored i the public record, and encouraged people to write to their government officials on the paper, with the hope that this unwanted and unacknowledged civilian body count data will make its way into official governmental archives.
The fact that american citizens need to smuggle facts in to the public record was chilling. For all of our public sense of freedom and access to information -- Kenyon's project hit home.
Then came Trevor Aaronson, another TED Fellow.
Aaronson opened with the disturbing claim that the FBI's efforts to stop terrorism in the U.S. has resulted in the creation of more terrorists than it has stopped. Many more.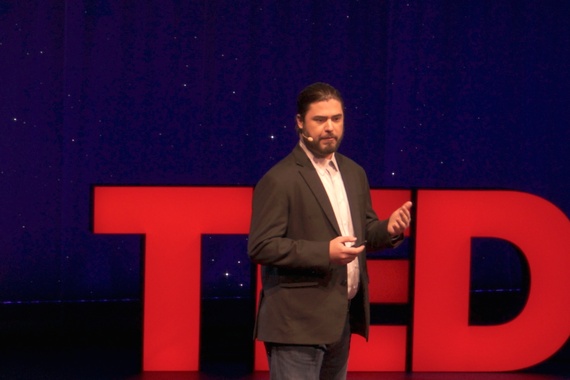 Trevor Aaronson is the executive director of the Florida Center for Investigative Reporting and author of The Terror Factory: Inside the FBI's Manufactured War on Terrorism.
Aaronson said that "the Federal Bureau of Investigation under the guise of engaging in counterterrorism since 9/11, built a network of more than 15,000 informants to infiltrate Muslim communities and ferret out would-be terrorists. The Bureau then provides the means necessary for these would-be terrorists to move forward with a terrorist plot -- in some cases even planting specific ideas for attacks."
He analyzed more than 500 federal terrorism prosecutions over ten years and found reason to question whether U.S. law enforcement is actually creating the very enemy we fear.
"The FBI spends $3 billion every year on counterterrorism, more than it spends on organized crime," says Aaronson. "Some of their counterterrorism activities involve years-long sting operations, and informants working them can receive $100,000 or more for their work."
Aaronson explained that "since 9/11 just one organization -- the FBI -- has been responsible for hatching and financing more terrorist plots in the United States than any other. Not Al Qaeda, the terrorist network founded by Osama bin Laden and responsible for the 2001 attacks on New York's World Trade Center and the Pentagon in Washington, D.C. Not Lashkar-e-Taiba, Jaish-e-Mohammed, Al-Shabaab, Hamas, Palestinian Islamic Jihad. Not any of the other more than 40 U.S.-designated foreign terrorist organizations."
So, two powerful talks. Both suggesting that what our government does, and what we want it to do
The former Australian Prime Minister Kevin Rudd was the first speaker on the TED main stage. A lifelong Australian, his talk drew on his deep knowledge of Chinese culture, language and history. His disturbing conclusion: conflict is looming. And who's fault? In large part, ours.
Rudd told the story of how China views the history of it's treatment by the west. Rudd specifically cautions against these a number of commonly held notions about China:
1. China is a single monolithic state.
2. China intends to rule the world.
3. China is motivated by wealth, power and, above all, face.
4.There are fundamentally conflicting values between the West and China. There are many values -- equality, freedom, solidarity with those across borders, and sustainability -- that we increasingly share. Many of the philosophical and historical traditions bear some similarity, and it requires deep understanding and study before we write them off as different.
One thing is clear, China is on track to be both the dominant economy in the world, and the largest creator of greenhouse gasses that are driving climate change.
Kevin Rudd studies alternate courses for U.S.-China relations that guide us away from a seemingly inevitable confrontation. In his talk he made one thing clear, the U.S. and China have much to gain by working together, and little to gain by remaining on a collision course.
Overall -- the mood at TED is optimistic and forward thinking. But these three talks together have me thinking about how we can ask our government to better represent our interest and shared goals.