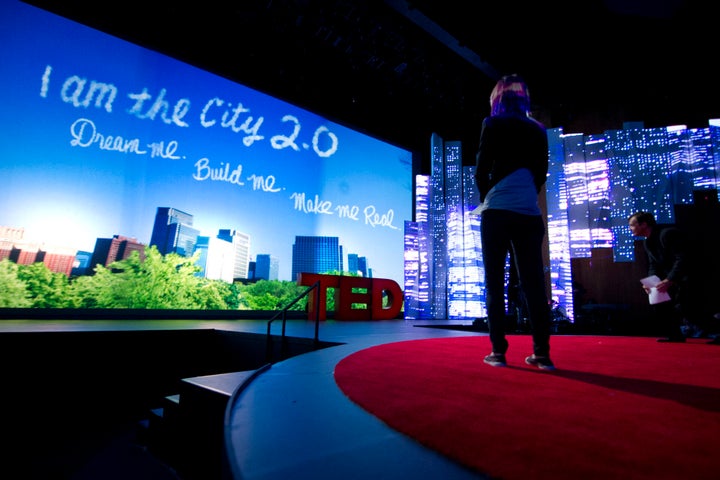 On Wednesday night, at the TED Conference in Long Beach, California, the 2012 TED Prize went to something TED is calling the City 2.0.
The buzz leading up to the announcement was that it was going to an idea rather than a person. This undoubtedly got a lot of people intrigued. The prize, in keeping with TED's overall mission, is usually an instrument of empowerment. The $100K award goes to someone to help fulfill a "wish." Last year, it went to the artist JR, his wish being to empower everyday citizens to express themselves and stand up for what they believe in through art. What sort of wish could an idea have and who would enact it?
Ideas, large and small, can be wishes and in this case the ultimate wish is to empower citizens around the globe to engage in the decisions that affect and alter their environments, particularly in cities. As TED Prize Director, Amy Novogratz stated, "We have thrown the weight of the annual TED Prize behind the City 2.0. because we see opportunity in inspiring everyone to re-imagine how we work, learn, and live. Like our cities, the TED Prize is based on radical collaboration, and for the billions of us living in -- and moving to -- cities, this is a wish for all of us to take on."
"Imagine a platform that brings you together, locally and globally. Combine the reach of the cloud with the power of the crowd. Connect leaders, experts, companies, organizations and citizens. Share your tools, data, designs, successes, and ideas. Turn them into action." This is the precise wording of the wish.
So where is this all supposed to take place? Initially online. The platform for participation is a website called thecity2.org.
To get this platform off the ground, TED received the support of The John S. and James L. Knight Foundation, the web coding services of Razorfish, knowledge support from IBM, and design and visualization tools from Autodesk, the software company best known for the development of AutoCAD.
But then what? That remains to be seen. The cloud and the crowd will determine the scope and reach of the wish. The goal is to take the $100K prize and divvy up for ten $10,000 grants to fund local projects.
$10,000 doesn't seem like a lot for significant environmental initiatives, but we'll see what happens. After all, Architecture for Humanity started with one cell phone as a part-time venture. And maybe $10,000 is enough to start a campaign for something big that would need government and business partnerships. It might be enough to say, "Hey! Over here! Look at this idea!"
The great thing about this is that I can envision groups of people coming together in real-time and space to think up ways of making their cities better and then putting them out for others to latch onto.
This is one of the benefits of the TED Prize: they are willing to throw money and energy behind an idea, to help blow on a spark and see if a fire gets started. You are never certain what will happen.
As TED representative Erin Allweiss, says, "This is just the beginning." The wish will hopefully gather momentum over time and draw to it more support and resources.
The shaky economy has not stopped TED from putting this out there for the world to take hold of. Let's see just how it takes hold and where it goes from here.
Calling all HuffPost superfans!
Sign up for membership to become a founding member and help shape HuffPost's next chapter