Sen. Ted Cruz (R-Texas) has his eyes on a potential presidential run, Robert Costa of the National Review reported on Wednesday, citing discussions with the freshman Republican's inner circle.
"Ted won't be opening an Iowa office anytime soon, but he's listening," a longtime Cruz associate told Costa. "This is all in the early stages; nothing is official. It's just building on its own."
Cruz has only been in the Senate for a few months, but he's already made his mark, both with colleagues and grassroots conservative supporters. His impact has manifested itself in two rather distinct ways, as Cruz's Senate presence has both excited his fans and upset his more seasoned colleagues. His aggressive questioning of then-Defense secretary nominee Chuck Hagel in February drew criticism from his GOP colleagues and comparisons to notorious anti-communist crusader Sen. Joseph McCarthy (R-Wis.). A month later, however, Cruz delivered the keynote address at the annual Conservative Political Action Conference, an honor previously given to firebrands such as former Alaska Gov. Sarah Palin (R) and former Rep. Allen West (R-Fla.). Cruz's office did not immediately return a request for comment.
The freshman recently highlighted his willingness to embrace that divisiveness, when he boasted about his role in a failed filibuster threat against gun control legislation. He claimed that his fellow GOP senators had "yelled at him" for making them look like "squishes," and while the details of his accounting weren't entirely accurate, he succeeded in staking out a counter-establishment position that played well with the tea party crowd he was speaking to.
The National Review report comes as other possible Republican contenders begin to lay the groundwork for the lengthy process of a presidential run. The Associated Press reported Wednesday that two potential frontrunners already have some catching up to do:
Two governors eyeing possible White House bids –- Bob McDonnell of Virginia and Bobby Jindal of Louisiana –- suddenly find themselves fending off critics and trying to shore up legacies they hope will withstand national scrutiny. Other high-profile governors run the gamut from maintaining solid popularity to being in danger of losing re-election next year.

[...]

McDonnell, who built an image as a competent problem-solver, confronted questions Tuesday about an FBI inquiry into gifts he accepted from a wealthy Virginia businessman. And Jindal, even in a Republican-dominated state, had to pull back his ambitious plan to replace Louisiana's corporate and personal income taxes with higher sales taxes. His popularity has sagged lately.
Other Republicans who have been vocal about a potential 2016 White House run include former Sen. Rick Santorum (R-Pa.) and Sen. Rand Paul (R-Ky.), who has recently emerged as Cruz's ally on a number of issues. Paul has received scrutiny over the past couple months, but has repeatedly said he'd like to be included in the 2016 discussion and already appears to be making inroads in a number of early primary states.
Cruz was born in Calgary, Canada. His father was Cuban and his mother was a U.S. citizen, which has led him to claim that he's a "citizen by birth."
Under the Constitution, presidential candidates must be "natural-born" citizens. That term is not defined concretely, however, which has led birther conspiracy theorists to insist that President Barack Obama isn't eligible to be president because of their belief that he was born in Kenya, a claim they've argued would disqualify him regardless of his mother's U.S. citizenship. While Obama was in fact born in Hawaii, it appears that Cruz could be susceptible to the same kind of scrutiny that Obama has faced if he decides to run for president.
UPDATE: 2:00 p.m. -- Cruz addressed reports of his 2016 considerations in a Facebook post:
In my short tenure, my focus has been -- and will remain -- on two things: fighting for conservative principles in the Senate, and working to help elect strong conservatives to win a majority in the Senate in 2014. The Senate is the battlefield to defend liberty.

I was elected because thousands of grassroots conservatives came together to protect the Constitution, shrink the federal government, and promote growth and opportunity. It is a continued source of amazement that the simple fact that I am working hard with like-minded Senators to keep my promise is seen as newsworthy and cause for wild speculation.
Before You Go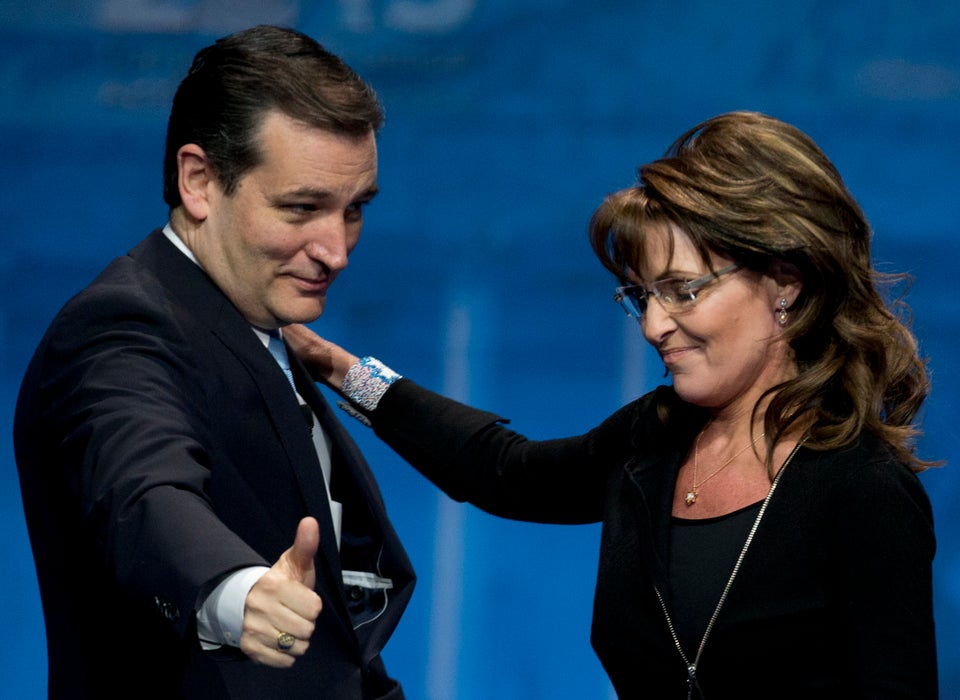 Sen. Ted Cruz
Popular in the Community