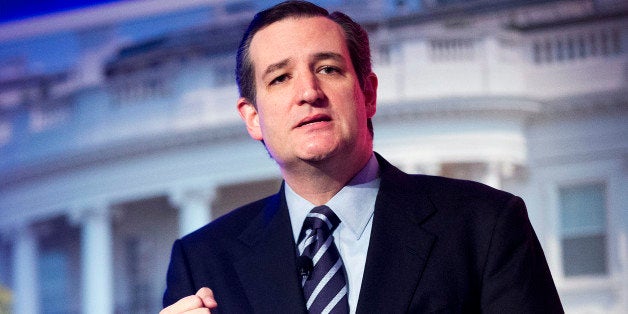 WASHINGTON -- Sen. Ted Cruz (R-Texas) on Tuesday brushed off concerns about his spotty attendance at hearings held by the Senate Armed Services Committee, of which he is a member.
"When you're putting together a campaign for president, like I've been, that entails a lot of time," Cruz said in an interview with radio host Dana Loesch. "It's not like I've been at the beach sipping a piña colada."
The 2016 Republican presidential candidate instead accused the press of making a mountain out of a molehill.
"It is revealing when the mainstream media fires every cannon they can at conservatives," he said.
According to Politico, Cruz attended only three of the committee's 16 public hearings so far this year, a track record perhaps best explained by his many trips out of Washington to early primary states ahead of his official declaration of a presidential run last week.
The first-term senator, who is a defense hawk known for frequently sounding off against President Barack Obama's foreign policy, missed opportunities to question the top U.S. commander in Afghanistan, as well as other military officials, about the effect of the sequestration's automatic budget cuts to the Pentagon. By comparison, Politico noted, Sen. Lindsey Graham (R-S.C.), another possible White House contender, attended 11 of 16 hearings.
Cruz's attendance record may give potential rivals an effective line of attack in the 2016 Republican presidential primary. During the 2014 election cycle, similar critiques were lobbed against former Sen. Scott Brown (R-Mass.) and then-Rep. Bruce Braley (D-Iowa), both of whom lost their campaigns for Senate, as well as then-Sen. Kay Hagan (D-N.C.), who lost her re-election bid.
Calling all HuffPost superfans!
Sign up for membership to become a founding member and help shape HuffPost's next chapter
BEFORE YOU GO
PHOTO GALLERY
Sen. Ted Cruz