FENTON, Iowa -- Three days before the crucial Iowa caucuses, Sen. Ted Cruz (R-Texas) still finds himself answering questions over his eligibility to run for president.
Real estate mogul Donald Trump, campaigning in New Hampshire on Friday, again attacked Cruz, who is a natural-born U.S. citizen, for being born in Canada. Only this time, Trump upped the ante by calling Cruz an "anchor baby" -- a term many consider derisive, and one that conservatives have used to describe children born in the United States to undocumented immigrants.
"Now, Ted Cruz may not be a U.S. citizen. Right? But he's an anchor baby in Canada. No, he's an anchor baby. Ted Cruz is an anchor baby in Canada," Trump said in Nashua.
Asked multiple times about the charge at a campaign stop on Friday, Cruz did nothing more than simply chuckle. After further inquiries from reporters, he answered the charge by smothering Trump with kindness -- a tactic he has employed frequently on the campaign trail.
"I like Donald. He's welcome to say whatever he likes. I like and respect him," Cruz said before addressing approximately 100 people at a restaurant in Fenton, a small town in northern Iowa.
Cruz has been betting on Trump to implode for months, hoping that he can draft his way behind the front-runner to a victory in Iowa that can give his campaign momentum for added successes in the New Hampshire and South Carolina primaries. Cruz himself described the strategy in a leaked discussion with donors obtained by The New York Times, calling it the "bear hug" approach.
And, for a time, it worked. Cruz shot to the top of the polls in Iowa, leading many to speculate that the race for the GOP nomination would ultimately come down to a two-way competition between the conservative Cruz and the establishment favorite, Sen. Marco Rubio (R-Fla.).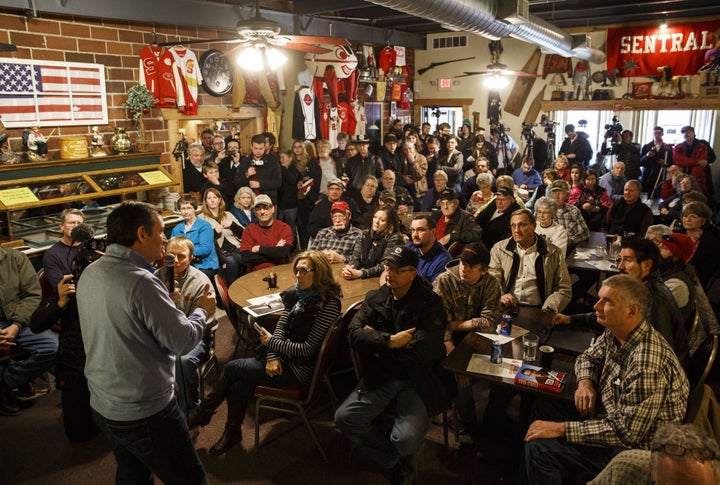 Trump's steady campaign against Cruz's eligibility for the presidency and his likability appear to have reversed the senator's momentum, however. A NBC/WSJ/Marist poll released Thursday showed an 11-point negative swing in Cruz's support from just three weeks ago, knocking him out of the lead. At the same time, Cruz's favorability rating among Republicans dropped 9 percentage points to 55 percent, according to a new Gallup poll.
Trump's boycott of Thursday's Republican presidential debate in Des Moines gave Cruz the opening he needed. The senator, a debate champion in college, challenged his rival to face off "mano-a-mano, Donald and me." On Friday, a day after Trump held his own rally to support veterans instead of attending the GOP debate, Cruz accused Trump of disrespecting Iowa caucus-goers and said he showed a lack of "humility" that is essential for the presidency.
David Sennert, a resident of Pocahontas, Iowa, agreed. Sennert said he initially supported Trump, but now favors Cruz because Trump is "too full of himself." He added that Cruz "is much more down to earth and much more level-headed."
Cruz thrilled voters who gathered for his stump speech at several stops on Friday across Kossuth County, a stretch of sparsely populated farmland. Nearly all of those who spoke to HuffPost at a pair of Cruz events said they liked what he stood for and were likely to caucus for him on Feb. 1. But some said they feared Trump may continue bashing Cruz with the citizenship issue.
"I worry what Trump can do if he gets a lawsuit," said Nancy Nesheim, who decided to caucus for Cruz after hearing him speak for the first time at a community college library in nearby Emmetsburg. "I know you can tie it up in courts for a long time."
Mark Vanderploeg, a resident of Spirit Lake, Iowa, who leans toward Cruz, conceded Trump's right to press the birther issue.
"I don't really have a problem with it," he said of Cruz' eligibility to run. "I don't have a problem with Trump questioning it, either, because it's really never been settled. I think it'd be good to have that question settled at some point in time." 
It's not clear whether Cruz' birthplace is a major factor in his sinking poll numbers.
Cruz's campaign manager, Jeff Roe, disputed the notion that Trump had found success on the eligiblity issue. He claimed instead that since the end of November, when Cruz took the lead in Iowa, the campaign has actually expanded its net share of the vote, despite losing some voters. And he said the campaign's massive war chest -- $19 million in cash on hand as of Dec. 31 -- would help defend Cruz from such attacks.
"We're having real conversations with the people, and they're making their minds up," Roe told reporters at a breakfast hosted by Bloomberg Politics. "So we've certainly lost people. We've certainly lost and regained people. But it is all based on the delta of a growing number all the way through. Which, I think, is going to continue to grow."
CORRECTION: This article previously misstated the definition of the term "anchor baby" as being children brought to, rather than born in, the U.S. by undocumented immigrants.
Calling all HuffPost superfans!
Sign up for membership to become a founding member and help shape HuffPost's next chapter