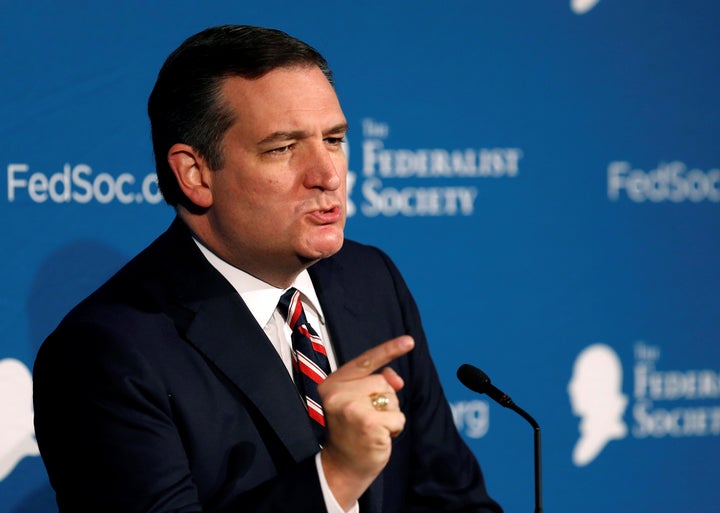 As congressional Republicans mark the seventh anniversary of the Affordable Care Act by trying to repeal it, let us pause to reflect on a somewhat less auspicious anniversary.
A year ago Friday, Sen. Ted Cruz (R-Texas) called Donald Trump a "sniveling coward."
To recap: In late March 2016, with the contentious Republican presidential primary in full swing, an anti-Trump super PAC ran an ad featuring images of a scantily clad Melania Trump from a 2000 photoshoot with the caption, "meet Melania Trump. Your next first lady. Or, you could support Ted Cruz on Tuesday."
Though the Cruz campaign was not involved with the ad, Trump responded by threatening to "spill the beans" about Cruz's wife, Heidi. "The beans," it turned out, was a meme courtesy of someone with the Twitter handle @Don_Vito_08.
Because presidential campaigns aren't typically occasions for diss battles, Trump's retweet ate up the news cycle, prompting condemnations from Trump opponents and yet another round of handwringing from Republicans.
Even considering Cruz's distinctly melodramatic manner of public speaking ― few politicians more closely resemble a particularly self-absorbed debate club kid ― his response was intense.
"It's not easy to tick me off. I don't get angry often," an incensed Cruz told reporters. "But you mess with my wife, you mess with my kids, that will do it every time. Donald, you're a sniveling coward, and leave Heidi the hell alone."
When a reporter asked Cruz if he would support Trump if the real estate mogul and reality TV star were the Republican Party's presidential nominee, Cruz hesitated before replying, "I'm going to beat him for the nomination. Donald Trump will not be the nominee."
He did not beat him. Donald Trump was the nominee. Ted Cruz endorsed him.
Cruz's office did not return requests for comment for this story.
Things remained toxic between Cruz and Trump for the remainder of the primary and well after, with Trump regularly referring to Cruz as "Lyin' Ted" and Cruz leveling broadsides against Trump's character. In one speech before Cruz dropped out, he called his opponent a "pathological liar," a "narcissist" and a "philanderer." After footage emerged of Trump bragging about sexually assaulting women, Cruz called the comments "disturbing and inappropriate" in a tweet.
And, in what was arguably the strangest accusation leveled by Trump since his highly publicized (and highly untrue) birther campaign, he accused Cruz's father, Rafael, of playing a part in John F. Kennedy's assassination.
He repeated the accusation a day after accepting the nomination at the GOP convention in Cleveland. Party unity can be a strange thing.
In early October, the Dallas Morning News published video of Cruz phone-banking for the man who had disrespected his wife, implicated his father in a violent act of treason and seemed only one late-night tweet away from elevating the "Ted Cruz is the Zodiac Killer" meme from online joke to full-fledged conspiracy theory. The footage went viral: Cruz looked less like a happy warrior putting party before ego and more like a scared teenager calling his mom to pick him up from a particularly raucous house party.
Trump, for his part, has tried to make amends with Cruz since taking office. In addition to having the Cruzes over to the White House for dinner, Trump invited the senator to the Oval Office for the signing of a NASA authorization bill.
And in an interview with Time magazine published this week, Trump insisted, "I like Ted Cruz, he's a friend of mine."
But it's not clear whether Trump is totally over his feud with Cruz. In the Time interview, he doubled ― nay, tripled ― down on the JFK claim, insisting it was something "that was in the newspaper."
Moreover, Trump, who has made a point of regularly deleting tweets, still has not deleted the one making fun of Heidi Cruz's appearance.
And during that NASA authorization bill signing, the president, ostensibly discussing the space agency's work, said, "It's a pretty tough job, I dunno. Ted, would you like to do it?"
Cruz, his fingers resting gently on the Resolute Desk, smiled knowingly as Trump asked Marco Rubio, another former primary foe, the same question.
Politics hurt too much? Sign up for HuffPost Hill, a humorous evening roundup featuring scoops from HuffPost's reporting team and juicy miscellanea from around the web.
Popular in the Community