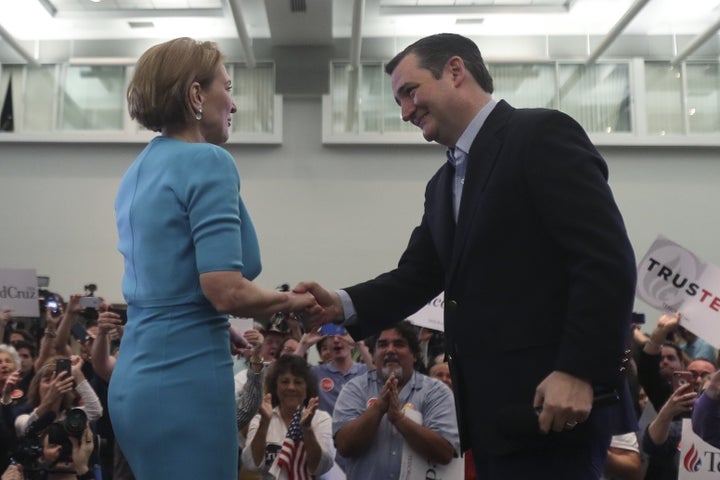 Presidential hopeful Sen. Ted Cruz (R-Texas) intends to name former Hewlett-Packard CEO Carly Fiorina as his vice presidential running mate if he succeeds in winning the GOP nomination, multiple sources reported Wednesday.
Cruz's move is seen as a last-minute gambit in hopes of shaking up the race and blocking front-runner Donald Trump, who easily swept five primary states across the Northeast on Tuesday.
Fiorina, who herself ran for president as a Republican earlier this cycle before suspending her campaign and endorsing Cruz, has been a visible surrogate for the Texas conservative on the campaign trail. She has targeted former Secretary of State Hillary Clinton, the Democratic presidential front-runner, often trotting out topics, like former President Bill Clinton's extramarital affairs, that Cruz himself has not mentioned.
Fiorina was spotted in Indianapolis on Wednesday, hours before a scheduled Cruz campaign rally there.
Cruz campaign manager Jeff Roe earlier this week sought to snuff out speculation about a possible vice presidential pick, tweeting that the campaign had simply "narrowed" things down to a short list. Cruz followed suit, stating that his campaign had just begun the process of vetting potential candidates. A serious vetting process, however, involves months of work to properly scrutinize a candidate's history and background in preparation for the general election.
Gary Aminoff, a member of Cruz's California "leadership team," tweeted on Wednesday that the senator was tapping Fiorina as his running mate. Josh McElveen, political director at WMUR, a New Hampshire news organization, also tweeted Wednesday that "sources confirm" Cruz intends to run alongside Fiorina if he gets the party's nod. Politico reported the information shortly after.
The timing of the news, a day after more resounding primary victories for Trump, suggests a last-ditch effort to wrest the narrative from the real estate mogul ahead of the Indiana primary. The May 3 contest is seen as one of the final opportunities to deny Trump the delegates he needs to secure the nomination.
It remains to be seen whether Fiorina, a California businesswoman who already failed once to win over GOP primary voters, can tip the scales enough for Cruz to dominate in Indiana and secure most or all of its 57 delegates. Trump has committed major resources and campaign staff there, reflecting the significance of the primary. A recent CBS/YouGov poll showed Trump leading Cruz by five points, 40 percent to 35 percent.
Last year, while still a candidate for the GOP nomination, Fiorina sparred with Trump after he mocked her physical appearance. She has also gone after Trump for mocking a reporter with a congenital joint condition.
Patrick Murray, director of the Monmouth University Polling Institute, expressed skepticism about Fiorina's ability to sway votes for Cruz.
"While she made some waves early in the campaign, Fiorina never developed a strong following that would give an electoral boost to the Cruz campaign," Murray said in a statement Wednesday, noting Fiorina's low favorability ratings.
"This pick is an attempt to mute Trump's appeal to voters who want a political outsider, but it is unlikely to have much impact," he went on. "Republican voters already have an outsider candidate they like. This will help Cruz dominate a couple of news cycles before next week's make-or-break primary in Indiana, but it is likely to have a limited impact on swaying voters or, more importantly, convention delegates."
UPDATE: 5:00 p.m. -- Cruz formally announced his selection of Fiorina at the Indianapolis rally on Wednesday.
"After a great deal of time and thought, after a great deal of consideration and prayer, I have come to the conclusion that If I am nominated to be president of the United States, I will run on a ticket with my vice presidential nominee, Carly Fiorina," the senator said.
He went on to praise Fiorina for her principles, her business record and her Texas upbringing.
Fiorina, in turn, lauded Cruz as a "constitutional conservative who has made enemies in both parties standing up to the bipartisan corruption in Washington." She also attacked her running mate's foes, saying: "Hillary Clinton has made her millions selling access and influence from inside the system. Donald Trump made billions buying people like Hillary Clinton. They're not going to challenge the system -- they are the system."
The businesswoman even made an attempt to brighten Cruz's image by singing to Cruz's daughters from the stage and attesting that the senator was a "heckuva lot of fun."
This story has been updated with Murray's remarks and information about Cruz and Fiorina's announcement.
Before You Go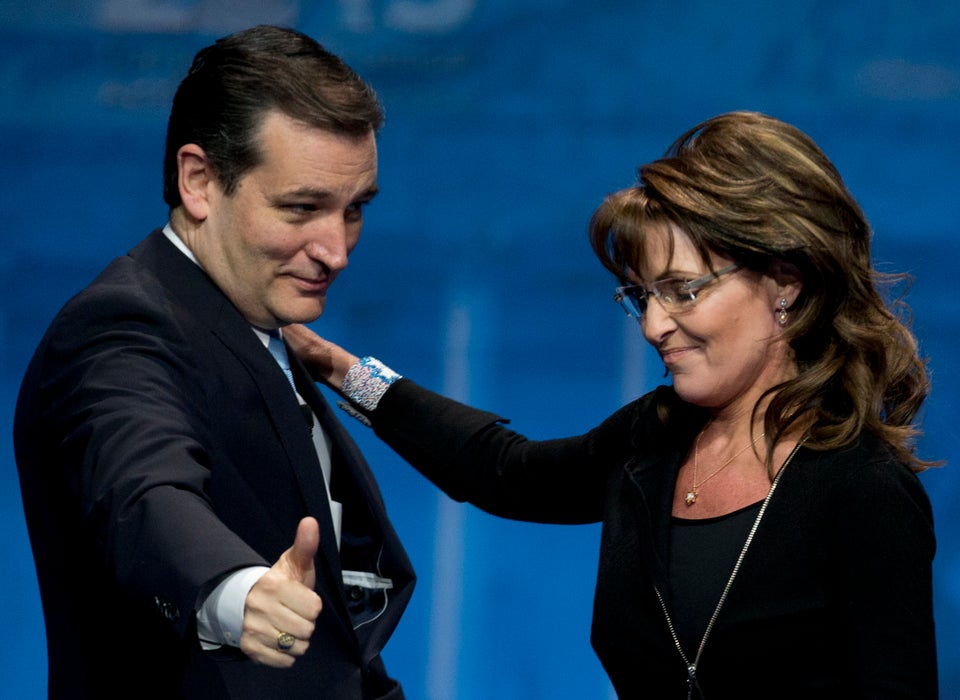 Sen. Ted Cruz
Popular in the Community