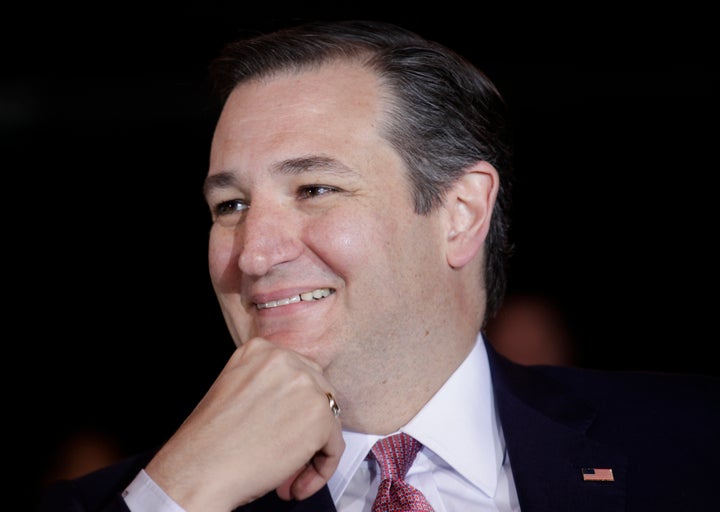 Ted Cruz might be popular enough with Tea Party and evangelical Republicans to pull off a convention upset if Donald Trump doesn't get the delegate majority before then. Donald Trump's supporters have a predilection for rule-breaking leaders. And older voters are concerned about their economic futures.This is HuffPollster for Thursday, April 7, 2016.
A CONTESTED CONVENTION WOULD LIKELY FAVOR TED CRUZ - Nate Silver: "[T]he 'establishment' won't pick the party's nominee. The 2,472 delegates in Cleveland will…. Although the proverbial Acela-riding insiders might dream of Ryan or Kasich, there are indications that the rank-and-file delegates are into [Texas Sen.] Ted Cruz — and they're the ones who will have votes in Cleveland….We know that Cruz is likely to do well among delegates chosen through state and local conventions because we've seen that demonstrated quite a few times already…. they're mostly grass-roots activists, and many of them want Cruz to be their next president." [538]
Cruz has a natural base among Republican activists- Since last year, HuffPost Pollster has periodically surveyed Republicans who have run for or held office, served as party officials, worked on campaigns or volunteered their time before elections, a background that likely approximates the experience of many GOP delegates. HuffPollster with Mark Blumenthal, last October: "One candidate more favored by Republican activists than Republican voters, at least for now, is Texas Sen. Ted Cruz, who stands out as something of a sleeper because of his strong tea party support.….Unlike many of his rivals, whose support tends to be similar across the spectrum of Republican activists, Cruz has the advantage of a strong base of support among tea party members and evangelical Christians." [HuffPost]
In January, activists' preferences foreshadowed a two-way race - HuffPollster, from January: "As in national polls, Donald Trump leads as the activists' first choice, taking 29 percent, with Cruz at a relatively close 25 percent….With first and second choice combined, Cruz takes the lead with 50 percent, followed by Trump with 45 percent and Rubio at 33 percent….A gap persists between two groups: volunteers, who've donated significant time or money, and 'semi-pros,' who've worked in politics or run for office themselves. The volunteers split solidly for Trump, while the professionals are close to evenly divided between Trump and Cruz." [HuffPost]
MAJORITY OF TRUMP SUPPORTERS WANT A LEADER WILLING TO BREAKS THE RULES -Public Religion Research Institute/The Atlantic: "Close to half (45%) of Americans agree that because things in the country have gone so far off track, the U.S. needs a leader willing to break some rules to set things right. A slim majority (51%) disagree with this statement. There are modest partisan divisions in views about whether America needs a leader ready to break the rules. Approximately half (49%) of Republicans agree with this statement, compared to 41% of Democrats. Political independents do not differ appreciably from Americans overall….There are dramatic differences in views between Trump supporters and nearly everyone else. Roughly two-thirds (65%) of Trump supporters agree that America needs a leader who is willing to break the rules, while fewer than half of Cruz supporters (40%), Kasich supporters (43%), Clinton supporters (46%), and Sanders supporters (40%) agree. [PRRI/The Atlantic]
NOVEMBER COULD BE A 'HOLD-YOUR-NOSE' ELECTION - David Lightman: "Donald Trump and Hillary Clinton are unusually weak, widely disliked presidential candidates whom most people plan to vote against if the front-runners meet in the general election. Most people who'd vote for Clinton would do so because they want to defeat Trump, not because they actually want to elect her, according to a new McClatchy-Marist poll. And most of those who'd vote for Trump would do it because they want to defeat Clinton, not because they like Trump. Fifty-three percent of all Clinton voters, and three of four independents, said they'd pick the former secretary of state because they'd be voting against Trump. Sixty-one percent of Trump voters, and nearly two of three independent supporters, said their vote for the New York real estate mogul would be largely a vote against Clinton. Only 35 percent said they'd be casting a pro-Trump vote." [McClatchy]
VOTERS DON'T THINK TRUMP RESPECTS WOMEN: - HuffPollster: "A 62 percent majority of voters across both parties say that Trump isn't respectful of women. In contrast, a third or fewer say the same of any other candidate, Republican or Democratic, who is still in the race....While female Republican voters say by a 6-point margin that Trump is respectful of women, male GOP voters say the same by a far wider 20-point margin. In contrast, Republican men are not significantly more likely than Republican women to view Cruz and Kasich's records in a good light....Trump's standing with women has earned extra scrutiny in recent weeks, after he argued for punishing patients who have abortions and attacked the looks of Cruz's wife — the latter prompting a rare apology. It's not clear that those specific events have done any harm to his image among women. As The Washington Post notes, Trump won the same percentage of the vote among both genders in Wisconsin, and there's no sign his favorability rating has declined in the last few weeks among women nationally." [HuffPost]
OLDER VOTERS ARE FINANCIALLY STABLE, BUT HAVE SERIOUS CONCERNS  - An AARP survey of voters over 50, released Thursday morning, finds that although the majority -- 70 percent -- are satisfied with their current financial situations, many are also concerned with the future. Forty-nine percent say that they're worried or concerned about achieving their financial goals, with worries especially high among women and those without college degrees. 'I get $608 a month and can't live on that. I worked two jobs all my life, and I'm falling thru the cracks,' one retiree told pollsters. In an early look at the horserace, the survey finds that without knowing the candidates, 43 percent of older voters currently plan to vote Republican in the presidential election, 37 percent intend to vote Democratic, and 20 percent are undecided. Older white voters lean Republican, while a majority of Hispanics plan to vote for a Democrat. Black voters over 50 are overwhelmingly Democratic-leaning, with just 3 percent saying they'll vote GOP. [AARP]
HUFFPOLLSTER VIA EMAIL! - You can receive this daily update every weekday morning via email! Just click here, enter your email address, and click "sign up." That's all there is to it (and you can unsubscribe anytime).
THURSDAY'S 'OUTLIERS' - Links to the best of news at the intersection of polling, politics and political data:
-David Rothschild says prediction markets are bullish on Democrats' chances of keeping the White House.  [HuffPost]
-Steve Koczela explains why Trump would have a very difficult time taking Massachusetts in November. [WBUR]  
-Nate Cohn argues that Trump will not be able to capture a majority of the delegates at his current pace. [NYT]
-Americans' concern about crime reaches a 15-year high. [Gallup]
-Google is pushing to become part of the political polling industry. [The Hill]
REAL LIFE. REAL NEWS. REAL VOICES.
Help us tell more of the stories that matter from voices that too often remain unheard.