WASHINGTON -- For weeks, conservatives have been pushing their Republican colleagues to use any means necessary to leverage Department of Homeland Security funding to kill President Barack Obama's executive actions on immigration.
They've called for the Senate to change its rules to pass a bill that Democrats oppose, and have said lawmakers should be willing to allow a DHS shutdown to make Obama change his policies. They railed against Senate Majority Leader Mitch McConnell (R-Ky.) for making a deal with Democrats on Wednesday to fund DHS without measures stopping Obama's immigration policies.
But when one of their own threw in the towel on Wednesday afternoon, they barely whimpered. Sen. Ted Cruz (R-Texas) indicated he wouldn't take steps to block McConnell's deal -- even though he does not support it -- removing a potentially critical obstacle for passage.
"Nothing is to be gained by a delay of 12 hours or 24 hours or 36 hours," Cruz, a potential 2016 presidential candidate, told reporters after McConnell's plan was announced. "I think the concern is not a procedural concern over timing -- the concern is substantive."
It was a remarkable turnaround for a senator who has excoriated fellow Republicans in the past for failing to stand firm during the high tide of shutdown politics. And it irritated those in the party who have faced the wrath of the very people Cruz has whipped into a frenzy.
"It seems like Sen. Cruz, having steered his colleagues into a box canyon, has now chosen to hide behind a saguaro cactus during the ensuing gunfight," a House GOP aide said.
Yet, for the most part, conservatives seemed willing to give Cruz a pass. Some of the senator's allies on immigration in the House fumed over McConnell's deal with Democrats, but were hesitant to criticize Cruz for backing off his insistence that every procedural option needed to be exhausted to derail the president's executive actions.
Rep. Mo Brooks (R-Ala.) told HuffPost that funding Obama's executive actions as part of a DHS bill would be a violation of members' oath of office, and would be breaking promises Republicans made when they were elected. But he steered clear of discussing whether Cruz should do more to block a clean DHS funding bill.
"The Senate has a byzantine set of rules and I'm not going to speculate on what the timing should be to do your utmost to protect the American people from the president's unconstitutional conduct," Brooks said. "I'm not in the Senate."
Rep. Steve King (R-Iowa) said he believes Cruz is committed to fighting Obama's immigration actions and credits him, in part, with bringing Obamacare to the forefront during the 2013 government shutdown. King said if it were him in the Senate, he probably would have voted with Sens. Jeff Sessions (R-Ala.) and James Inhofe (R-Okla.) against moving forward with the DHS bill. But he said repeatedly that he didn't want to second-guess Cruz.
"I took a pledge that I'm going to fight this thing to the end and I'm going to fight on every hill. That's been my stand," King told HuffPost. "The Senate strategy is different and I don't want to second-guess what they do over there."
Cruz's office did not respond to a request for comment. The senator could have joined fellow immigration hawks Sessions and Inhofe in voting against proceeding to the House immigration bill as part of a larger agreement to take out the immigration-related measures. But he chose, instead, to vote with the majority of his colleagues in moving the bill forward. The Senate will hold a final vote on funding DHS in the coming days, and then will vote on a separate measure to defund the president's 2014 executive action.
Cruz this week told Newsmax that Republicans "need to honor the commitments we made to stop the president's illegal and unconstitutional amnesty." He said in December, during a previous funding battle, that Republicans should "fund the operation of the federal government, but ... not allocate taxpayer dollars for lawless and illegal amnesty."
The fact that he isn't mounting a filibuster -- at least not for now -- on DHS funding doesn't mean he's given up on fighting the executive actions. Cruz also has pushed Republicans to oppose Obama's immigration policies by blocking the nomination of Loretta Lynch for attorney general.
Before You Go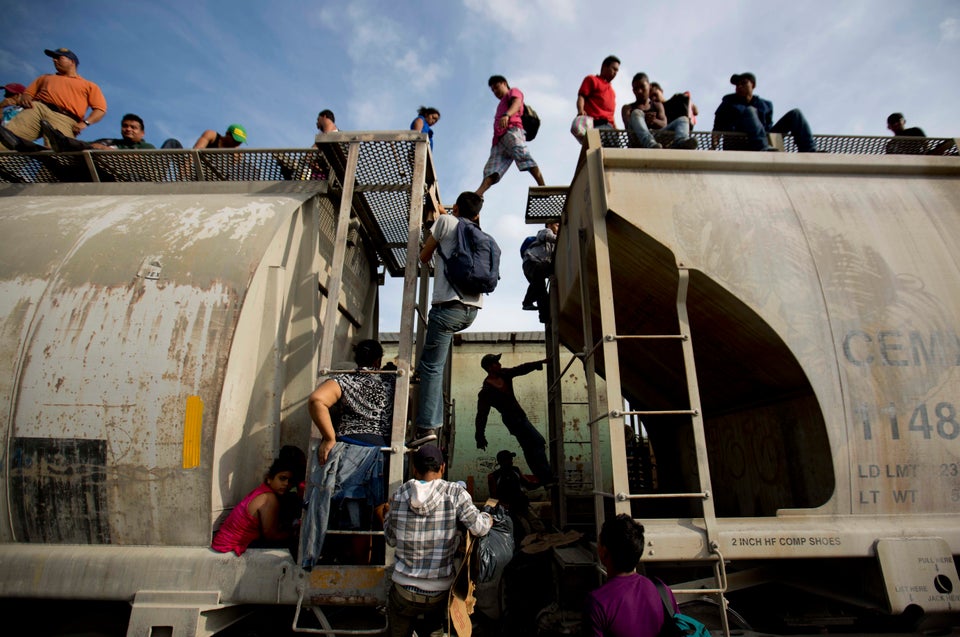 Why Latin Americans Really Come To The U.S.
Popular in the Community