CLEVELAND ― Sen. Ted Cruz (R-Texas) intended to make merely a glancing reference to Donald Trump in his remarks to delegates here on Wednesday, but soon found himself subject to some heavenly intervention.
As Cruz was pondering where he goes from here ― "I don't know what the future holds. Our party now has a nominee and I don't know," he said ― Trump's 757 unexpectedly flew overhead, interrupting his speech. The Manhattan real estate mogul was landing in Cleveland at that very moment to meet with his new vice presidential running mate, Indiana Gov. Mike Pence (R).
The surprise appearance by Cruz's bitter primary rival set off a chorus of loud and sustained boos from the approximately 500 delegates gathered at the event. Cruz briefly paused to let them continue before addressing his campaign manager, Jeff Roe.
"Jeff, did you email them to fly the plane right when I said that?" he asked, chuckling. "That was pretty well-orchestrated!"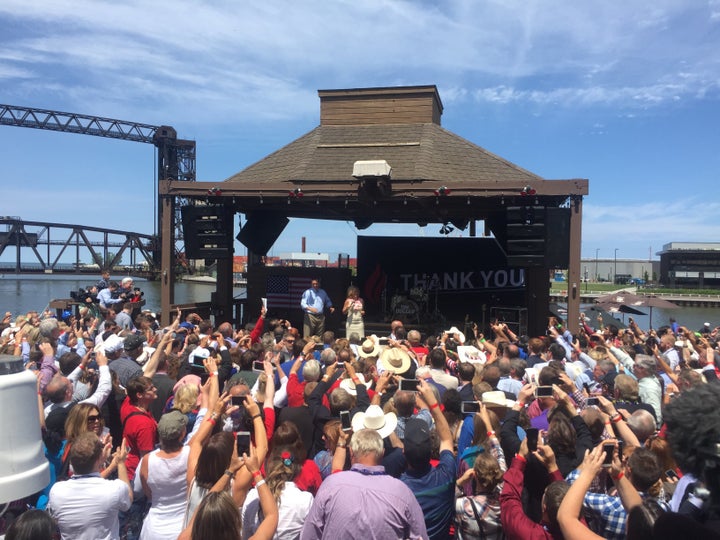 The outdoor event along the Cuyahoga River oddly resembled a campaign rally. Cruz's campaign logo was displayed onstage, and a long line of people stretched outside. At one point, Cruz's supporters even began chanting "2020," urging him to run for president again.
Yet the Texas senator stressed party unity ahead of his remarks tonight at the convention.
"The way to see unity is for us to unite behind shared principles," Cruz said, adding that everyone has an "obligation to follow our conscience, to speak the truth, and truth is unchangeable."
It's unclear, however, whether the senator will endorse Trump at the Quicken Loans Arena. Roe told reporters that Cruz's remarks will be "unifying" and that Trump will be "pleased" with the speech, but said he didn't know whether Cruz would mention Trump by name.
I would love to see a speech that says, 'Let's unify. Endorse Donald Trump for president.

Ted Cruz supporter Johnny Lopez
The Trump campaign clearly wants to put the rift in the party behind them. New Jersey Gov. Chris Christie (R), an early endorser of Trump and a former presidential candidate himself, told CNN on Wednesday that he hoped Cruz "keeps his word." Cruz, along with all GOP candidates, had signed an RNC pledge to support the Republican nominee.
Delegates in the crowd had a mixed reaction to the possibility that Cruz will endorse Trump. Johnny Lopez, from Texas, said it was time to put differences aside to defeat presumptive Democratic nominee Hillary Clinton.
"I would love to see a speech that says, 'Let's unify. Endorse Donald Trump for president,'" Lopez said.
George Benjamin, 51, said he didn't want to see Cruz compromise his conservative principles, no matter the choices in November's election.
"When you base your views on principle, you can compromise on a lot of things. But foundational things, you can't. So that's why I'm OK with him not endorsing," Benjamin said.
Others, like Washington state delegate Bill Bruch, still took issue with Trump's brazen attacks against Cruz's wife and father.
"If I were him, absolutely not ― because of personal attacks, especially against Rafael Cruz," Bruch said. "I would be shocked if he endorsed him."
Calling all HuffPost superfans!
Sign up for membership to become a founding member and help shape HuffPost's next chapter
BEFORE YOU GO
PHOTO GALLERY
Sen. Ted Cruz