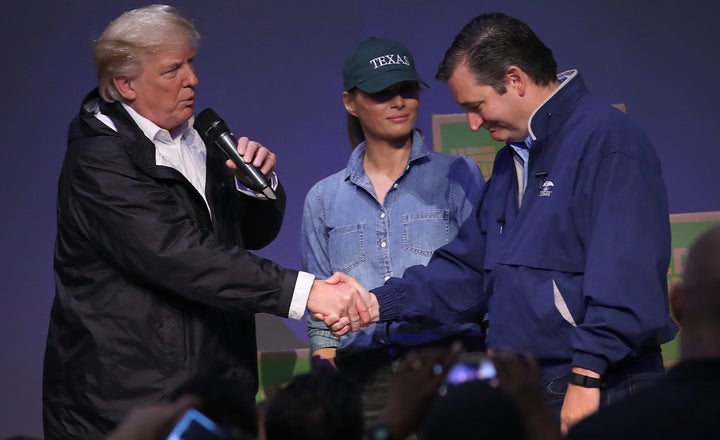 Of course, that's not the face he has been showing to the public. "I am honored that President Trump is here endorsing and supporting my campaign," Cruz told a stadium of 18,000 people in Houston last night, "and I look forward to campaigning alongside him in 2020 for his re-election as president of the United States."
For years, in fact, we've been expected to believe that Cruz is fully in support of Trump. That their differences have been placed firmly behind them and, what's more, that those differences have blossomed into a mutual respect.
"He's not 'Lyin' Ted' anymore. He's 'Beautiful Ted,'" Trump told reporters on Monday. Unfortunately for Trump, it's hard to square praise from "Beautiful Ted" with Cruz's renewal of the DaffyDonald.us and SleazyDonald.us domains in February. (It doesn't appear that those sites have ever hosted content.)
According to the Whois record for DaffyDonald.us, the domain was originally registered to Ted Cruz in March 2016, with the contact email belonging to TedCruz.org. This in itself isn't all that notable. At the time, Cruz was still campaigning against Trump for president. But a look at the more recent records for the domain shows that in November 2017, the expiration date was listed as March 2018.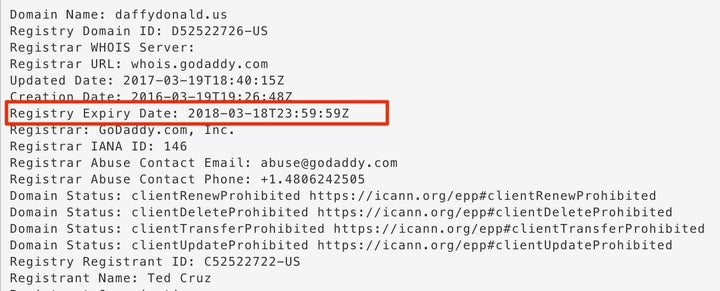 The Whois record wasn't updated again until February of this year, when the expiration date changed to March 2019.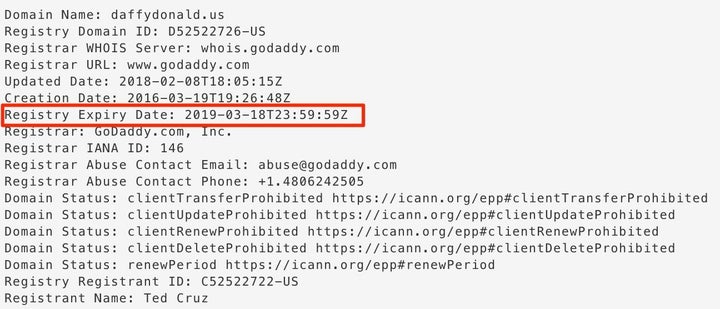 The records for SleazyDonald.us follow a similar pattern, with slightly different dates. In the January 2018 record, the expiration date is listed as March 2018.

And in February the expiration date for SleazyDonald.us was changed to March 2019.

Theoretically, this might have been a case of auto-renewal. Perhaps the campaign had registered the domains, set them to auto-renew every year and simply forgot that it was still parking on SleazyDonald.us and DaffyDonald.us two years later.
But on the basis of on a conversation with a spokesperson for the registrar for these domains, GoDaddy, this seems unlikely. Although the company couldn't comment on any specific client activity, the spokesperson said that the auto-renewal feature doesn't trigger until the day of the expiration date. In other words, to renew the domain a month before it was set to expire — as the Whois records indicate happened here — someone would almost certainly have had to take action to renew the domain name.
So why would "Beautiful Ted," staunch supporter and dear friend of the president, renew such rude domain names?
Cruz spokesperson Catherine Frazier said in a statement, "Both domains were purchased during the 2016 Presidential primary, and were never used. They, as with all the domains we've purchased, were set to auto-renew with our account. Upon realizing we still had the domains, we removed them from our account."
Curiously, the domains for SleazyDonald.com and DaffyDonald.com were registered on identical days as their .us counterparts — though the registrant information for those has been set to private. Maybe it's just a coincidence.
This story has been updated to include a response from Ted Cruz's spokesperson Catherine Frazier.
Popular in the Community