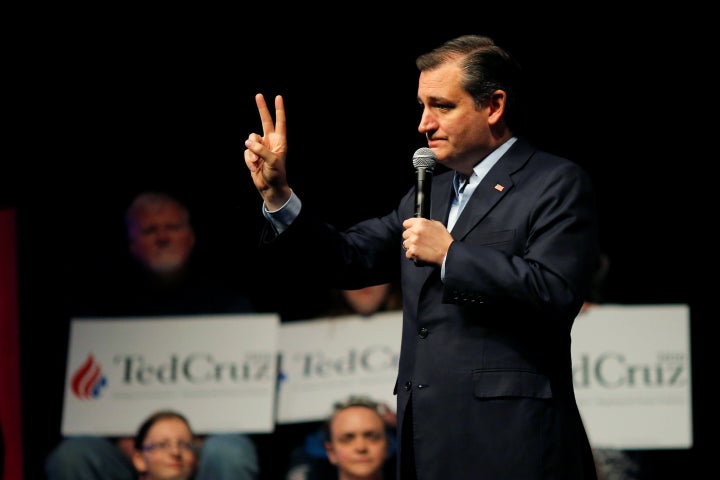 Here's the latest proof of how strange this primary cycle has become: Sen. Ted Cruz (R-Texas), who's long tried to leverage his colleagues' loathing into a version of outsider cred, is overwhelmingly viewed by his party as an establishment candidate.
In a new HuffPost/YouGov survey, 62 percent of Republican and Republican-leaning voters say that Cruz is more of an establishment candidate, while just 29 percent describe him as an outsider. That's a marked shift since December, when just 36 percent considered him part of the establishment.
Voters aren't exactly wrong in their assessment of the race. With the original slate of establishment-favored candidates like Sen. Marco Rubio (R-Fla.) and former Florida Gov. Jeb Bush (R) out of the campaign, elected officials have tepidly rallied around Cruz. As FiveThirtyEight's endorsement tracker shows, he currently leads his Republican rivals in endorsements, even as he trails far behind the support racked up by nominees in past campaigns.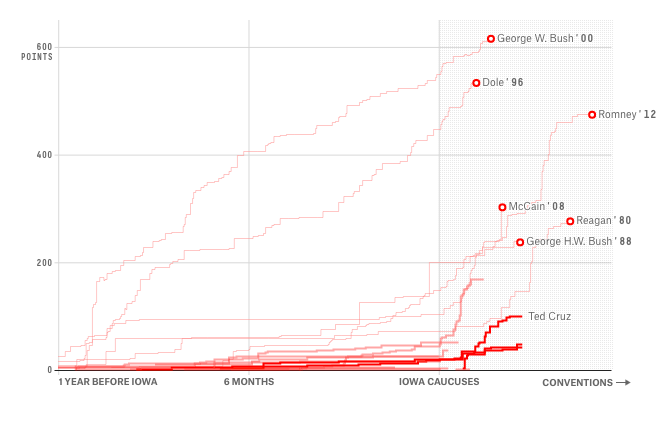 While that might help Cruz make his case on the floor of a contested convention, it's unlikely to endear him to his party -- 62 percent say they'd prefer a political outsider. In contrast, just 26 percent of Democratic and Democratic-leaning voters say the same.
GOP voters' increasing impression that Cruz is part of the establishment has coincided with a modest decline in their opinion of him, although it's hard to say which of those views is driving the other. The most recent Economist/YouGov survey gives him a 56 percent favorability rating among Republicans, down from 67 percent in January.
The HuffPost/YouGov poll consisted of 1,000 completed interviews conducted April 14-15 among U.S. adults, using a sample selected from YouGov's opt-in online panel to match the demographics and other characteristics of the adult U.S. population.
The Huffington Post has teamed up with YouGov to conduct daily opinion polls.You can learn more about this project and take part in YouGov's nationally representative opinion polling. Data from all HuffPost/YouGov polls can be found here. More details on the polls' methodology are available here.
Most surveys report a margin of error that represents some, but not all, potential survey errors. YouGov's reports include a model-based margin of error, which rests on a specific set of statistical assumptions about the selected sample, rather than the standard methodology for random probability sampling. If these assumptions are wrong, the model-based margin of error may also be inaccurate. Click here for a more detailed explanation of the model-based margin of error.
Popular in the Community