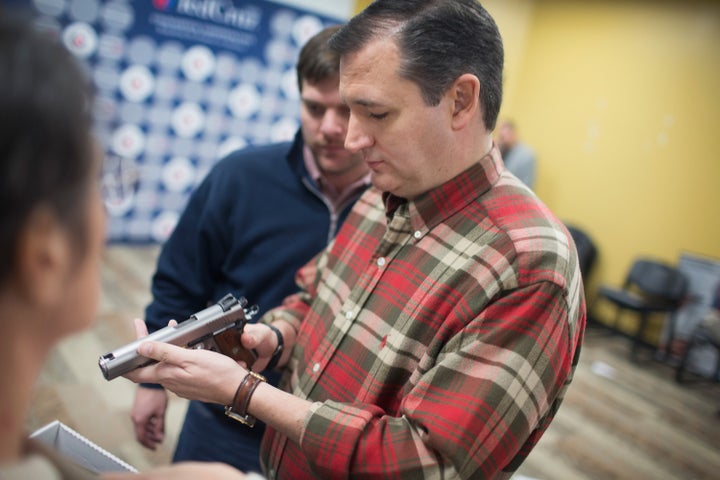 JOHNSTON, Iowa – Sen. Ted Cruz (R-Texas) campaigned at an Iowa indoor shooting range on Friday, defending gun rights two days after another mass shooting and announcing the formation of a "National Second Amendment Coalition" to represent gun-rights supporters.
 "You don't stop bad guys by taking away our guns, you stop bad guys by using our guns," Cruz told a room full of voters, referring to the shooting on Wednesday in San Bernardino, California, that left 14 people dead and another 21 injured.
The Texas senator didn't waste any time Friday, directly criticizing the media and Democrats for "politicizing any crime or tragedy" and focusing on gun control.
"Folks in the media ask on behalf of the Democrats, 'Isn't it insensitive to do a Second Amendment rally after the shooting?'" Cruz said mockingly. "I really don't view our job as being sensitive to Islamic terrorists." 
Cruz pointed out the location of the latest attack -- a social services center in a state with strict gun regulations -- and claimed those gun laws had prevented citizens from defending themselves.
"Does anyone else in this room notice that shooting after shooting after shooting occurs in so-called gun-free zones?" Cruz asked rhetorically, as the crowd erupted in applause.
"California has among the strictest gun control laws in the country," he continued. "Brady Center gives five states an A- for being the very toughest and taking away the constitutional rights of its citizens. Yet what do all the Democrats say? 'These great gun control laws -- we need more of them.'"
Cruz called gun control an "abysmal failure," suggesting that California's strict gun laws made it a prime location for a terror attack.
"Look, if you're a lunatic, ain't nothing better than having a bunch of targets you know are going to be unarmed," he said.
Speaking to reporters ahead of the campaign event, Cruz criticized the investigation into the San Bernardino shooting, expressing concern that the media were airing footage from inside the home of shooting suspects Syed Rizwan Farook and Tashfeen Malik.  
"It appears a search warrant was executed and law enforcement left and media are now walking freely in a crime scene, that makes no sense," the first-term senator said. "The FBI should have secured that location and should be scouring it for evidence."
Cruz also slammed the Obama administration for consistently failing to target radical Islamic terrorists, and claimed it had the intelligence needed to prevent past attacks like the Boston bombing in 2013 and the Fort Hood shooting in 2009.
"This is a consistent failure," he said to a group of reporters here. "The Obama administration had the information to prevent these attacks. Because the Obama administration, as an iron-clad rule, will not even acknowledge that radical Islamic  terrorism exists, it has been utterly ineffective at targeting the bad guys."
During the event, Cruz announced the campaign has signed up more than 24,000 gun-rights supporters across the country, one thousand of whom are from the early-primary state.
In the last few weeks, Cruz has been gaining momentum in Iowa, picking up coveted endorsements in the state and rising significantly in the polls. A recent Quinnipiac University poll of likely Republican caucus-goers shows him Texas at 23 percent, overtaking Carson in the second spot and finishing within the margin of error of Trump.
Cruz, acknowledging his success in Iowa, highlighted the number of attacks headed in his direction in the last couple weeks, specifically calling out President Barack Obama, Democratic front-runner Hillary Clinton and a negative New York Times editorial for criticizing him.
"I want to say from the bottom of my heart, I want to thank Barack Obama and Hillary Clinton and the New York Times for that powerful endorsement," he said with a smirk. "You know what, they are right. If you're a gun-grabbing, big government, debt-loving, weak-America leftist, then a Cruz campaign is your nightmare."
PHOTO GALLERY
Pivotal Moments In The U.S. Gun Control Debate
Calling all HuffPost superfans!
Sign up for membership to become a founding member and help shape HuffPost's next chapter