WASHINGTON -- House Republicans give one person the most credit for bringing Congress to its current standoff over funding for the federal government: Ted Cruz.
With the clock ticking toward the first government shutdown in 17 years, many lawmakers said they never would have been here had it not been for the junior senator from Texas.
"I think he's played a lot of role in where we are right now," Rep. Tom Cole (R-Okla.) said as he left a closed-door meeting of the House Republican conference on Saturday afternoon.
During the meeting, GOP leaders announced plans to advance a bill that would keep the government funded beyond Sept. 30 in exchange for a one-year delay of Obamacare and repeal of its medical device tax. Senate Majority Leader Harry Reid (D-Nev.) declared the proposal dead on arrival a couple hours later.
But conservatives were jubilant as they left the meeting, and they identified Cruz as the force that pushed a reluctant GOP leadership to the brink.
"I think Ted Cruz did a huge service to the nation and to the cause of Republicanism," Rep. John Culberson (R-Texas) told The Huffington Post.
"[He played] an excellent role," said Rep. Michele Bachmann (R-Minn.). "I think what he's done is strengthened our hand. He's made the case that we need to act and act decisively, and so I think we have a lot to credit him for."
Rep. John Fleming (R-La.) called Cruz's role "huge."
"He's been the rallying flag that has pulled Republicans around conservatives," Fleming said. "Just the mere fact that he's out there talking, that he's had petitions going, that he did a 21-hour [speech] that was highlighted in the media … all of these things are building energy among Republicans and conservatives who are unified in the fact that we oppose Obamacare."
Cruz, along with his main ally Sen. Mike Lee (R-Utah), spent much of the summer mounting a full-fledged campaign to include a provision defunding Obamacare in a bill to fund the government. He starred in robocalls and television and radio ads, and raised millions for a possible White House bid in 2016, all while ramping up pressure on the House to yield to his demands.
At first, House Republicans seemed content to pass a continuing resolution that defunded Obamacare and leave it to Cruz to filibuster any attempts by Reid to amend it. The Texas senator failed to gather enough support from his colleagues to mount a filibuster and embarked on a 21-hour floor speech anyway.
As the Cruz show ran its course, House GOP leaders looked unlikely to tamper with Obamacare once again in their next government funding offer. They instead shifted focus to the pending debt ceiling fight, unveiling plans to seek a one-year delay in the implementation of Obamacare in exchange for raising the nation's borrowing limit.
But once again, House Speaker John Boehner (R-Ohio) found himself up against Cruz.
Some Republicans denied that Cruz was responsible.
"That's a different body over there," said Rep. Lynn Westmoreland (R-Ga.). "I think our leadership has been onto this the whole time. I think they listened to the American people. That's what we're supposed to do."
"I think we motivated him. We stood firm first and he did what he did," said Rep. Richard Hudson (R-N.C.).
Rep. Mo Brooks (R-Ala.) said it was a team effort, but conceded the senator from Texas had been at the forefront of it all.
"I think we're motivated by the dangers of Obamacare, not by Ted Cruz," he said. "Although it is good to see Ted Cruz take a leadership role."
Democrats have pounced on Cruz's influence among the House GOP's right flank and played up the idea of the Texas Republican becoming the next speaker of the House.
But Cole, the House GOP's deputy whip, laughed at the suggestion that Cruz had dictated the House's strategy over funding the government and said the conference was in "total support" of Boehner.
"It's not as if any of us have ever been for Obamacare, so we've had multiple proposals to change, delay, what have you," he said, before taking a jab at Cruz's lengthy talkathon last week.
"He's dragged the clock out a little bit, so it's made it a little tougher, but we'll see what he does once we move [our bill] back over there," Cole said.
Luke Johnson contributed reporting.
Before You Go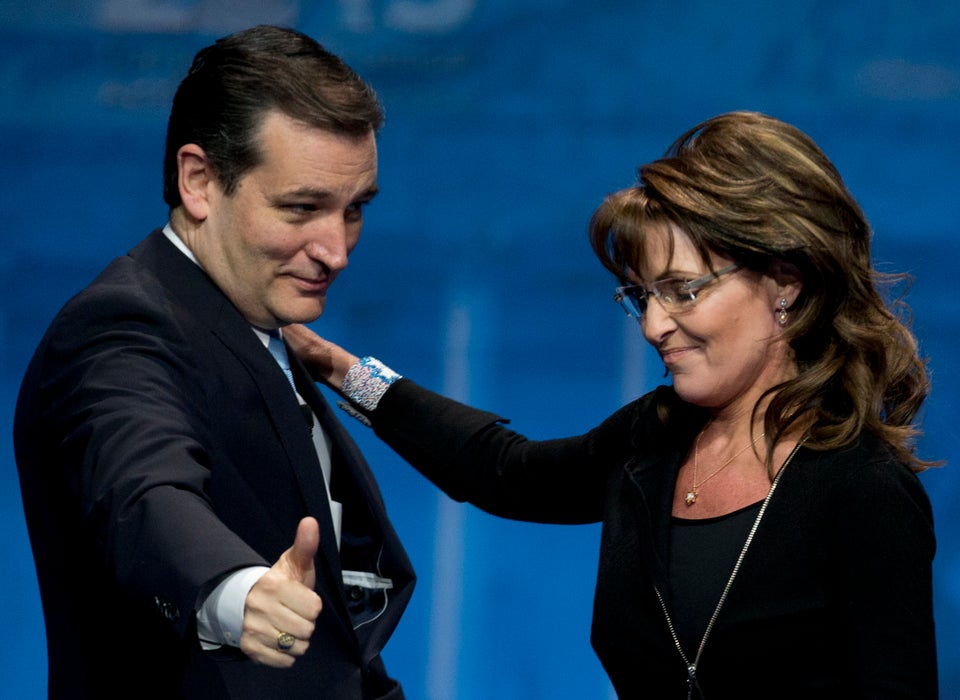 Sen. Ted Cruz
Popular in the Community