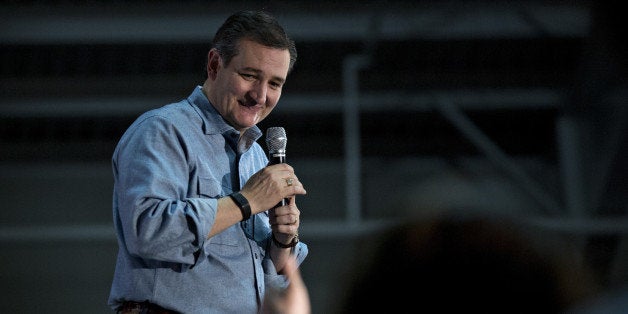 Yeah, he said that last night at a rally in Des Moines, specifically addressing "the school-aged kids" in the audience.
Senator Cruz is the parent of two young daughters, and presumably wants only the best for them. I'm guessing he wouldn't want them to become like the

one in ten American kids

who currently suffer from painful fatty liver disease caused entirely by poor diet. ("It's like you're being stabbed in your stomach with a knife,"

said

one 13-year old victim.) Twenty percent of those kids may eventually need a liver transplant, but they're likely to be out of luck; looks like we're

not going to have

enough livers to go around.
Senator Cruz represents Texas, a state with the

second highest

Hispanic population in the nation. These Cruz constituents are at a much higher risk than the general population for

obesity

and its related diseases, including

diabetes

and

fatty liver disease

. Indeed, according to a

2015 report

from the Centers for Disease Control and Prevention, Hispanic-Americans are

50 percent more likely

that whites to die from complications arising out of these two diet-related diseases. Hispanic kids, who

participate

in the National School Lunch Program in greater numbers than white, non-Hispanic students, therefore benefit exponentially when school meals are healthier.
Senator Cruz

says

he wants to strengthen our economy and reduce healthcare costs, yet obesity - which I've never heard him mention on the campaign trail - has a huge impact on both of those goals. Just between 2005 and 2010, obesity-related healthcare costs rose an astonishing 48 percent, from $213 billion to $315.8 billion. And there are other,

unexpected

economic consequences from rampant obesity, everything from greater absenteeism (costing us $8.65 billion annually) and lower worker productivity ("a major source of drag on the economy") to, reportedly, an additional billion gallons of gasoline used each year. Those are staggering financial burdens we all have to bear - even if Cruz does fulfill his quest to "

repeal every word of Obamacare

."
But, whatever. Kids do love their junk food, so, absolutely, let's be sure to bring it back to our school cafeterias at the first opportunity.
Popular in the Community