WASHINGTON -- House Republicans on Tuesday faced blistering criticism over their border crisis bill from Democrats and two less likely sources: Republican Sens. Ted Cruz of Texas and Jeff Sessions of Alabama.
Cruz and Sessions put out statements criticizing House GOP leadership for its proposal to address the more than 57,500 unaccompanied minors apprehended crossing the border illegally since October. The two senators say the crisis is President Barack Obama's fault directly, particularly because of his 2012 decision to allow undocumented immigrants who came to the U.S. years ago to stay and work temporarily.
Despite efforts from some House Republicans, no provisions to end that program (called Deferred Action for Childhood Arrivals or DACA) were included in the $659 million package introduced Tuesday.
Cruz and Sessions urged Republicans to oppose the bill.
"The only way to stop the border crisis is to stop Obama's amnesty," Cruz said in a statement. "It is disappointing the border security legislation unveiled today does not include language to end Obama's amnesty. Congress cannot hope to solve this problem without addressing the fundamental cause of it."
Sessions' statement was even harsher. He said the House Republican bill was "unworthy of support" and essentially accused members of giving up.
"That the House leaders' border package includes no language on executive actions is surrender to a lawless president," Sessions said in a statement. "And it is a submission to the subordination of congressional power. ... How can it be that our President is brazenly advertising that he will nullify and strip away American workers' immigration protections, and their own elected leaders will not rise to their defense?"
Cruz and Sessions have led a charge in the Senate to demand strict conditions on Obama's use of immigration authority in order to vote for any funding to address the young immigrants. Cruz introduced a bill, which Sessions co-sponsored, that would ban the president from continuing DACA or expanding deportation relief to other undocumented immigrants.
A companion bill was introduced in the House by Rep. Marsha Blackburn (R-Tenn.), but GOP members said after a meeting on Tuesday that leadership had not indicated it would get a vote.
The House Republicans' bill already faces significant opposition from Democrats, who object to policy measures such as sending National Guard troops to the border and changing a 2008 law meant to protect unaccompanied minors from countries other than Mexico and Canada from being swiftly deported.
If Republicans need to pass the bill without Democratic votes, they won't be able to lose many GOP members who align themselves with Cruz and Sessions. House Speaker John Boehner (R-Ohio) said earlier Tuesday that they were working to get a bill passed before the August recess.
"I think there's sufficient support in the House to move this bill," he said. "We have a little more work to do, though."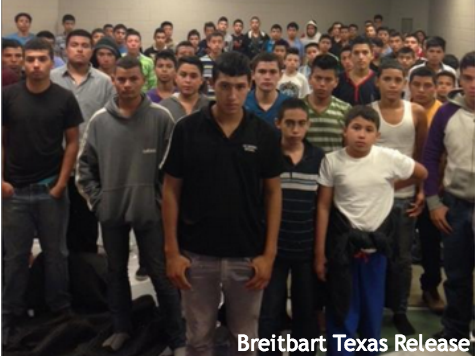 Overwhelmed Border Patrol
Popular in the Community