WAVERLY, Iowa -- With the Iowa caucuses only about two weeks away, presidential politics are dominating the headlines and the news cycle. Yet there's a part of this story most Americans haven't heard: the lives of the reporters toiling to create those headlines, observing and documenting every moment on the road with the candidates.
As Sen. Ted Cruz (R-Texas) crisscrossed 28 of Iowa's 99 counties last week, dozens of photographers and reporters followed close behind in a Windstar  charter bus, scrambling to meet deadlines, filing stories from rural highways with terrible cell phone reception and often close to no Wi-Fi.
Members of the media called the bus home for a week as it covered over 1,000 miles of snowy northwestern Iowa, stopping at diners, college auditoriums and even the basement of a pizza parlor. At the end of the week, the distance they traveled tripping across the Midwestern state was equivalent to driving from central Iowa to Cruz's hometown of Houston.
"When I was first covering presidential campaigns, the old joke was that you never passed up a bathroom or a payphone," said Karen Tumulty, a national correspondent with The Washington Post.
Tumulty, who has been covering campaigns since 1988, said the joke has acquired a new meaning.
"Now, you never want to pass up a bathroom or a power outlet because all of us that cover presidential campaigns these days, it's like being Inspector Gadget," she explained, showing off her assortment of electronics plugged into a few outlets under her seat on the bus. "I have my iPad, my hot spot, my laptop, my cell phone and here, I have my tape recorder. All of which need recharging."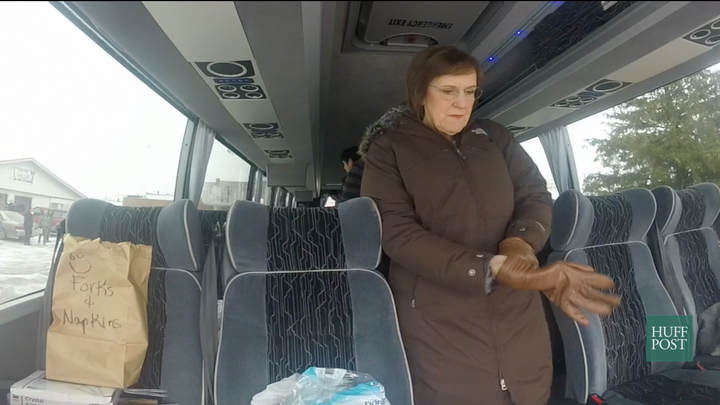 Cruz, who has committed to visiting each of Iowa's 99 counties before the caucuses, is so far the only candidate aside from Hillary Clinton to have a press bus in Iowa. Campaigns typically start offering these a few weeks before the Iowa caucuses as they squeeze in last-minute campaigning.
Covering a presidential campaign on the bus is kind of like being on a school field trip. Before the swing through Iowa began, the Cruz campaign sent out an itinerary, detailing all of the stops and the hotels where media would be required to stay. During the entirety of the trip, the bus went directly from event to event before dropping off its passengers at night at their designated hotel. No pit stops, no gas station runs, nothing. (The bus would refuel each night after dropping off the reporters).
As temperatures dipped below zero, rooms were packed with voters. Cruz gave his stump speech in crowded restaurants that often felt like saunas. At two separate campaign stops, a woman fainted.
Both times, Cruz paused his speech as attendees rushed to help, and once it was determined the woman was doing better, the Texas senator cracked a joke.
"All right, good news, she's doing okay," Cruz would say, as voters applauded. "Young lady heard the name Hillary Clinton, she immediately fainted."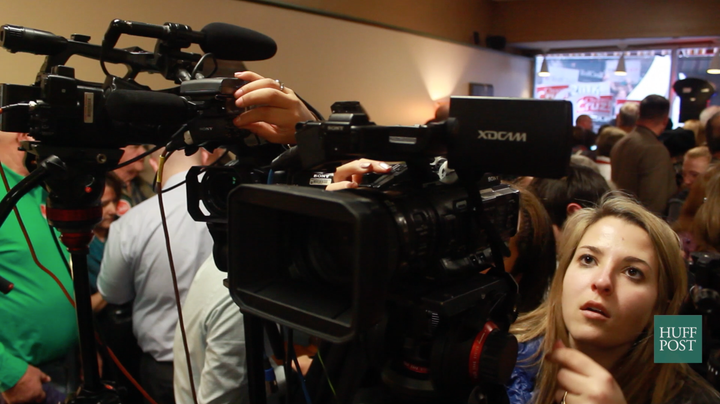 The crowds were a challenge for crews looking for a place to park their cameras, occasionally stuffing themselves behind checkout counters and bars -- a topic Cruz liked to bring up in his stump speech.
"It is particularly amusing seeing all of our friends from the press behind the bar," Cruz would say as the audience erupted in laughter. "I kind of feel bad that we are driving them to drink."
Throughout the day, it's common for candidates, especially Cruz, to repeat the same talking points. In the Texas senator's case, his go-to line is his joke about the locusts and the regulators. He won't let a stump speech pass without it, and crowds respond well every time.
In the joke, Cruz tells the story that he was in West Texas discussing the differences between regulators and locusts with an old farmer.
"The thing is," he says, "you can't use pesticide on the regulators." The farmer leans back and, in a thick Texas drawl, says: "Wanna bet?"
"What you're hearing from the candidate is often, very often, the least interesting thing of the day," Tumulty said. "It can maybe get a little repetitious if you're listening to it all day. You need to keep reminding yourself that this is the first time the voters are hearing this."
"Increasingly, what these events give you is an opportunity to hear what's on the voters' minds," she added. "You can hear what questions they have and then you can pull them aside and sort of talk to them about how they're making up their minds."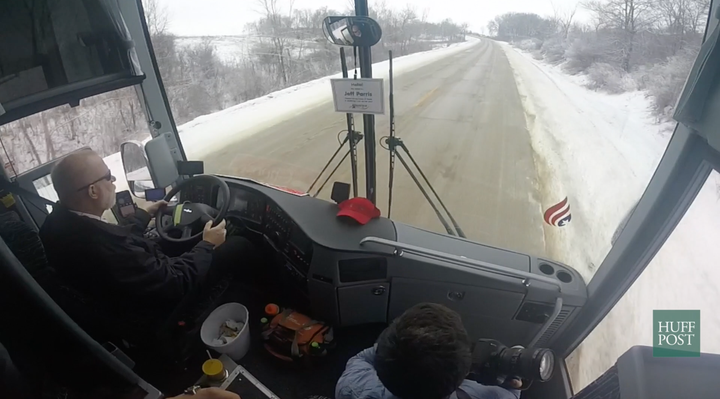 In the three years bus driver Jeff Parris has been working with Windstar lines, this was the first time he'd driven a busload of national media. One thing he quickly learned about the media, he said, is the job isn't glamorous.
"It's been interesting watching you and your fellow media as you load your gear and get on and off the bus," Parris said. "Try to get set up in time and be able to get the interviews and then the video footage and still photos that you need of the campaign tour."
The news is typically made at the one to two press conferences (also known as gaggles) that Cruz hosts each day, where the candidate will take a limited number of questions from reporters. There aren't many candidates running who hold as many conferences as Cruz. Most hold one gaggle per trip, not per day. Sometimes it gets messy, with everyone on top of one another, fighting to get a good shot and sometimes all speaking at once, trying to get in a question.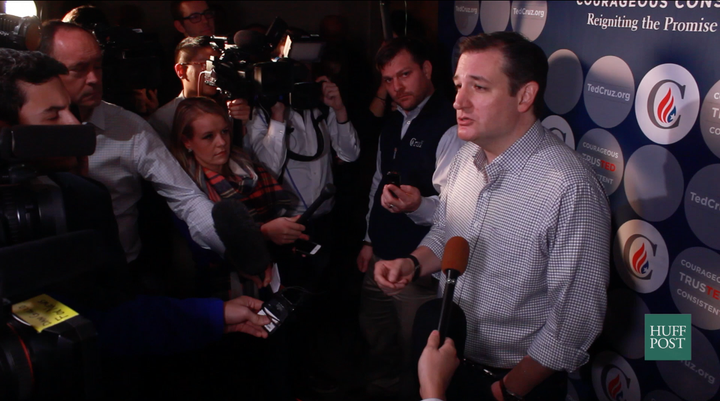 This was the first time this election cycle the Cruz campaign invested in a bus just for press.
"It's mutually beneficial to a campaign and any member of the media to have a press bus," said Catherine Frazier, Cruz's national press secretary. "It allows you to cover us at every location, but when you're on the road going to your next leg, you can file your story, you're not having to focus on driving yourself.
Frazier said renting a bus is a big investment for a campaign, which fronts the cash not only for the bus, but also for meals, and then charges the media outlets for the services provided ($180 per reporter per day.)
"I did feel a little bit like a dorm mom, you know, like an RA in college," she said. "I came on the bus and I saw there was a microphone. It made me feel like I was going to summer camp."
Frazier said organizing the bus came with a lot of added responsibility, and many aspects of the trip didn't go as planned.
"I know there was one leg where we didn't get everyone's orders in for lunch," she admitted. "Overall everyone got to eat. There was one leg where we didn't have plates for the sandwiches, but we all made do."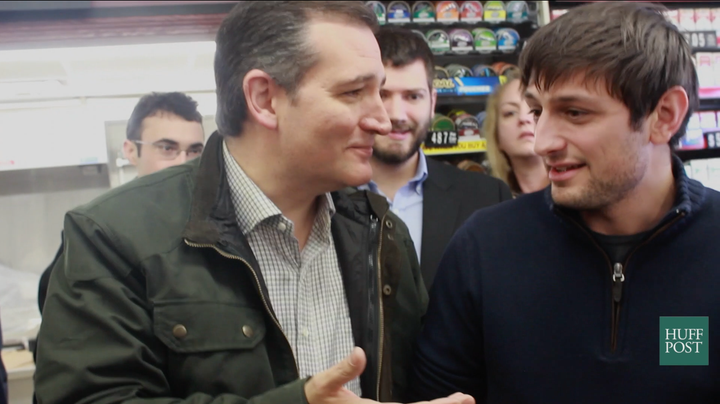 Only once did the bus leave behind a reporter.
Vaughn Hillyard, a campaign embed with NBC, was still interviewing voters at Danny's Sports Spot in Cherokee when the bus loaded up and drove off. Another passenger realized the mistake as the bus was about to turn onto a highway. The bus went back to collect him. For the rest of the trip, Hillyard was to endure teasing from the rest of the passengers, to the tune of "Is Vaugh here?" every time the bus left a stop.  
Any journalist will tell you that traveling multiple days on the road with a candidate is exhausting. Living out of a suitcase going from hotel to hotel gets old. But what happens on the ground in the Hawkeye state has an impact. As the first-in-the-nation caucuses are on the horizon, candidates like Cruz, are making every visit count.
"It's really fun to do this in Iowa and New Hampshire because the settings are so intimate," Tumulty said. "You can still get pretty close to the candidate and even still get pretty close to the voters at the event."
She said she's trying to savor it all because after New Hampshire, when the candidates are usually fewer and higher-profile, the Secret Service comes into the picture.
"Once you get into a security perimeter, everything changes," she said.
PHOTO GALLERY
Sen. Ted Cruz
Calling all HuffPost superfans!
Sign up for membership to become a founding member and help shape HuffPost's next chapter