DES MOINES, Iowa -- Cecil Stinemetz's instincts proved right Monday evening when he heard the news that Sen. Ted Cruz (R-Texas) had won the Iowa caucuses. 
"I was confident. I didn't know how far or how much, but I was," Stinemetz said at Cruz' victory party in Des Moines. "Those polls were so phony. I wasn't worried about it." 
Stinemetz, an Iowan, worked as a volunteer for 10 months on Cruz' campaign. In the final stretch, he made several thousand phone calls encouraging people to vote. He said he knew his state would come through for a strong conservative like Cruz.
That kind of confidence was on display Monday among Cruz supporters and campaign staff gathered at the Iowa State Fairgrounds to hear the senator's victory speech after upending businessman Donald Trump. Fueled by a well stocked cash bar, jubilant supporters danced to country and rock tunes provided by a band on stage. And they embraced, some actually jumping up and down.
"Oh my God, this is fantastic. This is the first time I've ever volunteered, and this is -- I was nauseous. This is great," said volunteer Rochelle Maly.
Maly had been making calls on behalf of Cruz since Dec. 5, when "Camp Cruz," a temporary home for campaign foot soldiers, first opened. She said she suspected early on that something was off about polls that showed Trump surging.
"Those polls that had Trump ahead were based on turnout I thought was very unrealistic. So this feels fantastic, to have worked this hard, and have a positive result, this is fantastic," Maly added.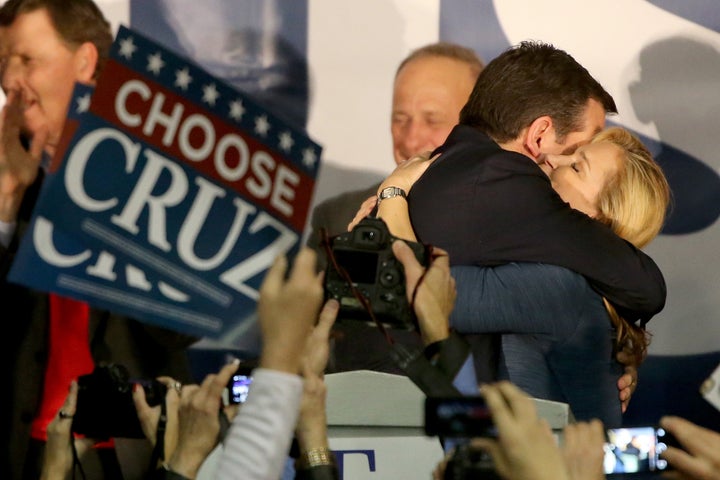 Earlier in the night, when CNN's projection flashed Cruz's likeness on a pair of large screens above the stage, the room of approximately 800 people broke into thunderous applause, with supporters cheering and whooping. 
Campaign manager Jeff Roe stood in the back of the room and took in the scene. Roe boldly predicted victory on Friday, despite being down several points in the polls. On Monday evening, after the votes had been counted, he laughed with team members, shook hands, and enjoyed the atmosphere.
Cruz took the stage later in the evening and seized the mantle of Ronald Reagan.
"Tonight, Iowa has proclaimed to the world: Morning is coming. Morning is coming," Cruz said, a reference to the former president's famous words.
Cruz mocked the media and the polls for badly underestimating his campaign, bragging that over 46,000 Iowans voted for him -- the most votes ever cast for any Republican caucus winner. He also thanked supporters and quoted scripture in a nod to the evangelical voters who put him over the top.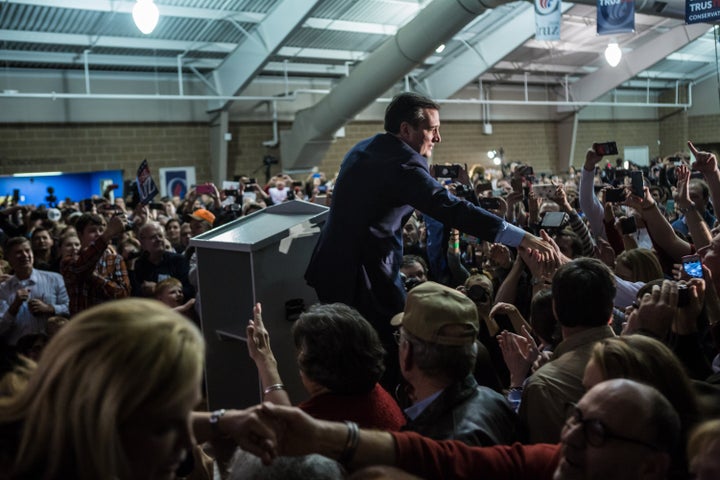 "Weeping may endure for a night, but joy cometh in the morning," he said.
Cruz made the case that the only presidential nominee who could truly shake up the political establishment was a constitutional conservative. And he remarked on the surprisingly close race for the Democratic nomination between Sen. Bernie Sanders and former secretary of state Hillary Clinton.
"Democrats seem to be in a virtual tie between one candidate who admits he's a socialist and one candidate who pretends she's not. I wish them both luck," he said.
He added: "I cannot wait to stand on that debate stage with Hillary Clinton. We will win by speaking the truth with a smile."
With the Iowa GOP race no in the books, it's unclear whether Cruz can capitalize on his newfound momentum to degrade Trump's massive advantage in the polls in the New Hampshire primary, just days away. But Cruz's supporters said they hope the mistaken reliance on polls in Iowa will be a lesson to the media and rival campaigns.
Don Savage, who made calls on behalf of Cruz, said that the polls were wrong from the get-go.
"They do it on purpose," Savage said of the media. "We knew there wasn't much support. Even though the media had Trump winning, we knew that wasn't right."
PHOTO GALLERY
Sen. Ted Cruz
Calling all HuffPost superfans!
Sign up for membership to become a founding member and help shape HuffPost's next chapter