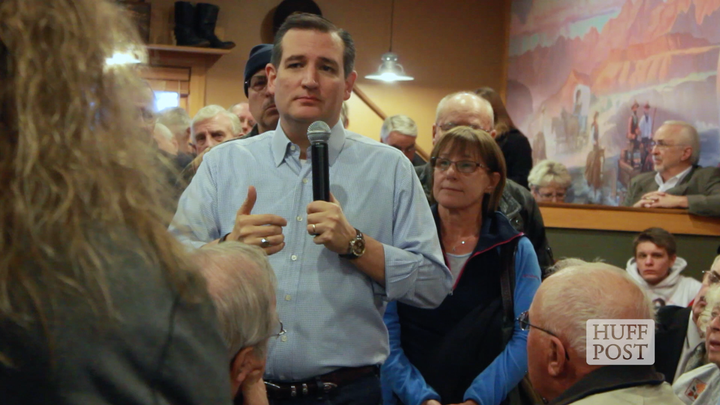 BETTENDORF, Iowa – Ted Cruz looks out on a room packed with voters. It's the last stop in a three-day, 16-county swing. Time for one more joke.
He goes for a fan favorite, the one about the White House jumper. But this time he tweaks the punchline just a bit, perhaps more for himself than anybody there.
"You may have missed it, but actually this morning, a second person was climbing the fence of the White House," Cruz says, pausing for effect. "The Secret Service ran up and said, 'Not yet Hillary! Not yet! And not ever!"
He delivers the line with a chuckle and a smirk as the crowd erupts in laughter.
The first-term senator's stump speech closely resembles a stand-up comedy routine, drawing on the ample use of gestures, strong facial expressions and a variety of vocal inflections and pauses; it repeats the same laugh lines over and over, with the same fervor each time, often picking out voters in the audience and addressing them directly. It has gotten him in trouble in the past, like when he joked about Joe Biden just after his son passed away, and when he cracked wise about gun control immediately after the massacre in Charleston, South Carolina.
This is the cost of Cruz's machine-like approach to politics, but it also comes with benefits. With only two months until Iowa's first-in-the-nation caucuses, Cruz crisscrossed the central and southern part of the state on a weekend when most candidates took a break from the campaign trail for the Thanksgiving holiday.
It's been a good few weeks for Cruz, who has picked up several coveted endorsements in the state. A recent Quinnipiac University poll of likely Republican caucus-goers shows the junior senator from Texas comes in at 23 percent, overtaking Carson in the second spot and finishing within the margin of error of Trump. According to the poll, Cruz appears to have established an edge among women.
The Cruz campaign isn't taking anything for granted, altering the presidential candidate's itinerary at the last minute and adding five more campaign stops to an already jam-packed weekend. His rigorous schedule on Saturday included visiting with voters in several local restaurants, holding a town hall at a high school in Lamoni and ending his day with a stop at a Casey's General Store, where attendees stood shoulder to shoulder just to get a glimpse of the senator at around 10 p.m.
"What's being reflected in the polls is what I'm seeing on the ground," said Loras Schulte, a former member of the Iowa GOP State Central Committee who recently resigned in order to endorse Cruz.
Schulte, from Benton County, attended multiple events this weekend with Cruz, and was particularly impressed to see over a hundred voters packed into a local convenience store for a meet-and-greet with the senator on Sunday night in Van Horne, a town with a population of less than 700. Standing behind the cash register, Cruz did a short version of his stump speech, answered a few questions from the crowd, and then mingled, taking selfies with voters where the snack food aisle was apparent in the background.
"This is retail politics at its finest," Schulte explained. "I'm not sure anyone could have anticipated that big of a turnout, but I think most of these people will undoubtedly come out and caucus for Ted Cruz."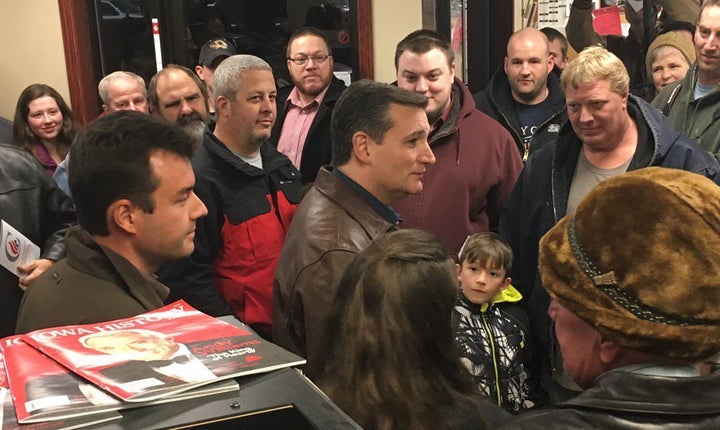 An interesting trend emerged during his campaign stops here over the weekend: A number of voters admitted they had previously supported Donald Trump, some of them even telling the senator directly.
"I do think Trump is done, he's lost my reflection on his ability," Creston resident Bill Barker said to Cruz after he approached his table at the Windrow Restaurant. Barker continued to rattle off reasons why he had lost interest in the front-running real estate developer. "The fact that he called us Iowans dummies, that was it for me," Barker said.
"He does have a colorful way of saying things," Cruz responded politely, mindful of reporters following him from table to table with microphones in hand.
Cruz has made it clear that he will not engage in the "food fight" he says the media is trying to create between presidential candidates. At a town hall meeting in Coralville on Monday morning, he even dodged a question from a voter asking why he has yet to call out Trump for his inflammatory statements. Cruz defended himself, saying he declines "daily invitations" by reporters to attack Trump, and confidently reiterated his belief that his own campaign will be the last one standing.
"Let me be very clear: I don't believe Donald Trump is gonna be the nominee, I don't believe he's going to be our president," Cruz responded at the Coralville town hall. "And I actually think the men and women in this room have something powerful to say about it. One of the reasons I love the state of Iowa, because in Iowa, y'all take politics seriously." Elsewhere, he said that commenting on Trump would be acting as a "theater critic," which wasn't his role.
Cruz has cast himself as the only "consistent conservative" in a field of "campaign conservatives," creating distance from Trump and persuading voters who are skeptical of government that his time in Washington has been valuable. He frequently points to his outsider status within his own party.
"I'm immensely grateful for Donald Trump because he has framed the central issue of this primary as who will stand up to Washington," Cruz has said multiple times throughout the trip in response to questions from both voters and reporters.
If that's the central issue, Cruz adds, you have to look at who has stood up to Washington, and "not just to Democrats, but also to leaders in their own party, and there is an enormous difference."
This indirect comparison was enough to sway several Trump supporters in the crowd this weekend, like Marvin Potter, who showed up to Cruz's meet and greet at a Pizza Ranch in Newton.
"We did think about considering Donald Trump because he's not really a politician," Potter explained. "After hearing him and hearing Ted Cruz, we went to Ted Cruz. I think Ted Cruz is our man."
Donna Barnard, 38, of Van Horne also found herself in a similar situation. After Cruz's visit on Sunday evening to the Depot Express in her hometown, she switched her allegiance from Trump to Cruz.
"He's got a record and he's somebody we can believe in," the mother of three explained. "He's somebody that connects well with the people, that's really important."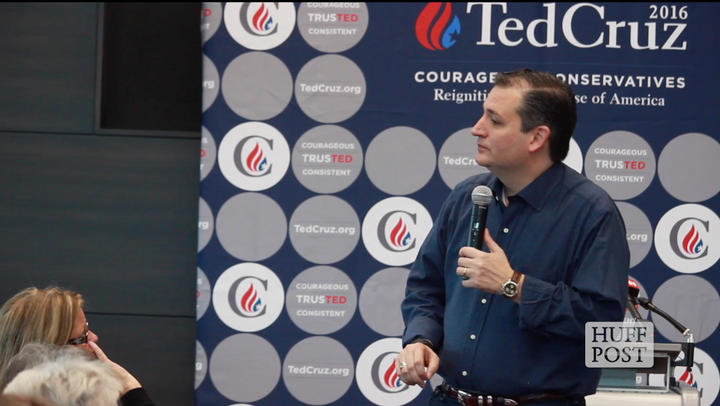 Experts acknowledge many Iowans at this point in the cycle are not firm in their commitments, and tend to switch around up until caucus night.
"The only thing you can count on is the voter that looks you in the eye and tells you that he's not going to vote for you," said Matt Strawn, a former Iowa GOP chairman and Republican strategist. "Just because someone is willing to go out on a date with you this weekend, doesn't mean they are ready to walk down the aisle in two months."
Cruz's commitment to visiting all of Iowa's 99 counties -- known as the "Full Grassley," named after senior Iowa Sen. Chuck Grassley -- is proving to be a different strategy than that of his main competitors in the state. This weekend's trip was his sixth one to Iowa in seven weeks, and a quick glance at his publicized campaign stops shows he had visited nearly half the state's counties by the end of his Iowa swing on Monday evening.
"Cruz is running a very different campaign that allows him to have those personal interactions that Carson and Trump and their campaigns don't seem to be doing as much," Strawn said. "Their campaigns themselves are, but the candidates aren't."
At this point, Strawn says he's unsure which strategy will work, but he's not willing to write off the traditional Iowa way. "There's a lot of value in those face-to face-interactions, but we're not going to know until we wake up February 2," he said.
Speaking with reporters on Monday, Cruz continued to dodge any question criticizing Trump, but did acknowledge that many voters had told him personally that they had shifted from other candidates to his campaign.
"You know, we are seeing that across the board," Cruz said in response to a question from The Huffington Post. "I'm trying very hard to earn the support of every one of Donald Trump's supporters and every one of Ben Carson's supporters and every one of Marco Rubio's supporters and every one of Jeb Bush's supporters."
With the holidays approaching, Strawn says, it's nearly impossible to have a clear view of the state of the race. "The race really starts in January, right after we come out of our New Year's weekend festivities," he said.
As voters filed out of the room following the town hall event in Bettendorf, one man commented on Cruz's joke about shutting down the IRS and sending all of its agents to guard the U.S.-Mexico border, a joke he's told for more than a year at public gatherings.
"Now that's something I'll remember," one voter said to another. "With so many candidates, I can't keep them all straight, but with Cruz, I'll remember."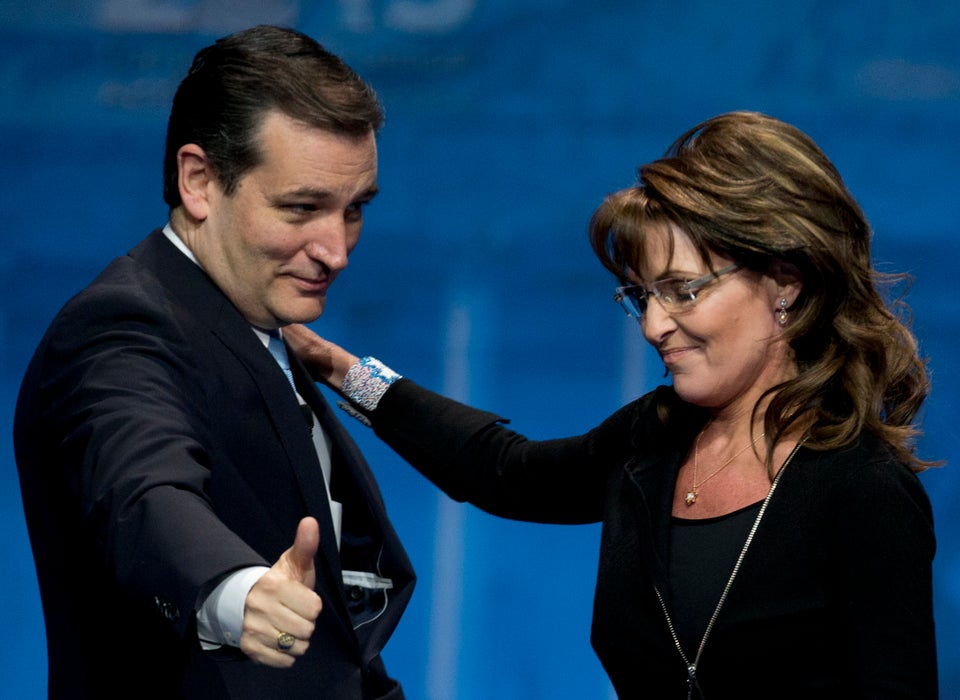 Sen. Ted Cruz
Support HuffPost
The Stakes Have Never Been Higher
Popular in the Community