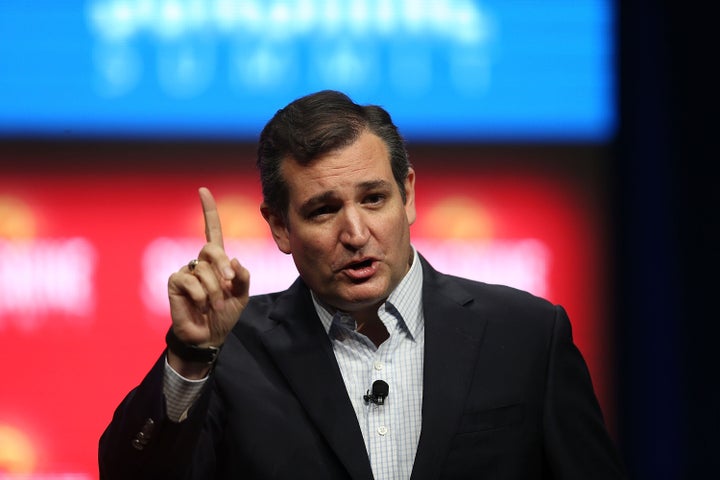 Republican presidential candidate Sen. Ted Cruz has surged past Ben Carson and Donald Trump and ascended into first place in the key primary state of Iowa, according to three new polls released this week.
This represents an impressive 21-point jump since a Bloomberg/Des Moines Register October poll and the greatest bump any candidate has seen in the last five presidential caucuses in Iowa. 
Trump trails 10 points behind in second place with 21 percent of the vote and Carson, the candidate experiencing the greatest loss since October, is in third with 13 percent. Sen. Marco Rubio (R-Fla.) takes 10 percent while Jeb Bush has 6 percent. No other candidate scores more than 4 percent in the poll. 
In terms of likability, 73 percent of likely Iowa Republican caucus-goers rate him as favorable, making him the best-liked candidate in the race. 
A Fox News poll released Sunday also shows Cruz in first place with 28 percent of the vote while Trump trails close behind with 26 percent, scoring within the poll's margin of error. Combined, the two candidates draw in more than half of the support of likely Republican caucus voters in the state. 
The Fox News Iowa poll is the final poll that CNN is taking into consideration to decide who will appear in the fifth Republican primary debate set for Dec. 15 in Las Vegas. The debate criteria specifies that candidates must score an average 3.5 percent of the vote in national polls or 4 percent in Iowa or New Hampshire polls conducted by major pollsters between Oct. 30 and Dec. 13.
On Sunday afternoon, CNN announced the final lineup of nine candidates who qualified to appear on the main debate stage.
With almost two months to go until the Iowa caucuses, polls are only able to provide a snapshot of the current state of the race and should not be relied on to predict the final outcome. Given the volatility of the data so far in advance of the primary election, pollsters have argued that polls should not be used to determine debate participants.
Cruz's rise is primarily a result of evangelical voters moving away from Carson. Forty-five percent of evangelical conservatives stated their support for Cruz in the Bloomberg/Des Moines Register poll. Evangelicals make up half of the Republican voting block in the Iowa caucus. 
Cruz also has immense appeal to the more conservative wing of the party; 46 percent of "very conservative" voters and 39 percent of those who identify with the Tea Party movement support the candidate. 
A Monmouth University poll released Monday also showed him in the lead with 24 percent, ahead of Trump, who scored 19 percent, and Carson, who had 13 percent. 
The HuffPost Pollster Iowa chart, which aggregates all public polls, also shows Cruz picking up momentum in the state. 
Bloomberg Politics/Des Moines Register surveyed 400 likely Republican caucus-goers using live interviews on landlines on Dec. 7 through 10. 
Fox News surveyed 807 Iowa Caucus goers using live interviews to landlines and cell phones on Dec. 7 through 10. The poll's margin of error is 5 percent. 
Update: This article has been updated to include Sunday's Fox News poll and the CNN debate lineup. 
PHOTO GALLERY
Sen. Ted Cruz
Calling all HuffPost superfans!
Sign up for membership to become a founding member and help shape HuffPost's next chapter