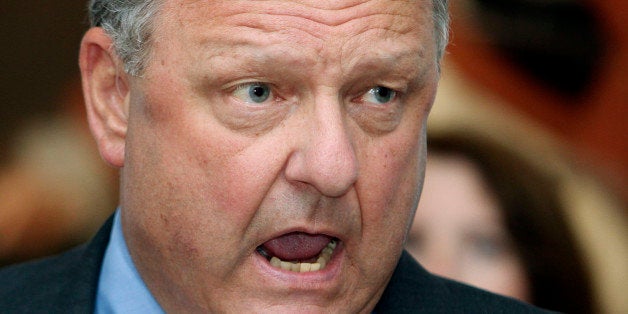 MERRIMACK, N.H. -- There is no more provocative figure within New Hampshire Republican politics than Jack Kimball, so it is perhaps fitting that Kimball's new conservative interest group played host to Sen. Ted Cruz's first official event as a presidential candidate.
On Friday afternoon, the Texas senator made his initial post-announcement stop in this southern New Hampshire town at an event held by the Conservative Business League of New Hampshire, a new organization that launched last week. Kimball, the most prominent of the five individuals on CBL's steering committee, introduced Cruz at the event and stood behind him as the candidate answered questions from the audience.
Though Cruz has never shied from controversy, his association with Kimball may prove particularly unhelpful as he tries to woo a broad spectrum of Republicans in the first-in-the-nation primary state.
Kimball is a former chairman of the New Hampshire GOP, but he resigned in 2011 just as the party's executive committee was poised to remove him some six months into his term.
He is an avid social media user whose publicly accessible Facebook page serves as a repository for warnings about government takeovers, imminent wars with foreign nations and UFO sightings.
Take three of his posts from this month alone.
On Thursday, Kimball wrote, "Wake up America! Operation Jade Helm 15 (look it up) has now expanded to 10 states. It starts July 15 and ends in Mid September."
His post linked to a YouTube video titled "Military Takeover Plan Revealed: Is Your State Next."
On March 17, Kimball posted, "Urgent Urgent Urgent The US has gone to defcon 3 (yellow) and there has apparently been some air battles between our Air Force and Russia off the coast of Alaska. Just happened a short time ago. Check out this video then go to the defcon message board for further information (google it). Spread the word."
And on March 11, he linked to a video purportedly showing an "armada of UFOs" over California.
This past Monday, Kimball posted on his Facebook page to promote Friday's event with Cruz.
"As you are aware, Senator Ted Cruz has officially announced his candidacy for President of the United States and our newly formed group, Conservative Businessmen's League of NH, LLC is hosting this event on behalf of the Senator," Kimball wrote. "It will be his first official event since his announcement and our organization's first event on behalf of a Constitutional Conservative Presidential Candidate."
Kimball had won the chairmanship of the New Hampshire GOP in an upset victory at the height of the tea party wave. Since his resignation, he has become increasingly alienated from powerbrokers in the state party. One major reason for the falling out, according to several New Hampshire Republicans, has been the inflammatory rhetoric that is his calling card.
At a gun rights rally in Connecticut last year, Kimball used some particularly colorful language in urging the arrest of President Barack Obama.
"I am, by the way, an advocate of having one of my favorite sheriffs in the United States of America, Sheriff Joe Arpaio, to take some posses and go down to Washington, D.C., and put this man in an orange suit," Kimball said. "In fact, pink is his suit, pink would look better, sorry, and drag his butt out of that White House."
In promoting an event that aimed to pressure the entire congressional leadership into resigning last spring, Kimball cited recent violent uprisings abroad as inspiration for what like-minded Americans could do to "take back this government and this country."
"And by the way, you saw what happened in the Ukraine," Kimball said in February 2014. "You saw what happened in Egypt. You're seeing what's happening in Venezuela. And they don't have what we have. We have the Second Amendment. They do not."
In 2013, NHJournal.com posted a story about an email that Kimball had sent to friends and family, in which he reported that his daughter and son-in-law had seen dozens of white military vehicles in Maine that were heading toward New Hampshire.
"Don't know what they were doing or where they were going but the white vehicles sound more like UN trucks," Kimball wrote in the email. "Be alert."
Though he later disputed NHJournal.com's suggestion that he implied the U.N. might be "invading" New Hampshire, Kimball nonetheless stood by the reasoning behind his alarm.
"We're on a watch for stuff like this," he told Portsmouth Patch. "I sent it to 50 to 60 people to let them know it was seen. The only thing I said was it was white, so it could be U.N. because that's their color. We didn't really know."
Kimball also told Patch that soon after he sent the email, someone notified him that the trucks belonged to a convoy of National Guard medical units that were returning from a training exercise.
"We're all concerned about what's going on with Obama," he added. "We've all been talking about what's happening. We've got Chinese troops arriving in Hawaii ... and Kansas. There's a lot of things going on that are very suspicious. There are a lot of people that are very vigilant."
Cruz is in New Hampshire for a two-day campaign swing before he heads to Iowa for a multi-day trip next week.
Asked whether the senator had any reservations about conducting his first official campaign event with Kimball's group, Cruz spokesman Rick Tyler responded in an email, "None."
This story has been updated with details from Friday's campaign event.
Calling all HuffPost superfans!
Sign up for membership to become a founding member and help shape HuffPost's next chapter
BEFORE YOU GO
PHOTO GALLERY
Sen. Ted Cruz