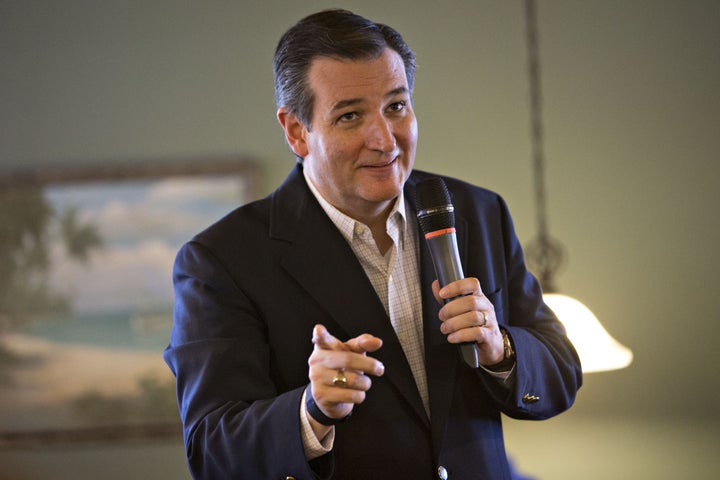 The Republican primary may have just shifted in Ted Cruz's favor, according to an NBC/Wall Street Journal national poll released Wednesday. The poll, which stands contradictory to other state and national polls, shows the Texas senator 2 percentage points ahead of longtime front-runner Donald Trump.
The poll, conducted after the Republican primary debate held in South Carolina on Saturday, shows Cruz in first place with 28 percent of the vote to Trump's 26 percent. The results are within the poll's 4.9 percent margin of error. 
Sen. Marco Rubio (R-Fla.) is in third place with 17 percent, Ohio Gov. John Kasich follows with 11 percent, Ben Carson has 10 percent and Jeb Bush is last with 4 percent. 
This is a dramatic shift from last month, when Trump led the field with a 13-point margin over Cruz in the previous NBC/WSJ poll. This is also the first poll since early November to show a first-place candidate who is not Trump, according to the HuffPost Pollster poll aggregate.
The results also conflict with the HuffPost Pollster national average, which shows Trump soaring with 38 percent of the vote, well above Cruz, who has 18 percent, and Rubio, who has 16 percent. 
Republican pollster Bill McInturff, who alongside Democratic pollster Peter Hart conducted the poll on behalf of Hart Research Associates, explained to NBC that the results might be an indication that the poll is "right on top of a shift in the campaign." 
That shift, McInturff said, could be a "momentary 'pause' before the numbers snap back into place," or it could be an enduring change.  
A difference in the electorate composition could be another factor responsible for the surprising results, according to NBC. The survey has a higher percentage of "very conservative" Republican voters than the January poll. Still, weighing the results to match last month's demographics shows Trump just 1 point ahead.
It's bad practice, however, to rely solely on one poll. It's possible that the NBC/WSJ poll is an outlier -- but it's also possible that it is picking up a change in the campaign. A clearer picture should emerge as more polls are released.
In addition, it's important to remember that there is no such thing as a national primary. And while Cruz may be leading in one poll of a hypothetical race, Trump still has a strong lead in upcoming primary elections in South Carolina (17-point lead) and Nevada (27-point lead). 
NBC/WSJ surveyed 400 likely Republican primary voters Feb. 14-16. 
PHOTO GALLERY
Donald Trump and Ted Cruz's Love Affair Is All The Relationships
REAL LIFE. REAL NEWS. REAL VOICES.
Help us tell more of the stories that matter from voices that too often remain unheard.