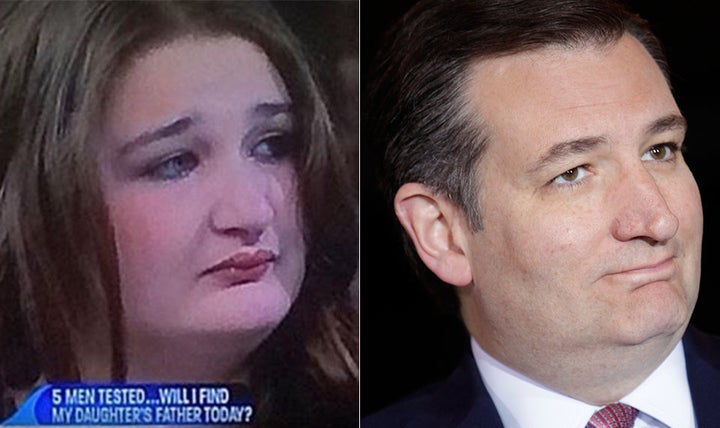 Last Sunday, Searcy Hayes was an unknown 21-year-old from Natchez, Mississippi.
By Monday night, she was a viral sensation after viewers of the Maury Povich show decided she was the female doppelganger of Republican presidential candidate Ted Cruz.
Hayes went on the show after her fiance, 25-year-old Freddie Green, accused her of cheating on him. All was resolved in typical Maury fashion when she passed a lie detector test and DNA results showed her 3-month-old son was Green's.
Since the appearance, numerous websites have printed side-by-side photos showing Hayes next to Cruz.
Amazingly, Hayes had never heard of Cruz before the resemblance was pointed out to her and she still knows little about him.
"I don't know his positions and I've never seen him, so I don't know if he's done a good enough job to be reelected," she told The Huffington Post.
When we pointed out that Cruz isn't actually president, just a candidate, she said, "Well, yeah, I don't know anything about him."
Hayes has had such a big impact that Povich did a special Facebook interview with her.
Being an internet meme doesn't pay the bills, though, so the "female Ted Cruz" is hoping to capitalize on her newfound internet stardom by filming a porn scene.
XHamster.com, a popular porn website, has offered to pay Hayes and her fiance $10,000 for a 6-minute sex tape.
For those keeping score, that's about $1,666.66 per each minute of carnal screen time.
"We wanted Searcy because overnight she became a viral meme," XHamster spokesman Mike Kulich told The Huffington Post. "I think a lot of XHamster viewers really wanted to see her in action."
Kulich figures that since it's doubtful Cruz is going to film a sex tape -- at least while he's still a candidate for president -- this is the next best thing.
Hayes and Green have agreed to make the film.
She has made sex tapes privately, but this will be the first time that millions of people potentially will be watching.
"I'm fine with it because everything is going to support my family," she said. "I want to get my son whatever he wants."
Hayes earns money cleaning houses while Green collects SSI because of a disability. He said accepting the porn offer was a no-brainer when they saw the amount they would get.
"We want to buy a truck, pay off our house and we might get married," he says. "I never had anyone say, 'Here's $10,000! Go make a sex tape.'"
Green admits he's excited by Hayes' newfound fame.
"It's kind of exciting and shocking to know she's famous -- she's more famous than Madonna!" he said. "I'm with a star."
Before the couple can collect the money, they first have to make the sex tape. Currently, Green is doing his part by Googling terms like "How to make a sex tape on an iPhone."
Related
Before You Go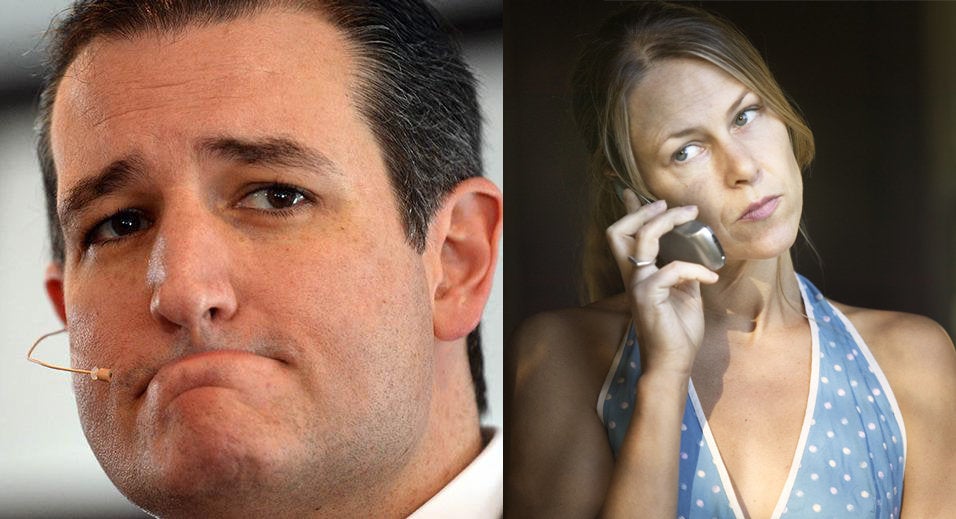 Things That Ted Cruz Looks Like
Popular in the Community