MANCHESTER, N.H. -- Sen. Ted Cruz (R-Texas) is out with a deceptive new mailer that masquerades as official government business and promises people there's a "check enclosed" when it's actually asking for money instead.
A New Jersey resident sent The Huffington Post the latest piece of mail he received from Cruz's campaign. The envelope appears to have come from Cruz's Senate office and has his name printed the same way it often is for Senate business. In small type the mailer clarifies that it is for "personal" matters and was not sent at taxpayers' expense. It also promises a check.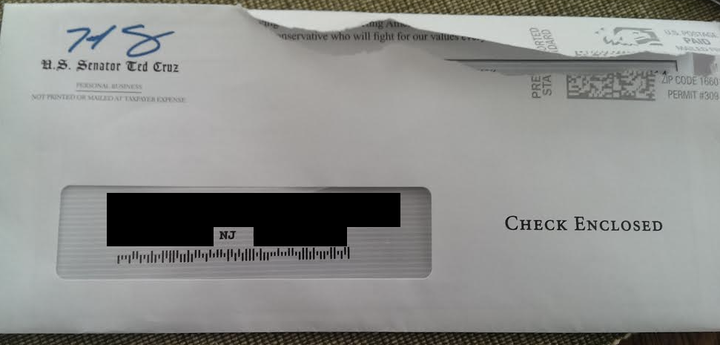 But the check inside -- which is made out to the Cruz campaign, not to the voter -- is fake. The accompanying letter promises that a "group of generous supporters" have promised to match donations received in response to the mailer.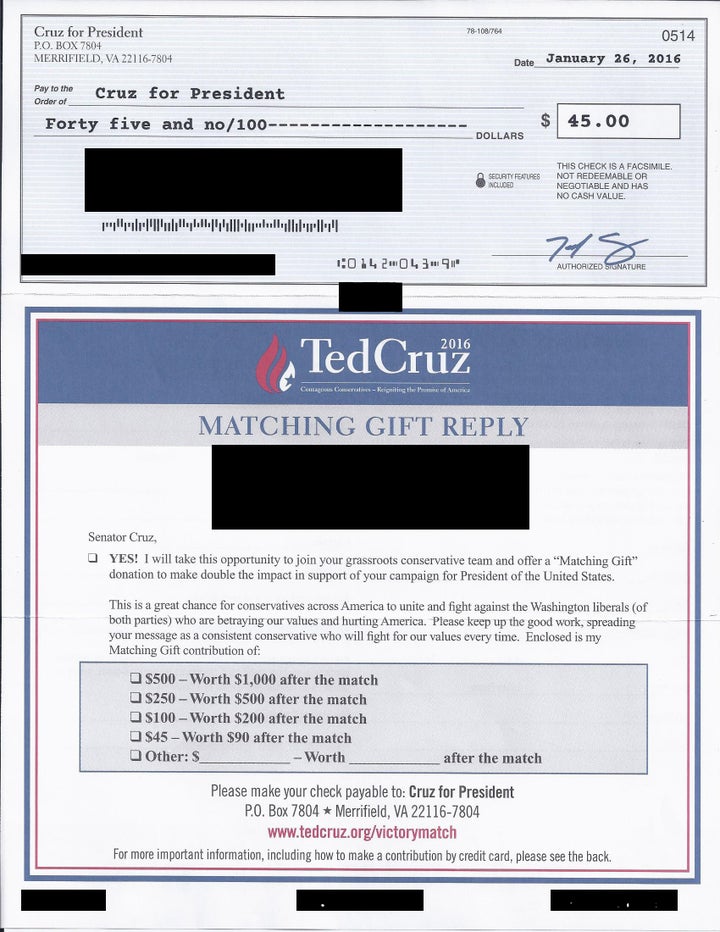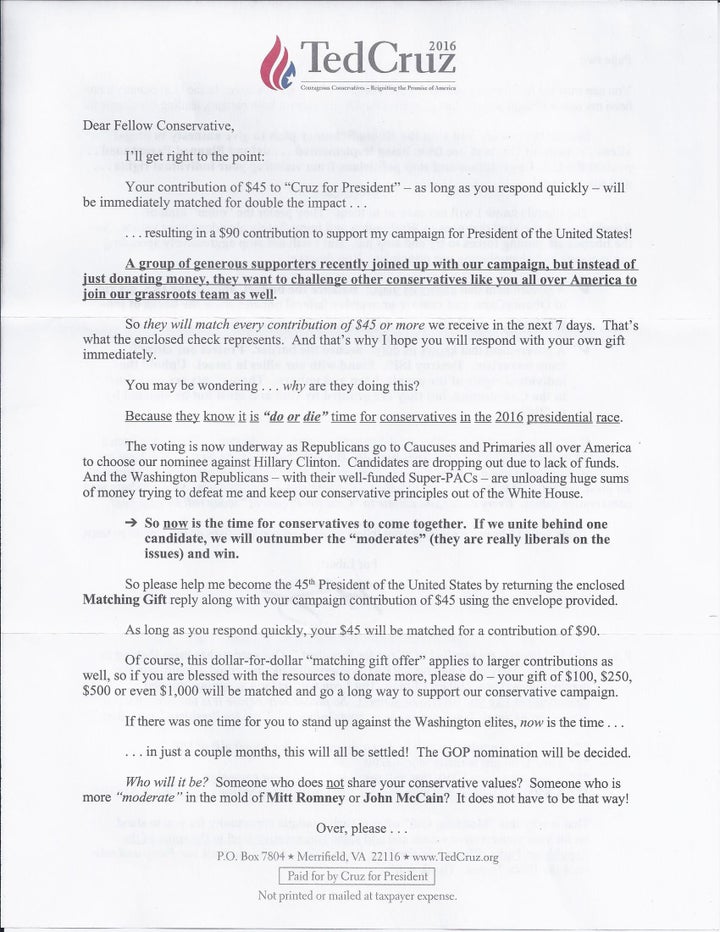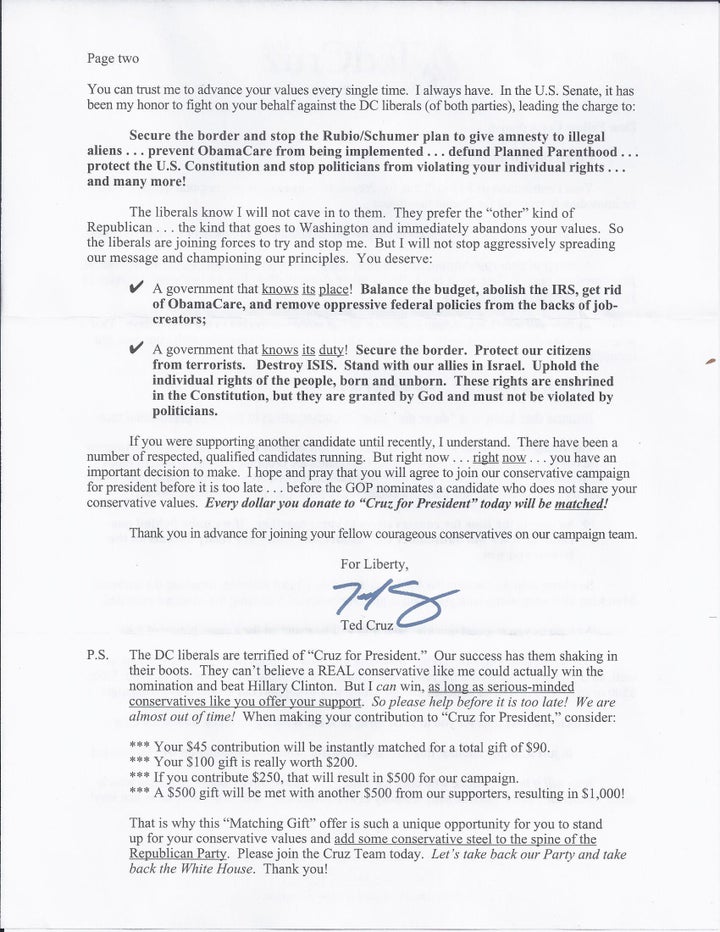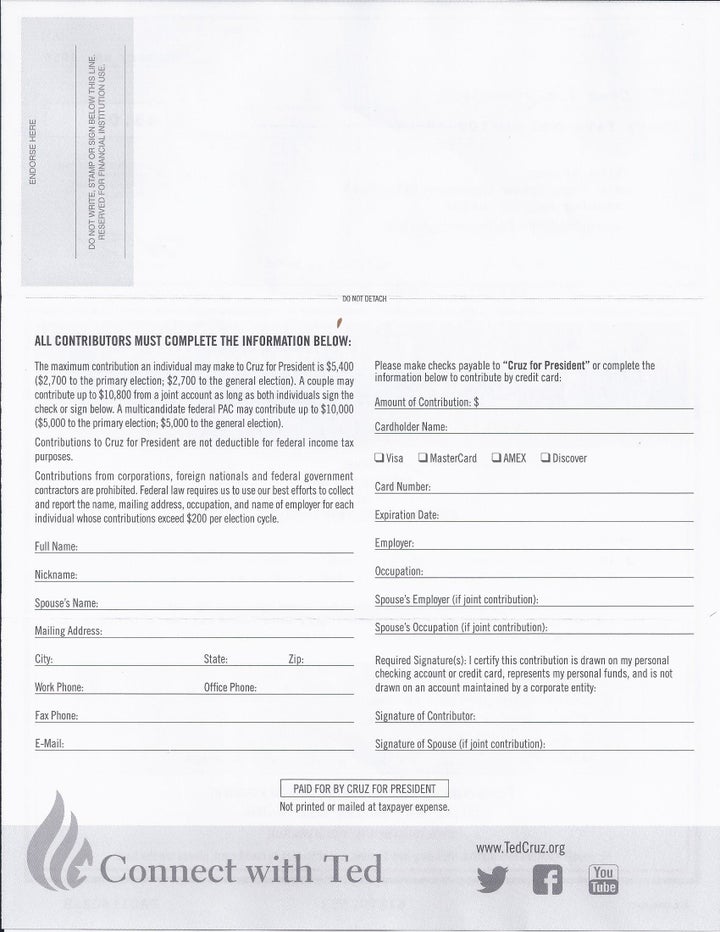 The New Jersey voter who received the mailer and asked not to be named said the letter would be enough to "fool my mother-in-law."
Readers from about a dozen other states wrote in after this story was published to say they'd received the same mailer. It appears to have been sent out widely, to registered Democrats, Republicans and Independents. One man in Pennsylvania said his nine-year-old child received a copy of the letter addressed to him.
Catherine Frazier, a spokeswoman for the Cruz campaign, said the mailer "clearly indicates that the contribution is going to the Cruz for President campaign" and noted that "match-type fundraising mailers are common to both campaign and non-profit solicitations."
She pointed to other GOP mailers that are very similar.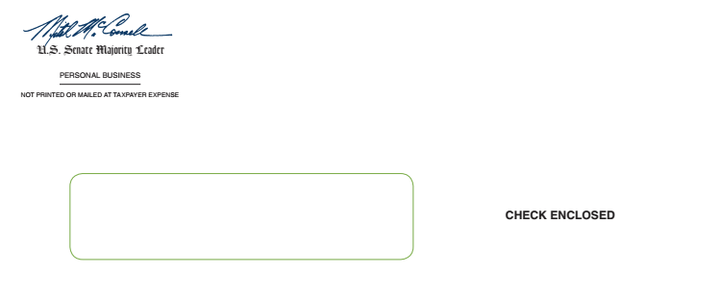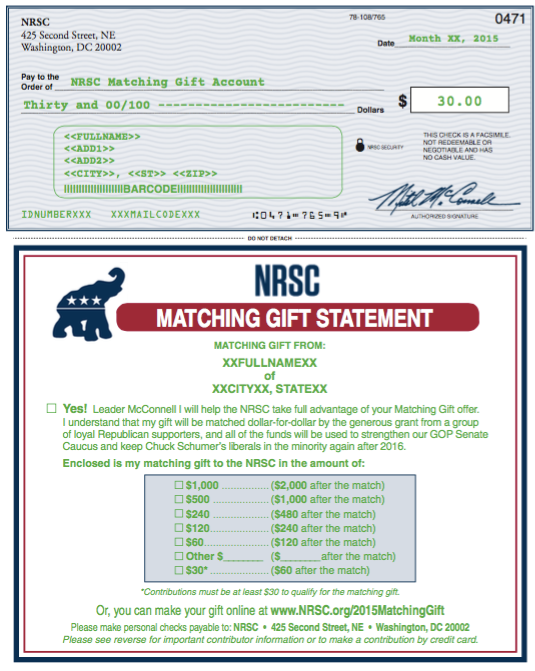 As the Iowa caucuses were underway, the Cruz campaign told voters that Ben Carson was dropping out of the race -- hoping his backers might instead support Cruz, who ultimately ended up winning. Carson did not drop out, and he and his supporters are still angry about the incident.
UPDATE: 2/8 -- The liberal group Progress Texas has filed a complaint with the Texas attorney general's office, arguing that Cruz's mailer violates a 2015 state law that says solicitations involving a fake check must have "clearly and conspicuously printed in at least 18-point type: 'SPECIMEN-NON-NEGOTIABLE.'" The Cruz campaign is headquartered in Texas.
"This is the kind of mail my legislation was trying to prevent," said state Rep. Gene Wu (D). "It certainly breaks the spirit of the law, and I agree that the Texas' Consumer Protection Division should look into whether or not it breaks the letter of the law, as well. Texas consumers should not be tricked into sending anyone their money, especially to elected officials."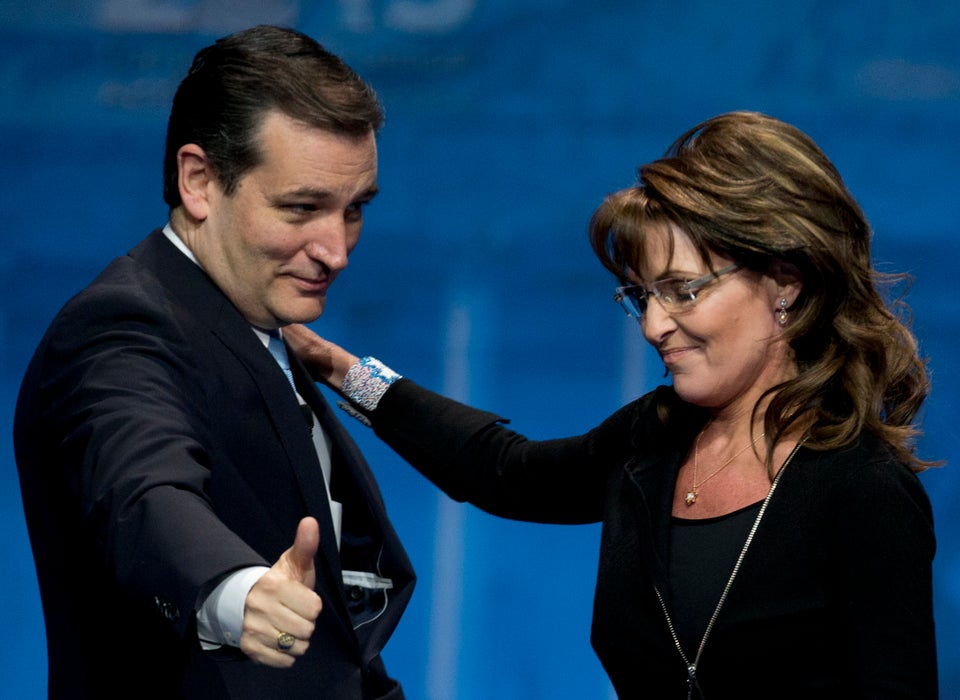 Sen. Ted Cruz
Popular in the Community