The strong showings by both Sen. Marco Rubio (Fla.) and Sen. Ted Cruz (Texas) in Saturday night's South Carolina presidential primary give the Republican Party some reason for hope despite real estate mogul Donald Trump's resounding victory in the state.
The contest is slowly becoming a three-person race as the campaigns turn to the Nevada caucuses and the crucial Super Tuesday states. Cruz's "Southern strategy" showed it had some heft in the Palmetto State -- one he'll look to expand in states across the South. And Marco Rubio proved he was closer than ever to coalescing the establishment wing of the GOP, following the stinging defeat of former Florida Gov. Jeb Bush.
What the reality TV star failed to do, however, is put the race away for good, giving Cruz and Rubio a chance to fight back in coming contests.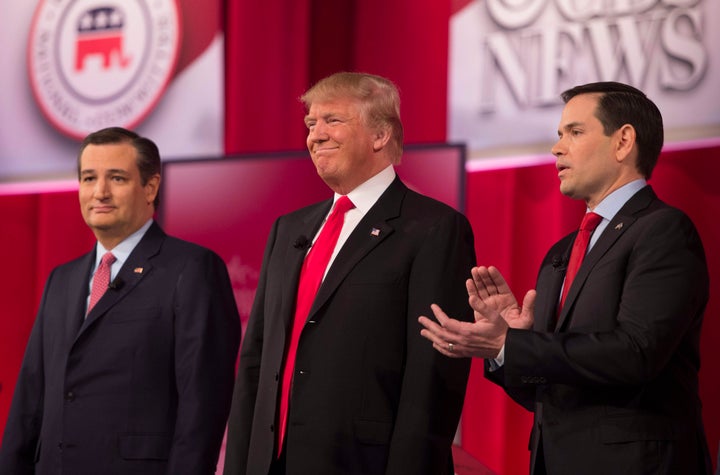 Cruz's vaunted southern primary strategy is still looking pretty good. As he laid out last year, the Texas firebrand hopes to be the second choice for enough voters that that he can cobble together the broadest base of support at the finish line. Doing so, according to the senator's campaign, involves bringing together conservatives, evangelicals, libertarian-minded voters and the establishment wing of the party.
The problem in aiming for second -- other than that strategy's insufficiency to win the nomination -- is Rubio. The Florida Republican has the backing of a large swath of the establishment, in Congress as well as the states. Most recently, he picked up the coveted endorsement of South Carolina Gov. Nikki Haley (R), a popular voice whose nod may have helped turned the tide on Saturday.
The phrase "the party decides" may truly come to define his campaign, which has seen sympathetic coverage from the media and demonstrated Rubio's seemingly impeccable ability to play the expectations game. Rubio came in third in Iowa, for example, yet still somehow managed to snatch victory out of the jaws of defeat. His surrogates in South Carolina cleverly laid the groundwork early -- proclaiming a third-place finish as "not bad" following a disastrous performance in the New Hampshire primary.
The results in South Carolina are encouraging for both Cruz and Rubio, likely setting up an even uglier primary to come. And the Palmetto State, known for its history of nasty campaign tactics, didn't disappoint. 
The two candidates and their campaigns ratcheted up the rhetoric over the last week, each accusing the other of "dirty tricks" in an effort to portray his rival as untrustworthy. Among those tricks were a phony Facebook page that claimed Rep. Trey Gowdy (R-S.C.) had switched his support of Rubio to Cruz and a photoshopped image put forth by Cruz's campaign of a smiling Rubio shaking hands with President Barack Obama. On Wednesday evening, South Carolina residents even received a shady Spanish language robocall that tried to make voters believe Rubio was calling Hispanics and promising amnesty. Rubio's campaign fought back with its own automated call that slammed Cruz's tactics as "dishonest."
Supporters at Cruz's victory party in Columbia on Saturday acknowledged a big showdown between the two senators wasn't going to help either campaign.
"Unfortunately, Cruz and Rubio are splitting the vote between folks who consider themselves conservative," said Michael Branch, a Cruz supporter. "Rubio or Cruz would beat Trump pretty handily but since they're splitting that vote, they're ushering Trump right into the nomination."
The race now turns to the Nevada caucuses next week -- which are notoriously difficult to poll, and where, apart from a Trump lead in some surveys, no one has a really good grasp of the race. Rubio's early childhood in Las Vegas and his strong ties to the state's Mormon community (the senator later converted to Catholicism) may give him an advantage over Cruz, who has had more success with evangelicals. The Texas senator, meanwhile, has been making a play for the Cliven Bundy vote -- the Nevada rancher who faces charges relating to his role in a 2014 standoff with federal authorities. In an ad this week, Cruz vowed to sell off or give away all the state's public lands -- including its national parks, forests and monuments.
Eliot Nelson contributed reporting.
PHOTO GALLERY
Sen. Ted Cruz
Calling all HuffPost superfans!
Sign up for membership to become a founding member and help shape HuffPost's next chapter