In the wake of the deadly terror attacks in Brussels on Tuesday morning, Republican presidential candidate Sen. Ted Cruz (R-Texas) called on authorities to "patrol and secure" Muslim neighborhoods in the United States.
"We need to immediately halt the flow of refugees from countries with a significant al Qaida or ISIS presence," Cruz said in a statement. "We need to empower law enforcement to patrol and secure Muslim neighborhoods before they become radicalized. We need to secure the southern border to prevent terrorist infiltration. And we need to execute a coherent campaign to utterly destroy ISIS."
The proposal to single out Muslim communities in the U.S. drew immediate criticism. Reporter Cameron Joseph tweeted Sen. Chuck Schumer (D-N.Y.)'s reply: "That's not what we do in America."
Ohio Gov. John Kasich (R) sternly reproached his presidential rival on Tuesday in a press conference in Minnesota, a state with a large Muslim community.
"In our country, we don't want to create divisions, where we say, 'You're a Muslim, we want to keep an eye on you,'" Kasich said. "Just because you're a Muslim, it doesn't mean you're a radicalized Muslim who wants to destroy someone," he added.
While the Ohio governor said authorities should have access to every tool in the fight against terror, he emphasized that actively monitoring people due to their faith was going a step too far.
"I don't believe all these people in Minnesota are somehow intent on destroying our families," Kasich said, adding that it was "not a time where you let your rhetoric take advantage of the situation."
Muslim Advocates, a California-based legal advocacy group, also lamented Cruz's rhetoric in a statement on Tuesday.
"Let us be clear: targeting Americans based solely on their faith is not only bigoted and wrong, it undermines our safety by wasting precious law enforcement resources. Now more than ever, we need law enforcement focused on following legitimate leads and credible intelligence, not engaged in blanket, unconstitutional surveillance," the group said.
"Casting suspicion on all Muslims plays directly into the hands of the perpetrators of these heinous attacks. To keep our families safe and our nation united, Americans of all faiths must stand together and uphold the values that have made our nation special and a place worth fighting for."
Yet Cruz appeared to dismiss concerns about discrimination and prejudice toward Muslims. He criticized President Barack Obama for what he sees as the president's refusal to acknowledge radical Islam due to excessive political correctness.
"We need a president who sets aside political correctness," he said. "In the wake of Brussels, we don't need another lecture from President Obama on Islamophobia, we need a commander in chief."
GOP presidential front-runner Donald Trump said on CNN Tuesday evening that he would support a plan like the one proposed by Cruz, noting that local police could help because they "know plenty about the Muslims."
"We have a radical Islamic terrorism problem," he added. "We have a problem like we've never had before."
Cruz's suggestion to patrol Muslim American neighborhoods may be new, but Trump has previously said refugees should be barred from entering the country. He has said he would "close up our borders to people until we figure out what's going on."
"We have to be very, very vigilant with who we let into this country. We are taking in people without real documentation," Trump said.
Obama administration officials have said that the screening process for refugees to enter the U.S. takes an average of 18-24 months and involves multiple security agencies.
Cruz also called on the Obama administration to intensify its fight against the so-called Islamic State. During a press conference in Washington earlier on Tuesday, the senator said he would fight ISIS by "carpet bombing them to oblivion."
"We should use overwhelming force, kill the enemy and then we should get the heck out," he said.
This story has been updated to include comments from Ohio Gov. John Kasich and Donald Trump, as well as a statement from Muslim Advocates.
CORRECTION: An earlier version of this story misstated that Muslim Advocates is based out of Washington, D.C. The group is based out of California.
Before You Go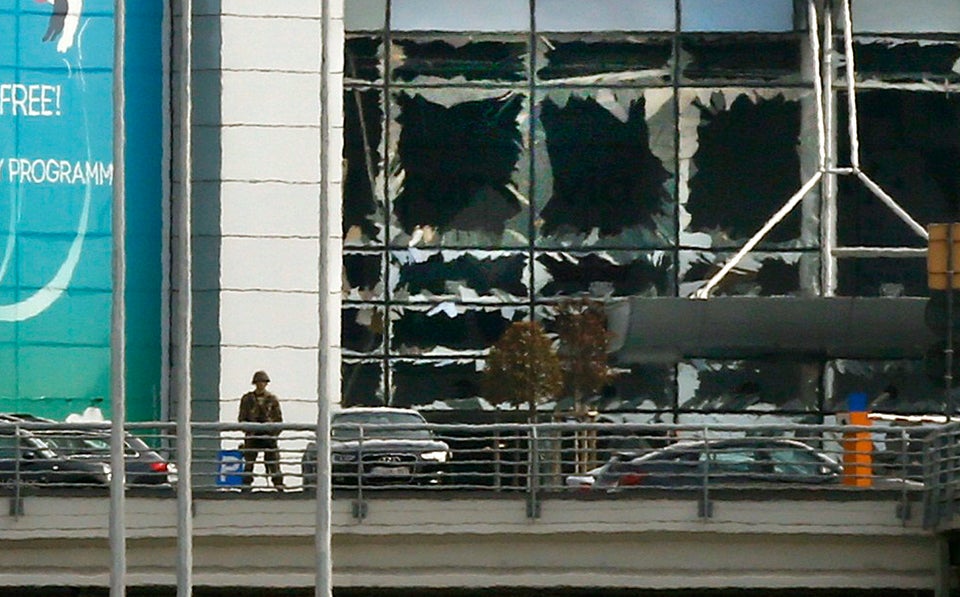 Explosions In Brussels
Popular in the Community