Real estate mogul Donald Trump handily defeated top rivals Sen. Ted Cruz (Texas) and Sen. Marco Rubio (Fla.) in Tuesday's Nevada GOP caucus, setting up a particularly difficult road ahead for Cruz.
Trump has now won three straight state contests and appears to be barreling toward the Republican presidential nomination, while Cruz has only won one state, Iowa. 
Cruz's campaign had hoped to eke out a win in Nevada based on the strength of his political organization and ground game, which helped lead him to a similar victory in the Iowa caucus earlier this month. The caucus format relies on turning out voters who are engaged enough to spend several hours participating in the political process.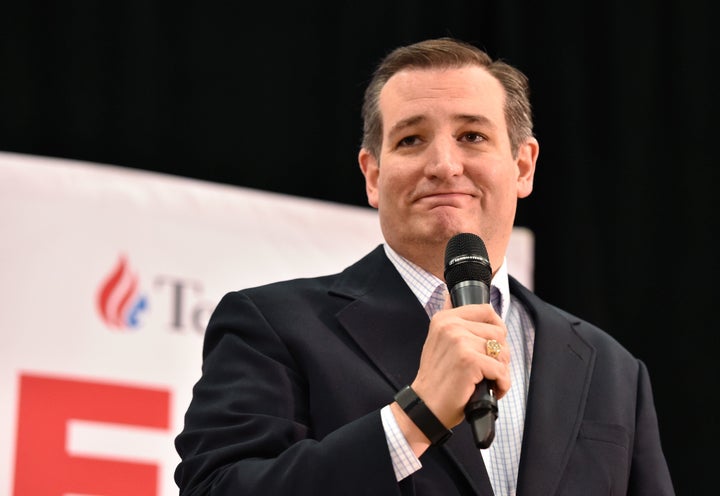 By contrast, Trump has lagged behind Cruz and Rubio in his organizing efforts, and political observers expressed doubt that the businessman and former reality television star could turn out enough of his ardent supporters to the caucus sites.
In addition to his strong ground game, Cruz relied on help from anti-government voters who may have supported Cliven Bundy, the Nevada rancher who held a standoff with federal authorities. In an ad released last week, Cruz vowed to privatize all the state's public lands -- including its national parks, forests and monuments.
Nevada's results set up an interesting battle in the crucial Super Tuesday states next week. These events will test whether Cruz can rein in Trump's dominance and plot a successful long-term strategy to win the nomination.
The Texas senator, a conservative firebrand seen as an anti-establishment and evangelical alternative in the race, has seen some of his support base usurped by Trump. Exit polls in Nevada showed Trump defeating Cruz among voters who identified as conservative or evangelical.
Across the country, Trump has proven formidable among voters who favor a smaller government and socially conservative values and above all, blame Washington for what they perceive as American weakness and failure. Trump has promoted a message of economic populism, promising to bring jobs and economic growth, which appeals to many lower-income GOP voters.
Cruz has also had trouble courting party loyalists and establishment types, who will become essential to a general election victory if he manages to blunt Trump's dominance and win the GOP nomination. Rubio has scored a number of endorsements among members of Congress and state GOP leaders, including South Carolina Gov. Nikki Haley (R) and Nevada Sen. Dean Heller (R). And establishment types who fear Trump's dominance may continue to rally around Rubio rather than Cruz.
Cruz's campaign continues to face criticism for mudslinging and "dirty tricks" against his rivals. Cruz fired senior aide Rick Tyler on Monday, after Tyler released a video that falsely claimed Rubio was dismissive of the Bible. Trump has also called Cruz's tactics "sleazy."
The Texas senator now pins his hopes on his home state, whose voters will head to the polls on Super Tuesday. He will have to win big and pick up the state's 155 delegates if he wants to change the dynamics of a race that continues to favor Trump. 
PHOTO GALLERY
Sen. Ted Cruz
Calling all HuffPost superfans!
Sign up for membership to become a founding member and help shape HuffPost's next chapter