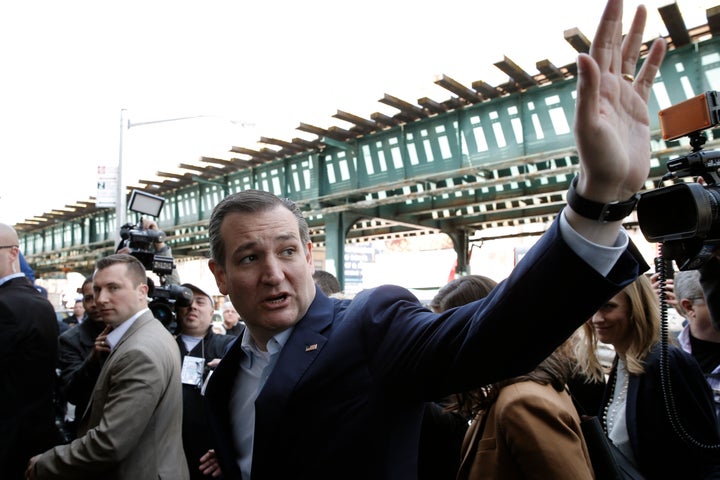 NEW YORK -- As the 6 train rumbled above Westchester Avenue in the Bronx, Sen. Ted Cruz (R-Texas) made the case that some New Yorkers share his conservative positions and actually agree with his crack about "New York values."
"The people of New York know exactly what those values are," Cruz said Wednesday afternoon at Sabrosura 2, a Chinese-Dominican restaurant where journalists clearly outnumbered the Texas senator's supporters. "They're the values of liberal Democratic politicians."
At a January debate in South Carolina, Cruz cited the "New York values" of Donald Trump, his Queens-born, Manhattan-based rival. Such a person, Cruz said, is a social liberal who supports abortion rights and gay marriage.
In a Republican primary campaign, that isn't meant as a compliment. And though knocking New York as some kind of decadent coastal metropolis may play well in deep red states, Cruz's line of attack is unlikely to find a very receptive audience among the New York voters he's now courting.
Trump currently has a commanding leading in his home state, but Cruz -- fresh off Tuesday's big win in Wisconsin -- is hoping to gain enough support to diminish the front-runner's chances of securing 1,237 delegates and the GOP nomination.
On Wednesday, Cruz qualified his earlier statement by distinguishing between New Yorkers and New York's Democratic politicians, like Gov. Andrew Cuomo, New York Mayor Bill de Blasio, Rep. Charlie Rangel, former Rep. Anthony Weiner and former Gov. Eliot Spitzer.
"If you want to know what liberal democratic values are, follow Donald Trump's checkbook," Cruz said, noting that the Republican front-runner has given contributions to a number of Democratic politicians in the state.
Cruz, an evangelical Christian, met with Hispanic and African-American pastors and several supporters behind a blue curtain on Wednesday as the press pack roamed the dining room, looking for members of the community to weigh in on the senator's visit.
Rev. Rubén Díaz Sr., a socially conservative Democrat and New York State senator, hosted the event for Cruz while his son, Bronx Borough President Rubén Díaz Jr., a socially liberal Democrat, introduced Democratic hopeful Hillary Clinton at an event that morning in the Bronx.
After the meeting with Díaz Sr. and other pastors, Cruz singled out de Blasio for criticism several times. He suggested that the mayor reflexively takes the side of "criminals and the looters and the rioters rather than the police officers." And the senator said he cheered when members of the NYPD turned their backs on de Blasio last year.
A couple of protesters disrupted Cruz's event, saying they didn't feel his values meshed with the community he was visiting.
"Ted Cruz has no business being in the Bronx," said a protester wearing a Yankees cap. "To receive this right-wing bigot is an insult to the whole community."
But Donald Sadler, who was also sporting a Yankees hat, told HuffPost that he's a Cruz supporter and was glad to see the candidate visit the borough. Sadler, an African-American Bronx native who now lives about an hour north of the city, said he's believed for years that "that Republicans need to come and mesh with the communities of New York."
Sadler said he knows what Cruz means by "New York values" -- and agrees with him.
"I understand clearly," he said. "I'm pro-life. I'm pro-Second Amendment. I'm born and raised in New York City. I'm pro-family, traditional family, traditional marriage. These are our values. This is my value. This is not the general value of how voters in New York vote, and that's what he said."
Support HuffPost
The Stakes Have Never Been Higher
Popular in the Community