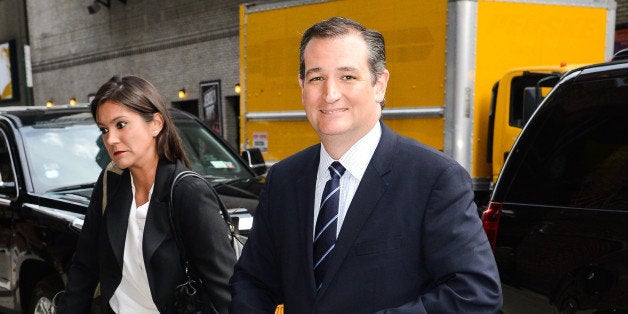 Ted Cruz has been attacking "New York values," something he declined to describe at first, saying people across the country would simply "know" what he means, until Thursday night's GOP presidential debate, when pressed to give more detail. He then said, "Everybody understands that the values in New York City are socially liberal and pro-abortion and pro-gay marriage. And focus on money and the media."
That was rich considering how much he and his wife Heidi -- a Goldman Sachs investment manager for several years -- love that New York money, and thus support the very values to which he's pointing. Not only are some of his biggest campaign contributors Wall Street financiers, like the hedge fund operator Robert Mercer, who backed Cruz with $11 million (and who lives on Long Island) but as the New York Times reported yesterday, Cruz and his wife took an undisclosed loan from her employer, Goldman Sachs, to fund his first Senate campaign, in addition to one from New York-based Citibank.
But it gets richer: Just a few months before Cruz took that Goldman Sachs money, Lloyd Blankfein, chairman and CEO of the New York-headquartered investment banking firm, had been given an award by the Human Rights Campaign, because Blankfein and his firm had become leaders on marriage equality. Goldman Sachs wasn't just another "pro-gay" company -- it was one that had been a driving force on influential Wall Street for LGBT equality. Goldman had long provided full benefits for domestic partners, and since 2002 had even paid for gender confirmation surgery for transgender employees. Blankfein used all of his clout to pressure the New York legislature in 2011 to pass a marriage equality bill, which it did with four critical Republican votes. He signed a letter urging legislators to vote "yes" and urged other chief executives to put the pressure on as well.
Ted Cruz claimed his failure to disclose the loan to the Federal Election Commission was a "paperwork" mistake, but it's obvious that disclosing that he took a loan against his assets rather than actually liquidating those assets -- as he and his wife claimed -- would have messed with the narrative that he and his wife sacrificed all that they had. Their money actually made more money for them, staying invested during the time the loan had been drawn.
As commentators have discussed, disclosing the loan also would have sent the wrong message to the tea party at the time when Cruz was running as a tea party darling. Banks were being bailed out, angering tea party activists, and Goldman had been at the forefront of the firms whose reckless actions led to the mortgage crisis.
But what's been less noted is how the religious right, another force behind Cruz, would have responded if it knew at the time that Cruz was taking a loan from a company that had helped make marriage equality a reality in June of 2011 in New York State, less than a year before Cruz took that loan. Much of Cruz's campaign has been based on his supposedly uncompromising evangelical beliefs, including opposition to gay marriage. His father, Rafael Cruz, is a a pastor and leader in that movement, with a new fire and brimstone book out. Certainly any card-carrying evangelical opposed to marriage equality should have been loudly lambasting Goldman Sachs at that time -- and even now -- and should have been boycotting it rather than taking a loan from it. And let's not forget that Cruz had no problem being hosted at the Manhattan home of two gay hoteliers in New York last year who introduced him to some funders -- until the news got out and Cruz ran for cover.
While he put out a statement typically attacking the Times for reporting on the event and reiterated his opposition to same-sex marriage, a Cruz aide, clearly worried about how evangelicals would respond, told CBS News that "in retrospect, knowing what we know now, we might have chosen a different venue."
It would certainly be interesting to know what evangelicals think now of Cruz taking a loan from Goldman Sachs rather than railing against the firm at the time for contributing to what Cruz claims is "the very definition of tyranny." Maybe gay marriage -- and New York values -- are not tyrannical enough to turn money away.
Popular in the Community