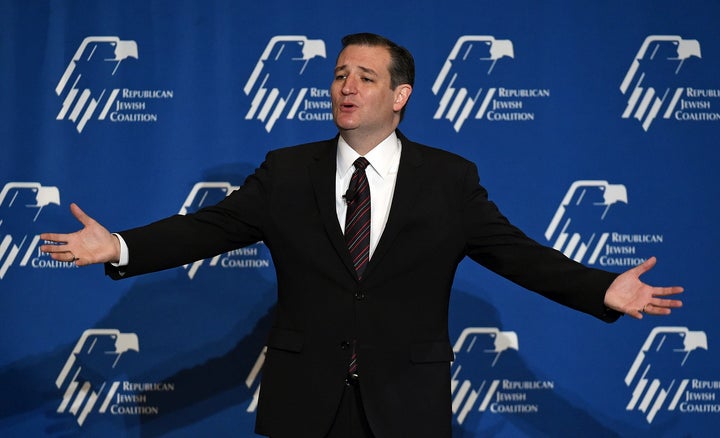 WASHINGTON -- Sen. Ted Cruz (R-Texas) says he will block all of President Barack Obama's nominees to the State Department -- there are about 40 ambassadors in the queue -- in protest of the nuclear deal that the U.S. and other world powers struck with Iran this week.
In a Thursday letter to the president, Cruz says he wants written assurances that Obama will do whatever it takes to prevent the U.N. Security Council from voting on the Iran deal before Congress finishes its 60-day review of the agreement. The council has already scheduled a Monday vote on a resolution endorsing the deal.
"Until you provide such assurances, I intend to block all nominees for the Department of State and hold any legislation that reauthorizes funds for the Department of State," says Cruz, who is a candidate for the 2016 Republican presidential nomination.
If Cruz's threat to block nominees sounds familiar, it's because it is. It's become his go-to form of protest for Obama policies he doesn't like.
In June 2013, he vowed to block all State Department nominees until Obama nominated a Inspector General to the agency, citing widespread mismanagement. In July 2014, he again threatened to block all State Department nominees until the administration explained its decision to halt flights to Israel for a day and a half -- a decision made after a Hamas rocket struck close to the Tel Aviv airport. Early this year, Cruz urged Senate Republicans to block confirmation of attorney general nominee Loretta Lynch in protest of Obama's executive action on immigration. That was after he called on incoming Senate Majority Leader Mitch McConnell (R-Ky.) in November to block every single executive and judicial nominee until Obama agreed to reverse his executive action.
Despite his strategy of going after nominees, Cruz's efforts to sideline Obama's agenda haven't really panned out. Lynch was confirmed in April and Obama has stood by his immigration action, although it's tied up in courts right now.
A Cruz spokesman did not respond to a request for comment on how blocking State Department nominees could lead the U.N. to delay its vote on the Iran deal, which is the result of two years of international negotiations.
A White House aide did not respond to a request for comment. However, White House spokesman Eric Schultz said Thursday that he doesn't understand why some lawmakers are upset about the U.N. moving forward before Congress does.
"We have committed to engaging with Congress in their 60-day review period," Schultz said in a press gaggle. "That is why, even before the President spoke with all of you Tuesday morning, he spoke with the four leaders of Congress both in the House and the Senate and to both parties. That is why the Vice President went up to Capitol Hill yesterday to brief members of Congress.
"And that's why I believe three key Cabinet Secretaries -- Secretary Moniz, Secretary Kerry, and Secretary Lew -- will be up in front of Congress testifying next week," Schultz added.
Popular in the Community