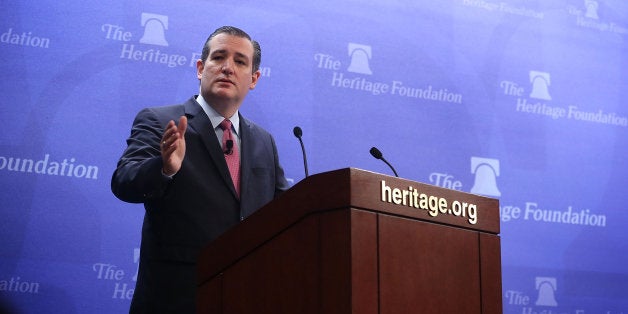 If you've wondered what happened to Sen. Rand Paul's (R-Ky.) once-promising bid for the GOP presidential nomination, you'll be happy to know that even if Paul's hopes have faded, Sen. Ted Cruz (R-Texas) has swallowed up many of his arguments against government surveillance and misguided interventions in the Middle East.
The Texas conservative, who is surging in the early caucus state of Iowa, has in recent interviews and speeches associated himself with the brand of libertarianism made popular by Paul and his father. The tactic is meant to draw a contrast with Sen. Marco Rubio (R-Fla.), another GOP presidential heavyweight, who has taken a more hawkish approach to world affairs. And, at least according to the polls, it appears to be working.
But in some cases, Cruz has quite literally sounded like the Kentucky Republican, arguing against NSA bulk metadata collection and warning of the consequences of toppling of dictators in Syria and Libya.
Asked Thursday to respond to Cruz's rhetoric, senior Paul adviser Doug Stafford questioned the Texas senator's sincerity and said he wanted to have it "both ways."
"He parrots Rand's opposition to regime change but has advisers who are the biggest advocates of regime change," Stafford told The Huffington Post. "Senator Cruz is attempting to be everything to everyone at different times on foreign policy, but in the end it is difficult to believe in the sincerity of his message."
How alike do the two senators stand on the issues? Take our quiz below and find out!
REAL LIFE. REAL NEWS. REAL VOICES.
Help us tell more of the stories that matter from voices that too often remain unheard.